A Scandinavian manufacturer of has purchased two CAB lines, which will be delivered to factories in Mexico and Poland. Deliveries will be synchronized in time. The order is being carried out by the SECO/WARWICK Group's Chinese branch.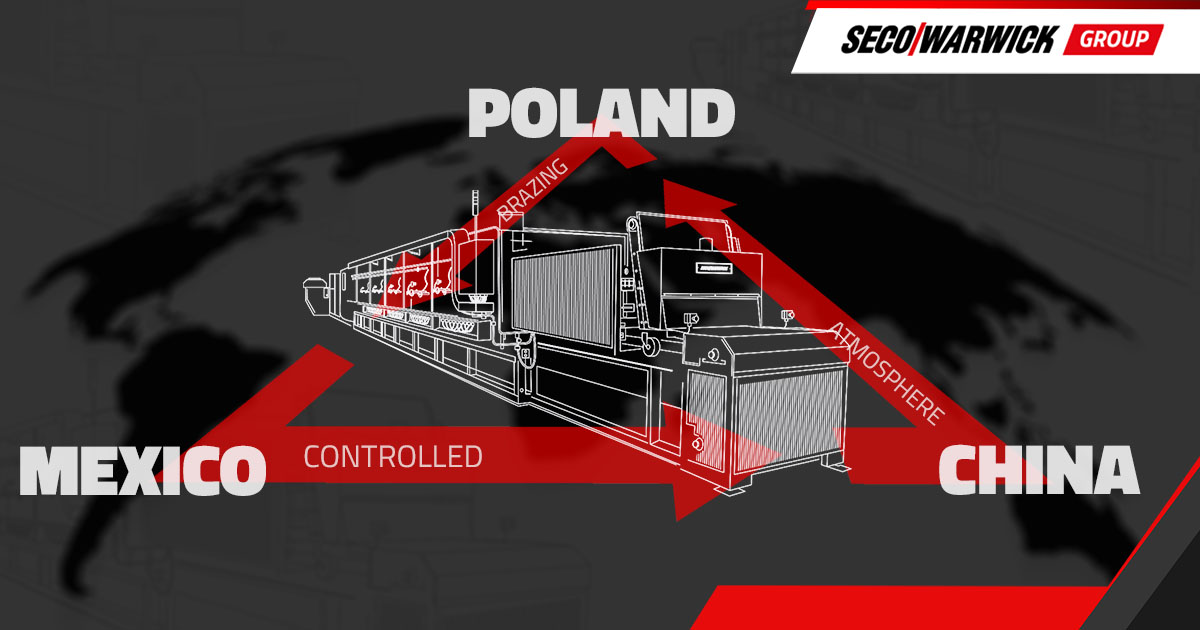 This Partner has been operating globally since 2016, offering large-size heat exchangers for buses and trucks. This is not the first collaboration between the two companies. Earlier, this Partner in Sweden had cooperation with SECO/WARWICK for aftermarket and refurbishment services. Satisfaction with the cooperation and the solution's quality resulted in a new contract for the supply of two complete CAB lines.   
Two furnaces for two locations
The CAB lines on order meet the protective Nocolok® atmosphere aluminum brazing technology requirements. They will be used for brazing heat exchangers for trucks and buses as well as power generators.  
"This is a unique project for us, as we have sold two furnaces with the same delivery date to one customer at two different locations. It will be a logistical challenge overseen by SECO/WARWICK China. A purchase in our Chinese branch is also a sign for the market that production in China meets all the high-quality requirements, even of the most restrictive European producers. We have experience in similar logistically challenging projects; for example, the PWR company project where we delivered three furnaces to two continents, Australia and North America. Few metal heat treatment equipment manufacturers have such extensive capabilities for comprehensive order fulfillment," said Piotr Skarbiński, Vice President of the Aluminum and CAB Products Segment at SECO/WARWICK. 
CAB for mass production
The continuous line ensures high efficiency for mass production. Together with the preheating unit, it ensures serial production of large heat exchangers for the automotive industry (trucks, buses, generators) while maintaining high quality and all technological parameters. High production flexibility is achieved thanks to the ability of the system to produce heat exchangers without changing the product group's parameters. This means that one recipe can be used for exchangers of similar size and weight. 
Quality from Asia = a new synonym for perfection
SECO/WARWICK supplies more and more CAB lines around the world. Revenue from the Asian market has increased in the entire Capital Group by 34 percent y/y. The Aluminum segment gained the most, which is primarily due to the dynamic increase in the sales of electric vehicles with a market growth by as much as 58% y/y.  This is also influenced by the disenchantment with the myth of sub-standard quality associated with the solutions made in China. The largest concerns, such as Tata Auto Comp. willingly uses suppliers on the Chinese market who are able to easily adjust the production quality to global expectations.  
SECO/WARWICK China, as a branch, has been operating in the Chinese market since 2010. During 12 years of operation in this market, SECO/WARWICK has sold many CAB lines used for the production of various types of heat exchangers. The company has an excellent reputation. 
Tags:
atmosphere aluminum brazing
|
CAB Lines
|
heat exchangers
|
SECO/WARWICK