Advanced vacuum furnace meets the demands of the high performance bearings and gear markets.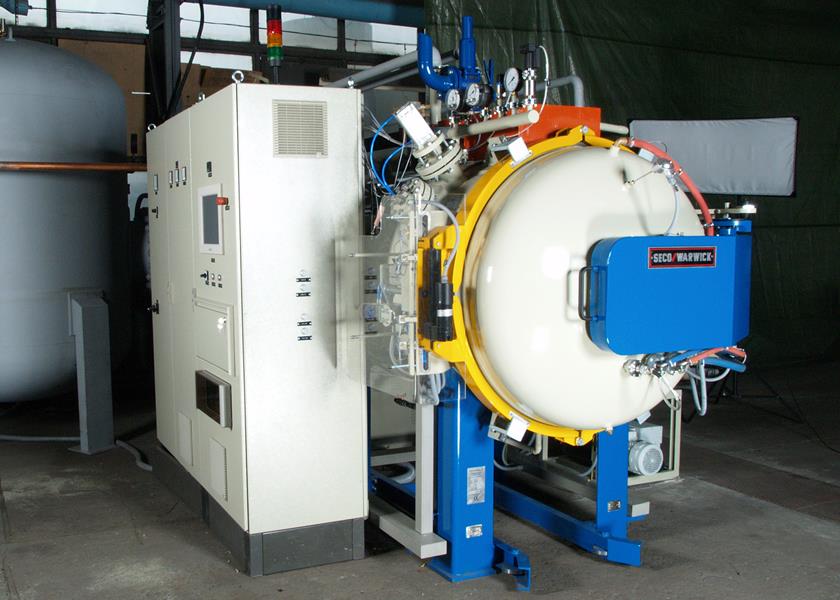 Meadville, Pennsylvania–SECO/WARWICK has commissioned a 12 Bar Universal HPQ™ (High Pressure Quench) vacuum furnace to IBC Coating Technologies, Inc. in Lebanon, IN.This Low Pressure Vacuum Carburizing furnace with high temperature convection heating is for hardening and carburizing bearing steel and aerospace components. The furnace is designed with a hot zone of 24" x 24" x 36" and a maximum temperature rating of 2400° F and 1,300 pound gross load capacity. It has 12-bar pressure quenching. Additional features include isothermal quenching and modifications to address the low distortion and demands of high performance bearings and gear markets.
It is the second vacuum furnace that IBC has purchased from SECO/WARWICK.
About IBC Coating Technologies, Inc.
IBC develops diffusion surface treatment technologies for anti-wear and anti-corrosion applications. IBC's innovative surface treatments, based on Plasma-chemical and Diffusion reactions – Boriding, Nitrocarburizing, Chrome Carbide, Vanadium Carbide, etc. are used in different applications with very good results.
IBC Coating Technologies INC is a privately owned company located in Lebanon, IN, USA. The company started its activities in July of 1996 as a research and development project, based on the know-how and experience of its founders. The company has expanded the array of its services in material treatments. Read more: http://www.ibccoatings.com/.
About SECO/WARWICK Group
The SECO/WARWICK Group and its five business segments produce vacuum furnaces, atmosphere furnaces, controlled atmosphere aluminum brazing furnaces, aluminum process furnaces and vacuum metallurgy equipment in its manufacturing sites in Poland (SECO/WARWICK Europe S.A.), the United States (SECO/WARWICK Corp. and RETECH Systems LLC), India (SECO/WARWICK Allied Ltd.), Brazil (SECO/WARWICK do Brasil Ltda.) and China (SECO/WARWICK RETECH Mfg. (Tianjin) Co., Ltd.). Sales, service & spare parts offices in Germany (SECO/WARWICK Services GmbH) and Russia (SECO/WARWICK Russia) complete the worldwide customer care network. Read more: www.secowarwick.com.
SECO/WARWICK Worldwide provides industrial metal heat treatment furnaces used in a variety of processes for material finishing and component manufacturing applications.  We supply furnaces to customers involved with steel, titanium and aluminum production as well as aluminum recycling, forging, automotive, aerospace, commercial heat treating, HVAC/R, electronics, wind energy, medical equipment and nuclear industries.
The Vacuum Team offers vacuum heat treating furnaces for hardening, tempering, annealing, solution heat treating, brazing, sintering, carburizing, carbonitriding, high vacuum, CVD–graphitizing and degassing.  SECO/WARWICK has built some of the largest and technically advanced vacuum furnaces in operation today, using advanced technologies like Universal HPQ™ (High Pressure Quench), PreNit® & FineCarb® LPC vacuum carburizing, fully automated control systems and modeling software. Vacuum furnace configurations are available for vertical, horizontal and elevator style furnaces. Both cylindrical and rectangular hot zones with metallic or graphite heating elements are available.