SECO/WARWICK Europe Sp. z o. o. in cooperation and under marketing agreement with RETECH Systems LLC, the world's leading supplier of vacuum metallurgical equipment, announces the signed contract of a new Retech Consumable Electrode Casting Furnace 1000kg/45KA.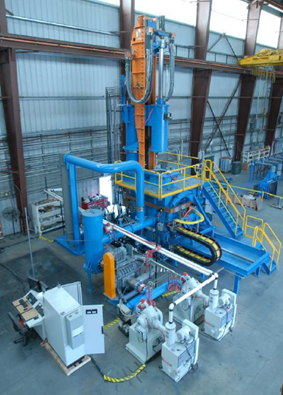 The consumable casting furnace will be designed for the production of high quality, reactive metal castings. The furnace will be comprised of a single melting/casting chamber with a crucible tilt assembly and a feed system comprised of a power ram and drive assembly, as well as a head assembly and support column. The power ram and associated components will be mounted on the head assembly to allow feeding of the electrode into the crucible.
Electrode loading will take place on the upper deck from an electrode rack. Mold loading/unloading will take place at ground level. All valves and components, except where noted, will be remotely operated and monitored from a remotely located main control panel. All critical circuits and components will be interlocked to protect personnel from injury and to prevent damage to the equipment.
The new furnace will be installed at the University of Sheffield Advanced Manufacturing Research Centre (AMRC) with Boeing's centre of castings expertise. It will use the furnace as part of a project funded by the UK's Aerospace Technology Initiative (ATI) to develop a national source of expertise in making Titanium aerospace engine and structural components from castings with a poured weight of 150kg to 1,000kg.
The AMRC is a cluster of world-class centres for research into advanced manufacturing technologies used in the aerospace, power generation, medical and other high-value manufacturing sectors. Its centre of castings expertise develops new casting technologies, provides design and manufacturing consultancy services, and manufactures specialist castings. It already has extensive expertise in manufacturing smaller Titanium castings.
Retech's partnership with SECO/WARWICK in Poland enhances its worldwide vacuum processing equipment sales, marketing, engineering, manufacturing and service capabilities.  Particularly important to the EU market is SECO/WARWICK's assured abilities to provide "grassroots" metric designs, seamless adherence to EU standards and directives, and local service support.
For more information, please contact:
Retech Systems LLC
100 Henry Station Road
Ukiah, CA 95482
Phone: 707-462-6522
http://www.retechsystemsllc.com
email: sales@retechsystemsllc.com
SECO/WARWICK Europe Sp. z o.o.
ul. Zachodnia 76
66-200 Świebodzin, Poland
Phone: +48 68 3819 808
https://www.secowarwick.com
email: europe@secowarwick.com
AMRC with Boeing
Advanced Manufacturing Park
Wallis Way
Rotherham,
S60 5WG
Phone: +44 (0)114 222 4784
http:// www.amrc.co.uk
email: b.rae@amrc.co.uk