SECO/WARWICK, an expert in the controlled atmosphere brazing process, with over 250 aluminum solutions deployed around the world, will be a presenter at the 2017 Solvay Aluminum Brazing Seminar. Mike Jacobs, NAFTA CAB Product Manager, will present the latest trends and solutions in CAB Brazing Technologies.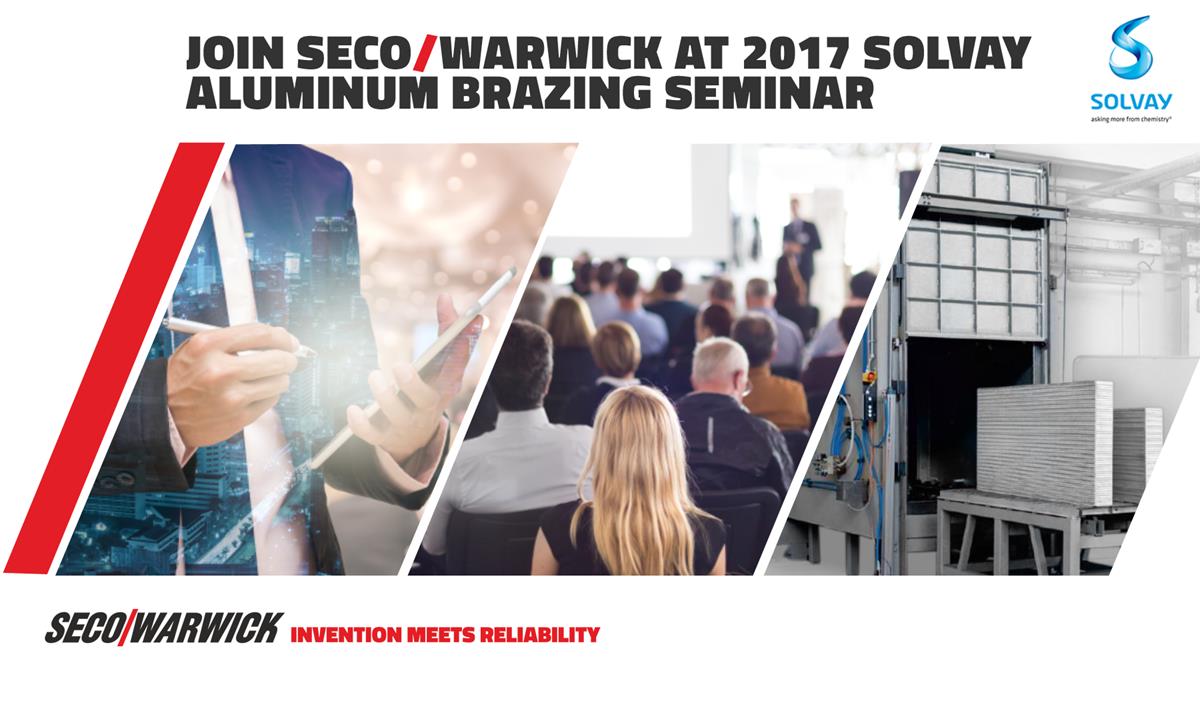 The Solvay Invitational Aluminum Brazing Seminar is anannual event which takes place on April 27-28 in Mexico. During this expert meeting, an overview of the Aluminum Braze Process (CAB Brazing) will be presented along with other process variables for both new and veteran owners and operators of CAB equipment.  SECO/WARWICK's expert will present "New Trends in CAB Brazing Technology" at this year's event discussing the advantages of advanced technologies that improve operational efficiency as well as product quality such as vacuum purge options and control system improvements.
"We look forward to our participation in this special event each year," stated Mike Jacobs, "primarily because attendees can learn every aspect of the process, including new technologies and process improvements.   Seminar participants will get all of their questions answered concerning capital procurement, operation, maintenance and overall system performance."
 Individuals interested in attending may contact Mrs. Frankyie Steele (habla espanol} E-mail:  Frankyie.Steele@Solvay.com Phone:   +1 713 525 6892
About Our Speaker
Mike Jacobs has been working at SECO/WARWICK for over ten (10) years supporting the Controlled Atmosphere Brazing (CAB) equipment line. From applications engineer to CAB team leader to CAB Product Manager for NAFTA region, all of his furnace experience is in the CAB product line. After receiving a bachelor of science degree from Edinboro University and spending a few years in the plastic injection molding business, he then became part of the CAB product team at SECO/WARWICK and continues to support that product line.
+1 814 332 8598
Controlled Atmosphere Aluminum Brazing (CAB Brazing) from SECO/WARWICK
Controlled Atmosphere Brazing (CAB) of Aluminum using a noncorrosive flux, is the preferred process for manufacturing aluminum heat exchangers in the automotive industry. Due to the unique process benefits, the CAB process is rapidly finding new applications in industrial, power plant and HVAC manufacturing. Since entering this field in 1983, SECO/WARWICK has led the development of advanced technology in the continuous flow brazing process.
 Learn more about CAB Brazing