In the SECO/WARWICK Group, innovation is the basis of development. This is the result of cooperation with the scien

tific community

and

the

higher education sector.

The SECO

/WARWICK's most important scientific Partner celebrates the

ir

50th anniversary

in

the Materials Engineering field

in October. A direction without which SECO/WARWICK's offer would not include technologies such as vacuum carburizing

,

FineCarb

® and

PreNitLPC

.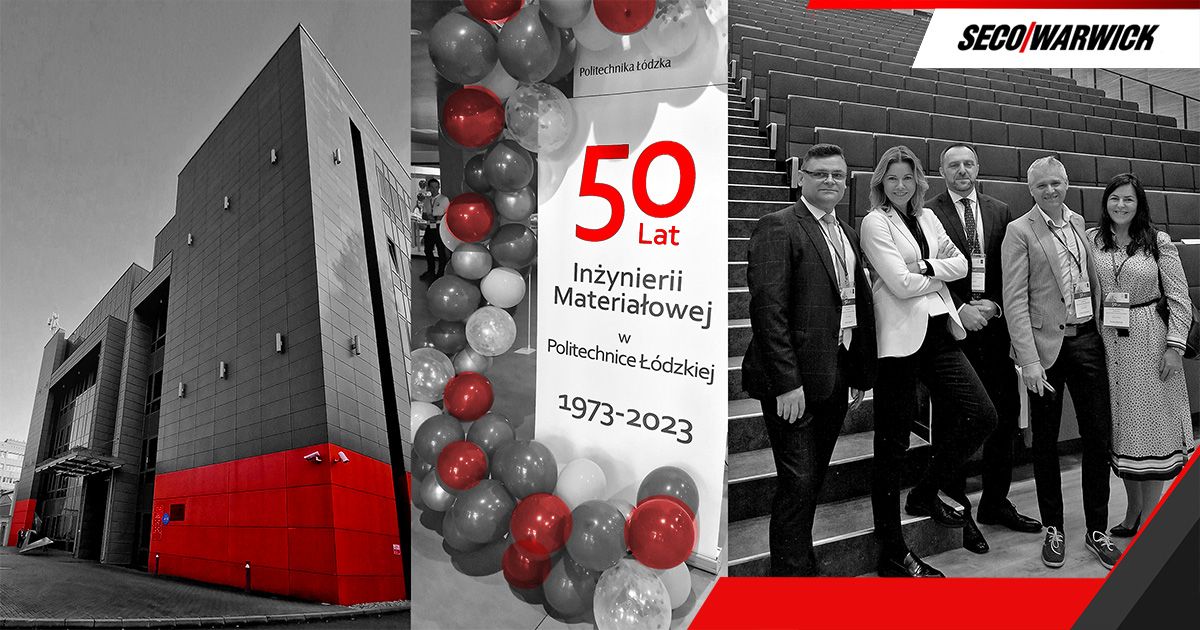 The leading scientific topic of the Lodz University of Technology in the area of materials engineering was metal heat treatment and surface engineering. And for SECO/WARWICK, this is not a topic, but everyday life. The Materials Science and Engineering students participated in industrial internships in the 1970s. The place of these practices was Świebodzin, or more precisely, LZT Elterma, from which today's SECO/WARWICK Group originates. This is also the beginning of cooperation between our business and the scientific community. 
"When I was a student, I did my diploma internship at Elterma. I already knew then that the cooperation between the University of Technology and the Świebodzin furnace manufacturer would be valuable. After more than 20 years, in 1998, after analyzing global trends in heat treatment, we launched the first joint scientific and research project. It concerned the development of a new, original vacuum carburizing technology and its application in vacuum furnaces," recalls Prof. Ph.D. Engineer Piotr Kula from the Lodz University of Technology, who is the precursor of this cooperation. 
The Lodz University of Technology scientific teams, together with SECO/WARWICK, have carried out as many as 21 research projects over the past 25 years. As a result, these modern technologies were created: FineCarb® vacuum carburizing and PreNitLPC®. These technologies have been implemented into hundreds of vacuum furnaces operating on five continents.  
Four large research and development projects were carried out jointly as part of R&D consortiums. One of them concerned the technology of producing graphene for the needs of a graphene nanocomposite for reversible hydrogen storage. In this project, SECO/WARWICK designed and built an innovative furnace for the Lodz University of Technology, with which scientists could produce large-area graphene according to the technology they had developed. "Graphene technologies are currently one of the main research and development trends of our Institute. Thanks to our cooperation with SECO/WARWICK, we are a leading center in Europe dealing with graphene technologies in the areas of water filtration, Li-ion batteries, transparent photovoltaic cells, and graphene quantum dots,» emphasizes Prof. Ph.D. Engineer Łukasz Kaczmarek, Director of the Institute of Materials Science and Engineering, Lodz University of Technology. Other projects implemented together with the Lodz University of Technology concerned modern and ecological low-pressure carburizing technologies with gas hardening, including technology based on the Single-Piece Flow concept with ultra-low and repeatable output that significantly reduces hardening deformations.  
There is no innovation without strong science
The leading research team in this cooperation at the Lodz University of Technology, Institute of Materials Engineering, was then joined by employees of the Institute of Fluid-Flow Machinery, working on atmosphere circulation and high-pressure gas hardening systems, as well as IT specialists supporting the development of artificial intelligence tools supporting technological processes in vacuum furnaces. The result of this work is a unique on a global scale computer system supporting vacuum carburizing processes — SimVacPlus® — which is widely implemented in SECO/WARWICK vacuum furnaces. 
"Currently, we are jointly developing a new low-pressure carburizing algorithm which allows for an even greater reduction in the carburizing gas consumption. The research results will be implemented in the SimVaC® carburizing simulator, which is used to develop recipes for the technological process. Work is also underway to develop carburization mathematical models for new grades of High-Performance alloy steels. Steels of this type are increasingly used in the aviation industry. What is also worth mentioning is the support of the Lodz University of Technology in developing new or significantly improved solutions in the field of fluid-flow machinery (fans, gas blowers, compressors, etc.), which may constitute a technological advantage in processes or operations based on heat exchange by convection," says Łukasz Piechowicz, SECO/WARWICK's R&D Director. 
Cooperation between SECO/WARWICK and the Lodz University of Technology contributed to the development of the Polish scientific staff in Materials Engineering at Lodz University of Technology. So far, thirteen doctors of technical sciences and three habilitated doctors have been promoted in this field. The scientific and implementation achievements as well as the high competencies of the scientific staff developed in cooperation have strengthened the position of the Institute of Materials Science and Engineering of the Lodz University of Technology as an important scientific center in Poland and abroad, recognized as the «Lodz School of Heat Treatment and Surface Engineering».  
SECO/WARWICK supports academic entrepreneurship
In 2012, employees of the Institute of Materials Science and Engineering, recognizing the efficacy of the CaseMaster Evolution® furnace prototype, founded Hart-Tech — a commercial heat treatment plant, committed to using SECO/WARWICK technological solutions and developed technologies. Thanks to the staff competence and continuous cooperation, the company has built a significant competitive advantage on the domestic heat treatment market, now becoming the largest service hardening plant in Poland in one location, also with international influence. This is one of the most important successes in the field of academic entrepreneurship in Poland. 
"Hart-Tech is one of the most important partners in the commercial heat treatment plant sector. We are very pleased that scientific cooperation has inspired scientists to transfer their achievements to the world of business. Commercial heat treaters are an especially important group of customers for us. No one knows heat treatment so well and no one uses such versatile technologies in their plants. SECO/WARWICK is honored to cooperate with the Lodz University of Technology and jointly celebrates the 50th anniversary of the Institute of Materials Science and Engineering. I am convinced that the coming years will bring further innovations and patents which will gradually change the face of metal heat treatment," added Sławomir Woźniak, CEO of the SECO/WARWICK Group's Management Board.  
Thanks to cooperation with the scientific community, SECO/WARWICK can create and implement product innovations. Creating such products requires scientific knowledge gained by conducting research and experiments using modern research methods. In turn, the Lodz University of Technology, thanks to cooperation with SECO/WARWICK, can draw inspiration and conduct research aimed at the development of industrial applications. This is a true synergy between business and science.
Tags:
commercil heat treatment
|
FineCarb
|
graphene
|
Lodz University of Technology
|
Materials Engineering
|
PreNitLPC
|
science
|
SECO/WARWICK
|
vacuum carburizing
|
vacuum furnaces