Vacuum Carburizing
FineCarb® Vacuum Carburizing
Guarantee of carburizing repeatability and uniformity of the case from 0,1mm to 5mm.
Unique carburizing gas mixture.
Total elimination of process by-products, like soot and tar, green manufacturing process.
Automatic control of carburizing atmosphere flow, depending on charge size.
Reduction of cycle time by increasing the Carburizing temperature to 1150 °C.
Grains growth limitation in high-temperature Carburizing by PreNitLPC technology.
Single-chamber furnaces
10,12,16,25bar
400x400x600mm 200/300kg
600x600x900mm 600/1000kg
900x800x1200mm 1200/1500kg

Double chamber furnaces

Rotary and Linear Modular Systems
600x660xl000mm 600/1000kg
900x800x1200mm 1200kg
Rotary Modular Systems
Compact structure.
Up to 10 processes chambers.
Easy operation and maintenance, high efficiency.
Perfect for medium-series production.
Flexibility and variety of processes.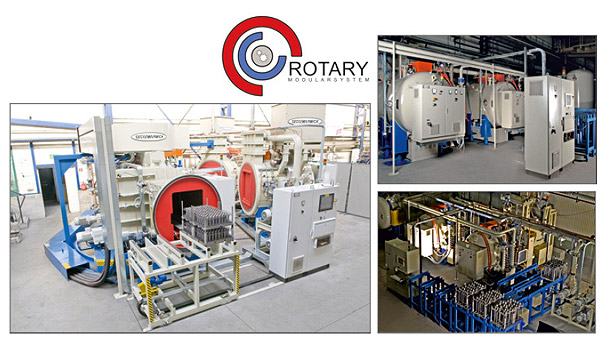 Design Features of SECO/WARWICK furnaces
Compact design, easy operation, low consumption of energy and process gas, high efficiency with low operating and maintenance
Heating chambers equipped with Curved, wide heating elements, providing efficient heating and high uniformity.
Suitable for wide range of carburizing technologies and gas quenching.
Seco Vac control system facilitating operation, programming of new tasks, device operation optimization, including queuing for modular lines, reporting functions, etc.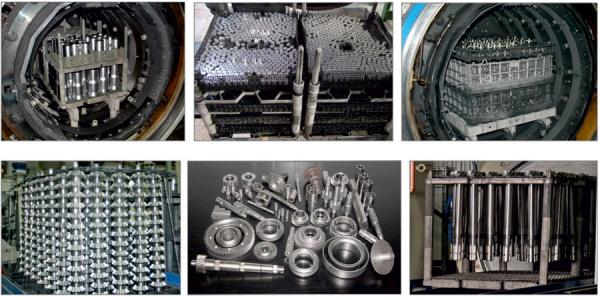 Gas Quenching
Easy control of cooling speed by software modificatíon of gas pressure and blower speed in appropriate cycle stage.
Suitable for various cooling gases including N2, He, or H2 with pressures up to 25 bar.
High capacity of quenching in Helium, close to quenching in oils
Separate cooling Chamber in double-chamber furnaces or modular systems increases the application for 16MnCr5/8620 steels (range MQ1/2 DIN 3990).
Uniform cooling and repeatable of distortion field,
lnnovative SECO/WARWICK circular cooling system allowing for fast cooling with use of reversible top/bottom gasf low.
The ConFlap convective heating system in single-chamber VPT furnaces allowing for hardeníng with shorter cycle times before Ms transformations significantly reducting part distortions.
SimVac Process Simulator
SimCarb module enables designing of vacuum carburizing processes prior to
running trials saving actual process time and reducing number of scrapped
Optimal segment planning of carburizing process splitto
boost and diffusion (holding) phases.
Calculations based on steel grade, sizeand shape of parts,
as well as Cooling profilefor hardening.
Manual or automatic simulation mode.
Carburizing cost reduction.
lntuitive users interface.
Fully compatible with furnace control system Secovac.
SimHard module – gas hardening simulator is an additional
technology support that enables:
Simulation of hardness distribution upon the basis of achieved carbon profile.
Including the cooling characteristics of SECO/WARWICK furnaces
in to the calculations.
Designing of carburizing process for required mechanical properties TWV.
Detailed calculation of carbon profile considering charge configuration and
geometry.
Manual or automatic simulation mode.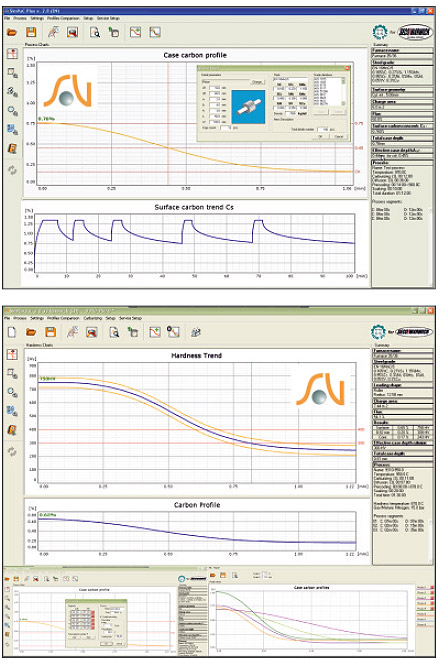 PreNitLPC® technology
Limitation of grain growth in
high-temperature processes (above 1000°C).
Acceleration of case creation
Reduction of retain austenite and carbides
formation.
Shortening of process duration.