SECO/WARWICK will supply a Vector® vacuum furnace to the Marle Group, a global manufacturer of orthopedic prostheses. The furnace on order will be used for the heat treatment of cobalt implants.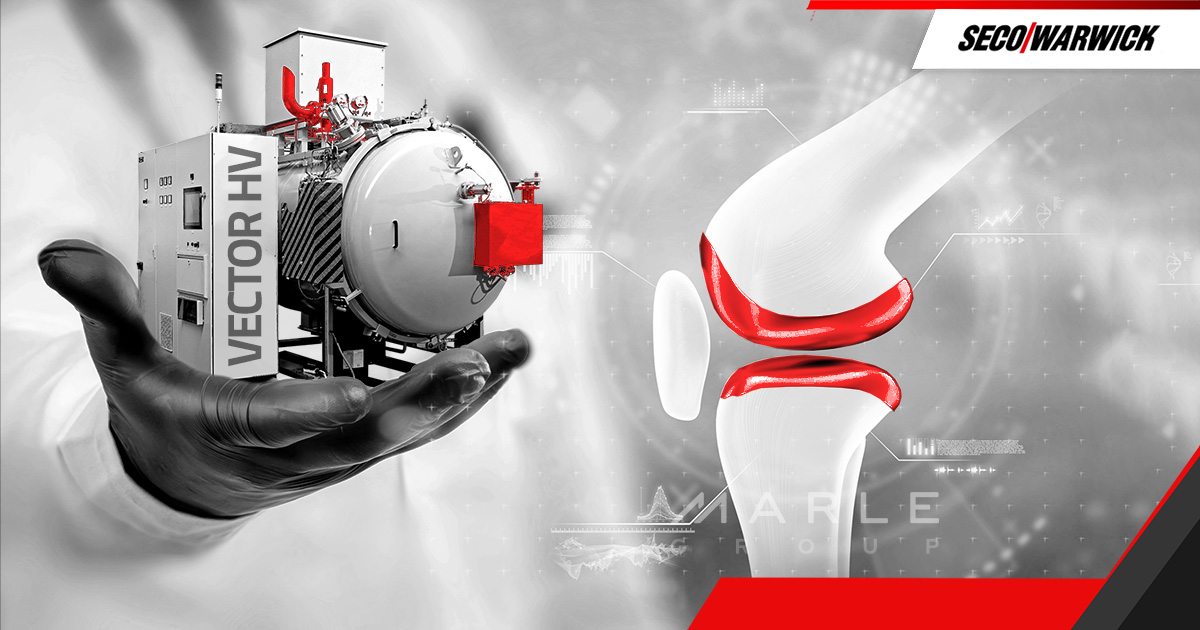 Demanding heat treatment requirements for cobalt alloys
Cobalt alloy hardening requires very high temperatures, and the heating process for these materials require a high purity environment, temperature uniformity and very fast and effective cooling. The standard Vector vacuum furnace meets all of these criteria, guaranteeing high quality output of the processed elements.
"The versatility of the standard Vector furnace makes it suitable for many industries, even one as demanding and precise as high-tech medicine. Thanks to a very refined and proven design, the furnace meets the requirements of the Marle Group regarding higher than standard operating temperatures, i.e. at the level of 1200˚C. Vector can easily operate at such high temperatures for long periods of time while providing short cooling times thanks to the use of a high performance gas blower operating with 15 bar abs cooling pressure. The furnace also uses an Argon utilization system — thanks to which, an extraordinary level of process purity is possible. We are glad that SECO/WARWICK has a significant share in the development of groundbreaking medical technology solutions that improve the quality and comfort of people's lives," says Maciej Korecki, Vice President of Vacuum Furnace Segment at the SECO/WARWICK Group.
Cobalt was discovered in 1735 by the Swedish chemist, Georg Brandt. Until the 19th century, cobalt was used as a dye for ceramics and for the production of blue glass. In the twentieth century, it was used in medicine for various applications including radiotherapy, implantology and instrument sterilization. Cobalt alloys are metals that are also used as a key component of lithium-ion batteries, which can be found in smartphones and electric cars. These are superalloys — extremely difficult to heat treat. The use of a modern vacuum furnace operating with advanced process technology gives users a significant production advantage.
Vacuum furnaces for implant manufacturing
In order for cobalt alloys to be used in implantology, they must be deprived of their ferromagnetic properties. This shiny, hard metal loses this property only when it reaches a temperature higher than 1131°C. Such a high temperature makes it necessary to use a vacuum furnace in the implant production process. The furnace can not only provide such a temperature, but also guarantees its maintenance over a longer period of time. As a comparison, the temperature, above which a ferromagnet rapidly loses its magnetic properties and becomes paramagnetic for iron, is only 769°C.
The Vector vacuum furnace meets these requirements. The solution on order uses two gases — Nitrogen for cobalt hardening and Argon to achieve exceptional purity of the process during heating. Vector is characterized by a round heating chamber which guarantees perfect temperature distribution and uniform cooling of the entire densely packed load. As a standard, it is also equipped with a dew point sensor for each of the gases, thanks to which the phenomenon of water vapor condensation and, consequently, the possibility of the processed load's surface oxidation is eliminated. Not without significance for the cobalt treatment process is also an efficient, quick cooling system based on a gas blower ensuring a maximum hardening pressure of 15 bar abs.
"The furnace we ordered solves the challenges faced by anyone who has to heat treat cobalt alloys in a production process. An extremely demanding and difficult alloy needs top-shelf solutions. The Vector vacuum furnace met all of our needs, which is surprising for a standard solution which did not require any special adjustments to our expectations. We know that SECO/WARWICK — our technology partner — has experience in providing equipment for medical industry metal heat treatment, hence such a high standard of technology is not surprising. Knee implantology is a field that is developing rapidly especially in developed countries, such as United States of America and in many European countries. Our mission is to create the highest quality implants which raise the living standard of people around the world, and the Vector furnace will help us to achieve this goal," said Antoine Eschbach from Marle Group.
Tags:
hardenind
|
Marle Group
|
medical implants
|
SECO/WARWICK
|
vacuum furnace