The Euro PM2023 Congress & Exhibition, organized and sponsored by the European Powder Metallurgy Association, will make its first visit to Lisbon, Portugal from 01 to 04 October 2023.
The Powder Metallurgy European Congress is held in Europe every year and is therefore an essential destination for the international PM community to meet with suppliers, producers, and end-users in order to discover the latest innovations in advanced PM technology.
Retech, a SECO/WARWICK Group company is the 1st Choice Supplier of Solutions for atomizing systems and that is the reason why our expert Aamir Abid was invited to present a lecture:
/ Date: October 4th, 09:10 am
/ Speaker: Aamir Abid, PhD
"Plasma Gas Atomization for Reactive and Refractory Metal Alloys"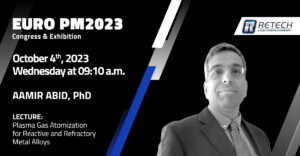 Discover top solutions for atomizing systems including:
The Retech Ceramic Induction Gas Atomizer (R-CIGA) – Retech Vacuum Metal Powder systems combine vacuum induction melting of oxygen-sensitive metals & alloys with inert gas atomization to produce a variety of powder specifications.
Plasma Gas Atomizer – Retech Plasma Powder equipment utilizes our Plasma Arc Melting (PAM) technology in combination with gas atomization, spin cup atomization or a spin wheel to produce powders that meet the specific needs of our customers. We strive to ensure those customers remain at the forefront of their prospective markets.
Small Scale Atomizer – The Retech Laboratory Scale Atomizer utilizes our state-of-the-art melting technology in combination with advanced atomization techniques to produce highly spherical powders within a narrow Powder Size Distribution (PSD).
These systems allow for inert gas atomization of various metals and alloys including titanium, aluminum, nickel and more.
Visit our booth #143 and get to know our experts.
The vacuum melting furnace team will be available to you for any inquiries concerning the facts and features of our systems, descriptions of the processes and how our systems work, along with details about how you can purchase one of our products.
The SECO/WARWICK team would love to meet you at this event!
Schedule an appointment:

events@secowarwick.com
Before you schedule an appointment, please get to know with SECO/WARWICK Information Clause and Privacy Policy
More >>>
Personal data is processed for the purpose of scheduling an appointment with you. The data controller is SECO/WARWICK S.A., with headquarters in Świebodzin, ul. Sobieskiego 8, 66-200. You may contact us by sending a letter to our address or by sending e-mail to RODO@secowarwick.com.
As a data subject you have the following rights: a right to request from the data controller access to and rectification or erasure of your personal data or restriction of processing or to object to processing as well as a right to data portability. You have also the right to lodge a complaint with the data protection supervisory authority, which in Poland is the President of the Personal Data Protection Office (Prezes Urzędu Ochrony Danych Osobowych). Information about competent supervisory authorities for other countries is available at https://edpb.europa.eu/about-edpb/board/members_en.
More information on personal data processing can be found in our Privacy Policy available at: https://www.secowarwick.com/en/data-privacy/.
Calendar
/

of Events

Juli 2023
| | | | | | | |
| --- | --- | --- | --- | --- | --- | --- |
| Mo | Di | Mi | Do | Fr | Sa | So |
| &nbsp | &nbsp | &nbsp | &nbsp | &nbsp | 1 | 2 |
| 3 | 4 | 5 | 6 | 7 | 8 | 9 |
| 10 | 11 | 12 | 13 | 14 | 15 | 16 |
| 17 | 18 | 19 | 20 | 21 | 22 | 23 |
| 24 | 25 | 26 | 27 | 28 | 29 | 30 |
| 31 | &nbsp | &nbsp | &nbsp | &nbsp | &nbsp | &nbsp |
Dezember 2023
| | | | | | | |
| --- | --- | --- | --- | --- | --- | --- |
| Mo | Di | Mi | Do | Fr | Sa | So |
| &nbsp | &nbsp | &nbsp | &nbsp | 1 | 2 | 3 |
| 4 | 5 | 6 | 7 | 8 | 9 | 10 |
| 11 | 12 | 13 | 14 | 15 | 16 | 17 |
| 18 | 19 | 20 | 21 | 22 | 23 | 24 |
| 25 | 26 | 27 | 28 | 29 | 30 | 31 |
| &nbsp | &nbsp | &nbsp | &nbsp | &nbsp | &nbsp | &nbsp |
Januar 2024
| | | | | | | |
| --- | --- | --- | --- | --- | --- | --- |
| Mo | Di | Mi | Do | Fr | Sa | So |
| 1 | 2 | 3 | 4 | 5 | 6 | 7 |
| 8 | 9 | 10 | 11 | 12 | 13 | 14 |
| 15 | 16 | 17 | 18 | 19 | 20 | 21 |
| 22 | 23 | 24 | 25 | 26 | 27 | 28 |
| 29 | 30 | 31 | &nbsp | &nbsp | &nbsp | &nbsp |
| &nbsp | &nbsp | &nbsp | &nbsp | &nbsp | &nbsp | &nbsp |
Februar 2024
| | | | | | | |
| --- | --- | --- | --- | --- | --- | --- |
| Mo | Di | Mi | Do | Fr | Sa | So |
| &nbsp | &nbsp | &nbsp | 1 | 2 | 3 | 4 |
| 5 | 6 | 7 | 8 | 9 | 10 | 11 |
| 12 | 13 | 14 | 15 | 16 | 17 | 18 |
| 19 | 20 | 21 | 22 | 23 | 24 | 25 |
| 26 | 27 | 28 | 29 | &nbsp | &nbsp | &nbsp |
| &nbsp | &nbsp | &nbsp | &nbsp | &nbsp | &nbsp | &nbsp |
März 2024
| | | | | | | |
| --- | --- | --- | --- | --- | --- | --- |
| Mo | Di | Mi | Do | Fr | Sa | So |
| &nbsp | &nbsp | &nbsp | &nbsp | 1 | 2 | 3 |
| 4 | 5 | 6 | 7 | 8 | 9 | 10 |
| 11 | 12 | 13 | 14 | 15 | 16 | 17 |
| 18 | 19 | 20 | 21 | 22 | 23 | 24 |
| 25 | 26 | 27 | 28 | 29 | 30 | 31 |
| &nbsp | &nbsp | &nbsp | &nbsp | &nbsp | &nbsp | &nbsp |