Held annually, the Heat Treatment Exhibition is the only exhibition of thermal equipment and technologies in Czech Republic.
SECO / WARWICK, as the  1st   Choice Supplier, will present modern, energy efficient and ecological vacuum heat treatment equipment at the Materials and Equipment IN HEAT TREATMENT 2023 fair and our expert Łukasz Chwiałkowski will present a lecture on top SECO/WARWICK's technology
/ Date: November 22nd, 1:50 p.m.
/ Speaker: Łukasz Chwiałkowski
"Low Pressure Carbonitriding – Heat Treatment suited for a sustainable future"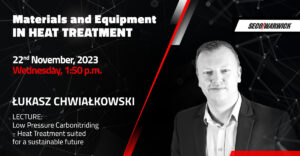 Discover top solutions for the heat treatment of metals at our stand:
Our expert – will present lectures on top SECO/WARWICK technologies.

We are looking forward to seeing you at stand #4.
The SECO/WARWICK team would love to meet you at this event!
Schedule an appointment:

events@secowarwick.com
Before you schedule an appointment, please get to know with SECO/WARWICK Information Clause and Privacy Policy
More >>>
Personal data is processed for the purpose of scheduling an appointment with you. The data controller is SECO/WARWICK S.A., with headquarters in Świebodzin, ul. Sobieskiego 8, 66-200. You may contact us by sending a letter to our address or by sending e-mail to RODO@secowarwick.com.
As a data subject you have the following rights: a right to request from the data controller access to and rectification or erasure of your personal data or restriction of processing or to object to processing as well as a right to data portability. You have also the right to lodge a complaint with the data protection supervisory authority, which in Poland is the President of the Personal Data Protection Office (Prezes Urzędu Ochrony Danych Osobowych). Information about competent supervisory authorities for other countries is available at https://edpb.europa.eu/about-edpb/board/members_en.
More information on personal data processing can be found in our Privacy Policy available at: https://www.secowarwick.com/en/data-privacy/.
Calendar
/

of Events

Juli 2023
| | | | | | | |
| --- | --- | --- | --- | --- | --- | --- |
| Mo | Di | Mi | Do | Fr | Sa | So |
| &nbsp | &nbsp | &nbsp | &nbsp | &nbsp | 1 | 2 |
| 3 | 4 | 5 | 6 | 7 | 8 | 9 |
| 10 | 11 | 12 | 13 | 14 | 15 | 16 |
| 17 | 18 | 19 | 20 | 21 | 22 | 23 |
| 24 | 25 | 26 | 27 | 28 | 29 | 30 |
| 31 | &nbsp | &nbsp | &nbsp | &nbsp | &nbsp | &nbsp |
Dezember 2023
| | | | | | | |
| --- | --- | --- | --- | --- | --- | --- |
| Mo | Di | Mi | Do | Fr | Sa | So |
| &nbsp | &nbsp | &nbsp | &nbsp | 1 | 2 | 3 |
| 4 | 5 | 6 | 7 | 8 | 9 | 10 |
| 11 | 12 | 13 | 14 | 15 | 16 | 17 |
| 18 | 19 | 20 | 21 | 22 | 23 | 24 |
| 25 | 26 | 27 | 28 | 29 | 30 | 31 |
| &nbsp | &nbsp | &nbsp | &nbsp | &nbsp | &nbsp | &nbsp |
Januar 2024
| | | | | | | |
| --- | --- | --- | --- | --- | --- | --- |
| Mo | Di | Mi | Do | Fr | Sa | So |
| 1 | 2 | 3 | 4 | 5 | 6 | 7 |
| 8 | 9 | 10 | 11 | 12 | 13 | 14 |
| 15 | 16 | 17 | 18 | 19 | 20 | 21 |
| 22 | 23 | 24 | 25 | 26 | 27 | 28 |
| 29 | 30 | 31 | &nbsp | &nbsp | &nbsp | &nbsp |
| &nbsp | &nbsp | &nbsp | &nbsp | &nbsp | &nbsp | &nbsp |
Februar 2024
| | | | | | | |
| --- | --- | --- | --- | --- | --- | --- |
| Mo | Di | Mi | Do | Fr | Sa | So |
| &nbsp | &nbsp | &nbsp | 1 | 2 | 3 | 4 |
| 5 | 6 | 7 | 8 | 9 | 10 | 11 |
| 12 | 13 | 14 | 15 | 16 | 17 | 18 |
| 19 | 20 | 21 | 22 | 23 | 24 | 25 |
| 26 | 27 | 28 | 29 | &nbsp | &nbsp | &nbsp |
| &nbsp | &nbsp | &nbsp | &nbsp | &nbsp | &nbsp | &nbsp |
März 2024
| | | | | | | |
| --- | --- | --- | --- | --- | --- | --- |
| Mo | Di | Mi | Do | Fr | Sa | So |
| &nbsp | &nbsp | &nbsp | &nbsp | 1 | 2 | 3 |
| 4 | 5 | 6 | 7 | 8 | 9 | 10 |
| 11 | 12 | 13 | 14 | 15 | 16 | 17 |
| 18 | 19 | 20 | 21 | 22 | 23 | 24 |
| 25 | 26 | 27 | 28 | 29 | 30 | 31 |
| &nbsp | &nbsp | &nbsp | &nbsp | &nbsp | &nbsp | &nbsp |
April 2024
| | | | | | | |
| --- | --- | --- | --- | --- | --- | --- |
| Mo | Di | Mi | Do | Fr | Sa | So |
| 1 | 2 | 3 | 4 | 5 | 6 | 7 |
| 8 | 9 | 10 | 11 | 12 | 13 | 14 |
| 15 | 16 | 17 | 18 | 19 | 20 | 21 |
| 22 | 23 | 24 | 25 | 26 | 27 | 28 |
| 29 | 30 | &nbsp | &nbsp | &nbsp | &nbsp | &nbsp |
| &nbsp | &nbsp | &nbsp | &nbsp | &nbsp | &nbsp | &nbsp |