ECHT 2023 will cover all relevant topics for the Heat Treatment & Surface Engineering community. The Conference will have a special focus on sustainability!
Genova, Italy will host an annual manufacturing and supply chain event.
SECO / WARWICK, as the 1st Choice Supplier, will present modern, energy efficient and ecological vacuum heat treatment equipment at the European Conference Heat Treatment 2023 fair and our expert Paweł Okińczyc will present a lecture on top SECO/WARWICK's technology:
/ Date: May 29th, 12:40 pm – 1:00 pm
/ Speaker: Paweł Okińczyc
"Economic and efficient low pressure carburizing in pit furnaces"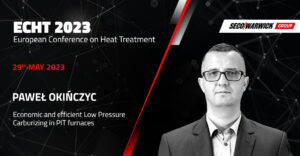 Discover top solutions for the heat treatment of metals at our stand:
Visit our booth and get to know our expert.
The SECO/WARWICK team would love to meet you at this event!
Schedule an appointment:

events@secowarwick.com
Before you schedule an appointment, please get to know with SECO/WARWICK Information Clause and Privacy Policy
More >>>
Personal data is processed for the purpose of scheduling an appointment with you. The data controller is SECO/WARWICK S.A., with headquarters in Świebodzin, ul. Sobieskiego 8, 66-200. You may contact us by sending a letter to our address or by sending e-mail to RODO@secowarwick.com.
As a data subject you have the following rights: a right to request from the data controller access to and rectification or erasure of your personal data or restriction of processing or to object to processing as well as a right to data portability. You have also the right to lodge a complaint with the data protection supervisory authority, which in Poland is the President of the Personal Data Protection Office (Prezes Urzędu Ochrony Danych Osobowych). Information about competent supervisory authorities for other countries is available at https://edpb.europa.eu/about-edpb/board/members_en.
More information on personal data processing can be found in our Privacy Policy available at: https://www.secowarwick.com/en/data-privacy/.
Calendar
/

of Events

Dezember 2022
| | | | | | | |
| --- | --- | --- | --- | --- | --- | --- |
| Mo | Di | Mi | Do | Fr | Sa | So |
| &nbsp | &nbsp | &nbsp | 1 | 2 | 3 | 4 |
| 5 | 6 | 7 | 8 | 9 | 10 | 11 |
| 12 | 13 | 14 | 15 | 16 | 17 | 18 |
| 19 | 20 | 21 | 22 | 23 | 24 | 25 |
| 26 | 27 | 28 | 29 | 30 | 31 | &nbsp |
| &nbsp | &nbsp | &nbsp | &nbsp | &nbsp | &nbsp | &nbsp |
Januar 2023
| | | | | | | |
| --- | --- | --- | --- | --- | --- | --- |
| Mo | Di | Mi | Do | Fr | Sa | So |
| &nbsp | &nbsp | &nbsp | &nbsp | &nbsp | &nbsp | 1 |
| 2 | 3 | 4 | 5 | 6 | 7 | 8 |
| 9 | 10 | 11 | 12 | 13 | 14 | 15 |
| 16 | 17 | 18 | 19 | 20 | 21 | 22 |
| 23 | 24 | 25 | 26 | 27 | 28 | 29 |
| 30 | 31 | &nbsp | &nbsp | &nbsp | &nbsp | &nbsp |
Februar 2023
| | | | | | | |
| --- | --- | --- | --- | --- | --- | --- |
| Mo | Di | Mi | Do | Fr | Sa | So |
| &nbsp | &nbsp | 1 | 2 | 3 | 4 | 5 |
| 6 | 7 | 8 | 9 | 10 | 11 | 12 |
| 13 | 14 | 15 | 16 | 17 | 18 | 19 |
| 20 | 21 | 22 | 23 | 24 | 25 | 26 |
| 27 | 28 | &nbsp | &nbsp | &nbsp | &nbsp | &nbsp |
| &nbsp | &nbsp | &nbsp | &nbsp | &nbsp | &nbsp | &nbsp |
März 2023
| | | | | | | |
| --- | --- | --- | --- | --- | --- | --- |
| Mo | Di | Mi | Do | Fr | Sa | So |
| &nbsp | &nbsp | 1 | 2 | 3 | 4 | 5 |
| 6 | 7 | 8 | 9 | 10 | 11 | 12 |
| 13 | 14 | 15 | 16 | 17 | 18 | 19 |
| 20 | 21 | 22 | 23 | 24 | 25 | 26 |
| 27 | 28 | 29 | 30 | 31 | &nbsp | &nbsp |
| &nbsp | &nbsp | &nbsp | &nbsp | &nbsp | &nbsp | &nbsp |
Juli 2023
| | | | | | | |
| --- | --- | --- | --- | --- | --- | --- |
| Mo | Di | Mi | Do | Fr | Sa | So |
| &nbsp | &nbsp | &nbsp | &nbsp | &nbsp | 1 | 2 |
| 3 | 4 | 5 | 6 | 7 | 8 | 9 |
| 10 | 11 | 12 | 13 | 14 | 15 | 16 |
| 17 | 18 | 19 | 20 | 21 | 22 | 23 |
| 24 | 25 | 26 | 27 | 28 | 29 | 30 |
| 31 | &nbsp | &nbsp | &nbsp | &nbsp | &nbsp | &nbsp |