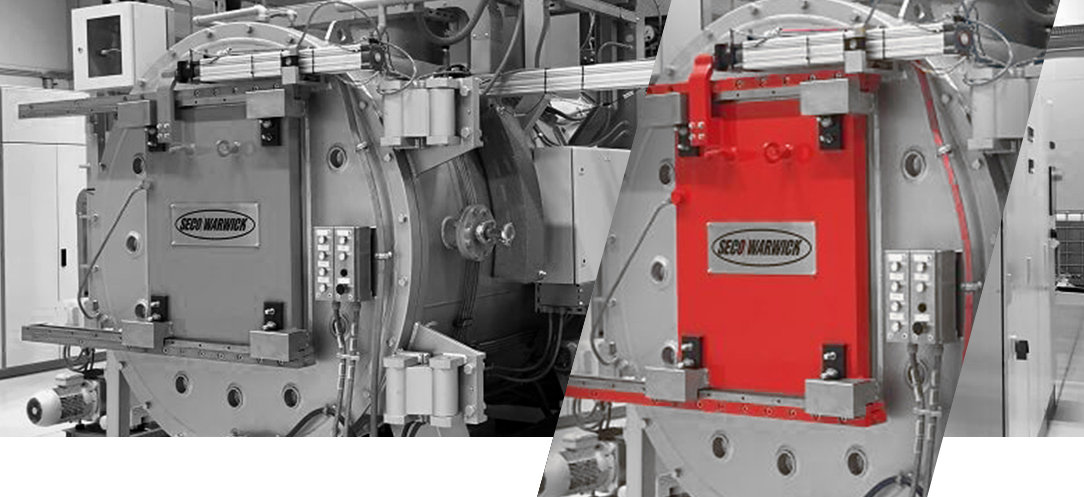 CaseMaster Evolution T – Triple chamber vacuum furnace
High volume hardening by low pressure carburizing and high pressure gas quenching
The CaseMaster Evolution T  replaces today's conventional semi-continuous processes under protective atmosphere followed by oil quenching, for truly vacuum heat treatment with low pressure carburizing and nitrogen gas quenching resulting in precision and replicability, and allows for the adaptation to modern industry requirements.
The CaseMaster Evolution T is a triple-chamber vacuum furnace designed for high volume case hardening processing based on low pressure carburizing (LPC) and gas quenching in the semi-continuous production mode. It is built of three separated, functional chambers: loading and pre-heating chamber, process chamber (LPC), gas quenching and unloading chamber.
It's designated for heat processing of variety of components and steel grades commonly carried out in traditional equipment. The triple chamber furnace provides vacuum and gas quenching quality as well as high throughput.
The CaseMaster Evolution T is modern and reasonable alternative for the traditional devices with truly vacuum heat treatment meeting the modern industry requirements.
Contrary to double- and single-chamber furnaces, at the triple-chamber furnace the loads pass through the next chambers one-by-one in the semi-continuous mode. At the same time, three batches are found together in the furnace (one piece in each chamber) and the working cycle of the furnace is determined by the longest cycle in one of the chambers (usually in the process chamber). In comparison to the double-chamber furnaces, the triple-chamber furnaces can reach even twice throughput.
The CaseMaster Evolution T can replace the classic sealed quench furnaces and lines for high-volume production such as pusher, roller or rotary furnaces. It is distinguished by a significant improvement of the process result quality, capacity and production flexibility, and the compact system. Obtained technological results considerably exceed the traditional technology achievements with respect to accuracy, evenness and repeatability of the hardened layer shaping, and eliminates of the IGO problem.
It can be installed directly in production halls (it does not require any separated area) and meets safety and environment protection requirements. The capacity of the single furnace can reach even up to 200 kg/h and it can be multiplied by using groups of many furnaces. The group of many furnaces can be easily supplemented for fully-automated loading and unloading system at the later stage of development, when it is fund necessary.
The direct costs of the process are within the range of traditional technology costs.
The CMe T type furnace is also an attractive alternative for modular vacuum systems for mass production. The advantages include initial capital costs as well as operating independence and flexibility.
/ Modern case hardening system specifically designed for transmission, machinery and bearing industry
/ Regular steels for case and through hardening
/ Working zone size -610x750x1000 mm (WxHxL)
/ Load gross mass – 1000 kg
/ Temperature – 1250 C
/ Gas quenching – 25 bar (abs)
/ Quenching in a specially designed high-pressure, gas-quenching chamber, replacing free oil quench resulting in highly efficient, uniform cooling
/ In-line use with other production equipment
/ Rational alternative for:
Sealed quench furnaces
Continuous atmospheric lines
Multi-chamber LPC systems
High Production Efficiency
/ High volume production – semi-continuous
/ Low process cost comparable with traditional technology
/ Fast and efficient LPC
/ Operational flexibility on demand,
/ Fully automated, semi-continuous operation
/ Independent device, which can be freely expanded (multiplied) to increase the production efficiency
/ Accessibility easy and fast
/ Minimizes final/hard machining costs
Outstanding Quality
/ High precision and reliability of results
/ Ideal surface condition
/ Elimination of oxidation and IGO
Safety and environment
/ Safe (no open fire and explosion risk)
/ Reducing utility consumption
/ Low emission of heat and gases
/ Eliminates oils, chemicals, and washer systems
/ Clean and environmentally friendly technology
The solution determines an evolutionary direction of changes and development of heat treatment technology and equipment for the modern industry and fully complies with present and upcoming requirements.
/ Automotive,
/ Aerospace,
/ Transmission,
/ Machinery
/ Case hardening (low pressure carburizing),
/ Hardening,
/ Brazing,
/ Annealing.
/ Alloy steel,
/ Carburizing grades,
/ Stainless steels,
/ Specialty steels and alloys