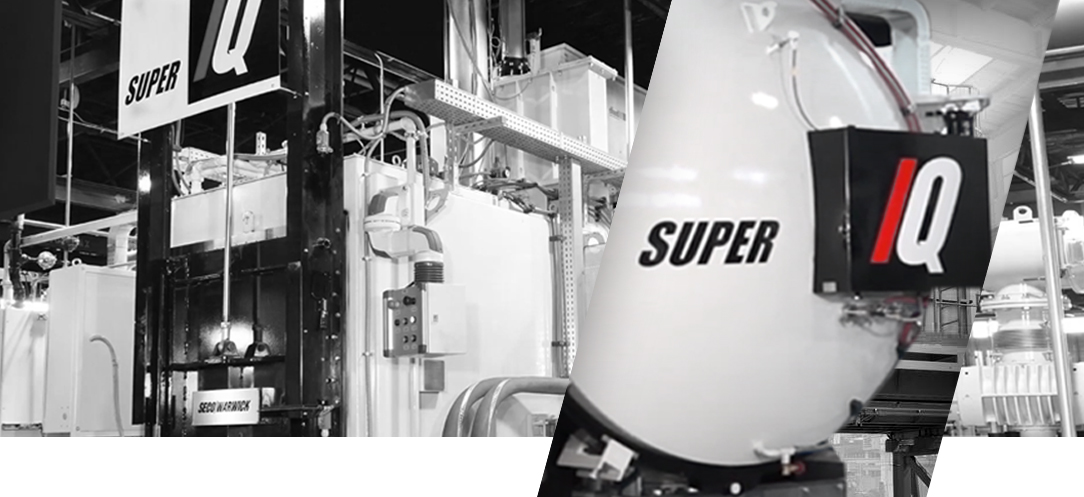 Integral Quench Furnace: Super IQ
New generation Integral Quench Furnace for low pressure carburizing (LPC)
The unit is designed so that it can be added to existing process lines of carburizing furnaces without any need to significantly modify the existing infrastructure.
This also applies to situations where it is necessary to replace an old, worn-out Integral Quench (IQ)  furnace with a new unit. The applied solutions allow trouble-free installation of the furnace regardless of the brand of the original equipment that is being replaced. This means full integration with the existing elements used for transporting the feed (the loader, the delivery tables, the process equipment) when it comes to mechanic and automatic technologies.
Thanks to it being adapted to work with conventional quenching oils, the treated workpieces are washed by traditional washing devices available in the line. The washing technology, the type of agents used, and the good practices of the operators do not require any changes – the user can keep benefiting fully from the experience they have previously gained.
In order to carry out the carburizing processes, Super IQ does not require an endothermic atmosphere to be supplied. As a result, the generator is eliminated and savings can me made since it no longer needs to be purchased, maintained during operation, and no excess process gas losses are incurred, something that is typical for this device.
However, Super IQ's main advantage over traditional IQ furnaces is its potential to reduce the time needed for treatment. This is thanks to it being able to carry out carburizing processes at higher temperatures – even up to 1,050°C in practice. Due to this, it is possible to significantly increase efficiency and reduce production costs.
Extending the operating temperature range to 1,100°C also allows it to execute other processes that need this, which significantly improves the capabilities of the unit.
The furnace is fully automatic. The internal loader moves the feed smoothly, and a clever solution eliminates risks connected with pushing significant weights – in this case even up to 1,560 kg gross.
Process recipes are created with the use of a simulator, which is an integral part of the unit. Apart from having a large database of materials, the simulator supports the operator's work by calculating and proposing alternative versions of recipes, directly reporting the expected costs of the processes.
Super IQ boasts unrivalled flexibility thanks to the fact that it does not have to be seasoned or saturated – as opposed to traditional IQ furnaces. In the event of weekend breaks or other production breaks, the furnace can be switched off immediately. Re-establishing the furnace's operating parameters happens within minutes.
The unit also offers significant advantages when it comes to being environmentally friendly. The carburizing technology applied reduces atmospheric emissions to an absolute minimum. The precisely selected doses of process media are counted in litres.
As a result, smokiness and open flames – typical of traditional solutions – are eliminated.
This leads to greater safety and work comfort for the operator.
The simple design, ergonomics, and systems supporting periodic maintenance, not only practically eliminate unplanned downtime, but also significantly reduce costs associated with maintaining highly-qualified staff and their labour input.
/
No added production costs with improved quality and productivity compared to Sealed Quench carburizing
/
Fits to any make Sealed Quench lines and their pits
/
No ENDO generator needed, no flame
/
Combines clean processing with exceptional performance of oil quenching
/
Turn it on, turn it off – no idling nor conditioning
/ 
Potential to reduce treatment time thanks to the possibility of treating at higher temperatures (>925°C), thus increasing efficiency and reducing production costs.
/ 
Automatic creation of recipes, fully automated operation.
/ 
Flexibility – no work, no cost.
/
Easy integration with traditional units.
/
"Process versatility +" (also treatment of tools, higher process temperatures).
/ 
Simple operation and attractive maintenance costs.
/ 
No open flames, smokiness, emissions.
/ 
Elimination of an additional device – the endo generator.
/ Automotive,
/ Transmission,
/ Machinery,
/ Comercial Heat treatment.
/  adding it to the existing chamber carburizing furnaces' technological lines, without the need to make significant modifications to the existing infrastructure – means not only huge savings for enterprises, but also a nod to ecology.  
/  the low-pressure carburizing (LPC) technology used in this solution significantly reduces the process gases consumption, which in turn reduces CO₂ emissions to the atmosphere to an absolute minimum.  
/  a significant improvement in the furnace operation safety, as the need to emit the process atmosphere and the requirement to burn it with an open flame, which is typical for traditional solutions, is eliminated.