As the premier global supplier of Metal Gas Atomization Systems to a variety of industries, Retech, a SECO/WARWICK Company, presents their vacuum metallurgical processing solutions that help grow their customers' business at this year's World PM2016 Congress & Exhibition, scheduled for October 9 – 13, 2016, in Hamburg, Germany.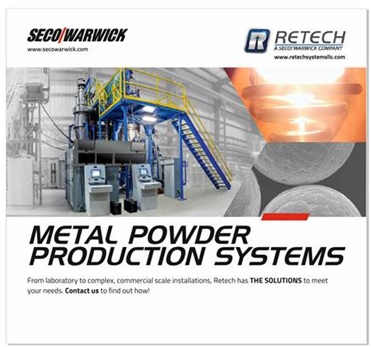 Retech powder production systems combine melting of reactive metals and alloys with inert gas atomization to meet a variety of powder specifications. Designed in a range of capacities, from laboratory and pilot to large scale production, Retech's systems are tailored to realize the specific demands of our customers and their clientele.
The SECO/WARWICK experts are on hand to discuss the product portfolio for vacuum metallurgy, featuring:
•             Powder Metallurgy technologies which utilizes gas atomization to produce powders that meet specific quality requirements.
•             Vacuum Induction Melting (VIM) and Casting systems designed to easily handle a wide range of materials used in everything from automotive and consumer products to critical, high-value equiax, directionally solidified or single-crystal aerospace parts.
•             Cold Wall Induction (CWI) Melting Systems for casting of Titanium parts for demanding applications.
•             Vacuum Arc Remelt (VAR) & Consumable Casting (Skull Melting) systems for the manufacture of aerospace, consumer & commercial products.
•             Plasma Arc (PAM) & Electron Beam (EB) Melting systems for production of ingots and electrodes.
Meet us at World PM 2016 to see how Retech leverages state-of-the-art vacuum metallurgical processing solutions and 63 years of experience in support of our customer's business strategies:
World PM2016 Congress & Exhibition
Hamburg, 9 – 13 October 2016 | Stand 215