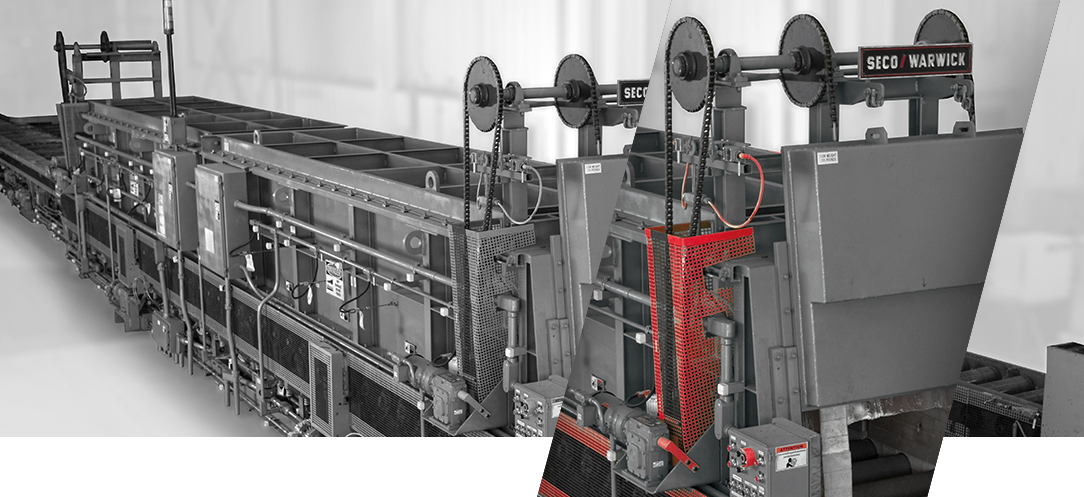 ATMOSPHERE HEAT TREATMENT FURNACE SYSTEMS
Atmosphere heat treatment technologies and equipment
In the production of atmosphere heat treatment solutions, we use our extended experience and state-of-the-art technology to simplify installations, reduce investment costs, and reduce process utilities consumption.
Laboratory furnace for fire resistans test

Roller hearth furnace for atmosphere heat treatment

Rotary Retort Furnace Systems

SECO/WARWICK is a world leader and innovative manufacturer of Solution Heat Treatment Furnace Systems with decades of experience. We provide the complete solution to your needs for a custom designed system. Many factors contribute to the overall efficiency of SECO/WARWICK's solution heat treatment systems. Convection heating using high velocity air distributes heat evenly and efficiently, producing close temperature uniformity. Our time-tested insulation system further enhances efficiency, and has proven to be one of the most durable linings on the market today. A variety of circulated airflow patterns add further efficiencies to our furnace designs.

Retort furnace for gas nitriding process

/ Technologies:
Carbonitriding,  gas carburizing, hardening, tempering, annealing, spheroidization.

/ Industries:
aerospace, automotive, bars, bearings, commercial heat treatment, defense, electrical steels, energy, extrusion dies, machinery, saw & blades, springs, steel coils, titanium, transmition & gears, tube & pipes

/ Products:
Mesh Belt, Roller Hearth, Fire Resistance,  SQ Furance, Rotary Retort

/ Unique features:
extended experience in the production of various furnace systems, technological equipment prepared according to customer specifications, we are responsible for technology, logistics, installation, service and training of users – operators.

/ Operating conditions:
in an atmosphere of air, inert gases (nitrogen), active atmospheres for carburizing and other active diffusion atmospheres, in high temperature systems up to 1000°C

/ Application:
our solutions are used in a variety of heat treatment processes, eg: annealing, spheroidization, tempering, solution heat treatment.

/ Portfolio:
single- and multi-chamber furnaces, furnaces: ribbon, roller, atmospheric generators: endothermic (Endogas ™), atmosphere control and regulating devices.