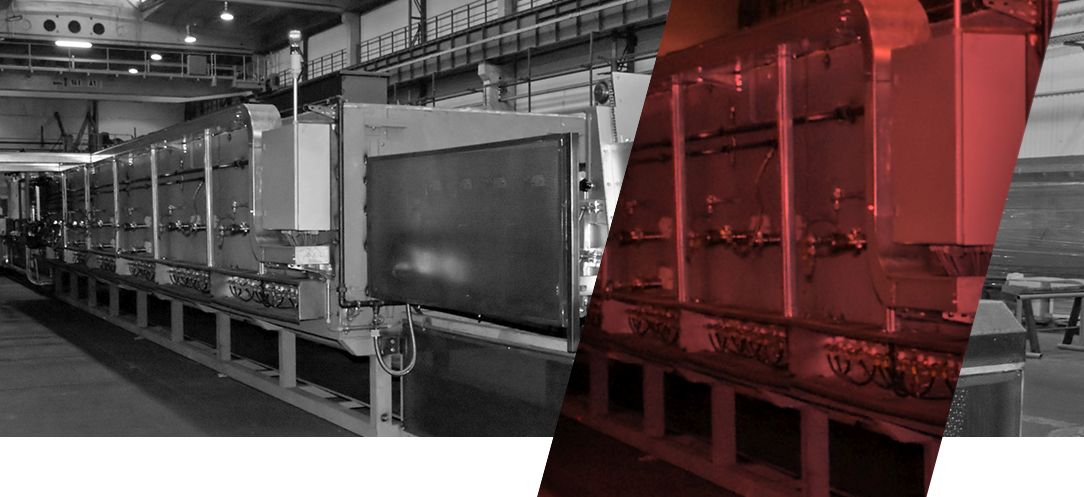 Controlled atmosphere brazing of aluminum | CAB
Controlled atmosphere brazing of aluminum (CAB), using a noncorrosive flux, is the preferred process for manufacturing aluminum heat exchangers. Since entering this field in 1983, SECO/WARWICK has led the development of advanced technology in the continuous flow brazing process. Capitalizing on over 100 years of furnace design experience, SECO/WARWICK has driven innovations such as improved muffle design, convection heating technology, continuous atmosphere control systems, energy-saving designs, system rebuilds, and upgrades feasibility studies.
These innovations, along with others, have led to the design of a variety of brazing furnace systems to meet the growing demand for aluminum brazing.
We offer optimal solutions for all types of industrial heat exchangers manufactured in long-run, medium-run, or individual short-run production.
Continuous Brazing Furnaces for Aluminum EV/CAB®

Semi – Continuous Aluminum Brazing Furnaces

Universal CAB Batch Furnaces

Modifications, Services and Spare Parts for CAB equipment

/ Industries:
automotive, engineering, energy, electronics.

/ Essential features:
Specialized aluminum brazing or heat treatment lines built to individual requirements. Customization of processes to the specificity of the batch, performance and quality requirements. Process time reduction, energy and other energy factors consumption minimization, meeting customer-specified standards, such as aviation, automotive, environmental and other. Dedicated peripherals: load transport, interoperation cleaning, flux application, packaging, harmful substances emissions reduction.

/ Elements of CAB line:
degreaser, flux spray system, dryer and CAB brazing oven. Depending on the client's spatial and logistic requirements, these units can be set up in a straight line, closed loop together with a conveyor system, U-shaped or L-shaped.

/ Systems:

Computerized brazing process control system,

Active Only ® – Semi-Continuous Aluminum Work Furnace with the highest flexibility dedicated to customers with the highest level of diversity of HVAC exchangers and HVAC customers brazing air-conditioning exchangers.