/Servicing of industrial furnaces
REPAIRS AND MODERNIZATION
Servicing of industrial furnaces
Modernization of the existing machine park is not only a guarantee of efficiently operating individual devices or whole production lines. It's also a high-security, investment-saving, and more time devoted to strategic planning for your business.
Dynamically developing technologies and increasing customer expectations require the use of state-of-the-art metal heat treatment solutions. SECO/WARWICK offers professional upgrades and comprehensive equipment repairs to ensure that these solutions are implemented without significant investment to purchase of new equipment nor replacement of the entire production lines. SECO/WARWICK enhancements will help maximize your productivity while providing lower power consumption, safer operation and easier future control and regulation.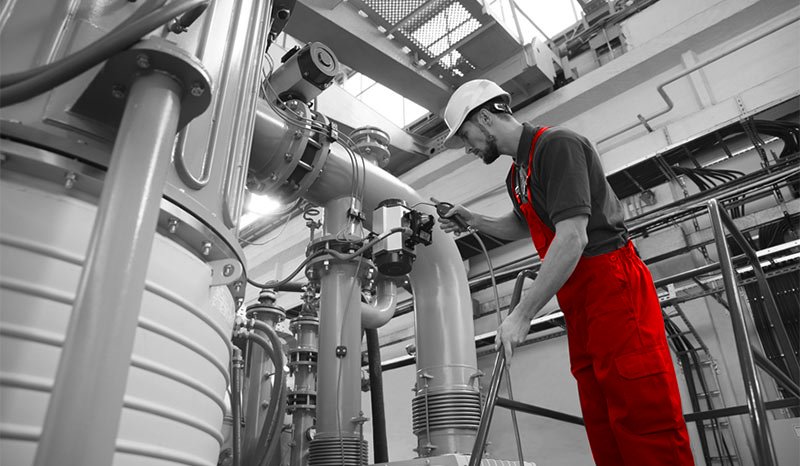 KNOWLEDGE
SECO/WARWICK engineers are highly qualified specialists with years of experience who have extensive knowledge of cutting-edge technologies and trends in the field of metal heat treatment. Thanks to practical skills and excellent knowledge of the expectations of our clients SECO/WARWICK experts will comprehensively update and offer the most effective solutions to help reduce costs and improve the efficiency of the equipment in use. What is important, our services are related to both the modernization and repair of own devices as well as devices of other manufacturers.
BENEFITS
/

FOR YOUR COMPANY:

Comprehensive equipment upgrades are among a number of benefits for your business.

By implementing new solutions you get the following guarantees:
improving the efficiency and performance of the heat treatment and vacuum metallurgy equipment using state-of-the-art technology,
cost optimization of production processes and queuing of inputs,
reduction of unplanned downtime due to equipment defects,
maintain safety standards,
no need to incur large capital expenditures,
comprehensive and professional advice and top-quality service.
SERVICES
/

OF MODERNIZATION AND REPAIR OF EQUIPMENT:

We offer modernization and comprehensive refurbishment of both SECO/WARWICK equipment as well as any solution or equipment for heat treatment of metals and metallurgical vacuum of other manufacturer. While performing modernization work, we guarantee the fulfillment and maintenance of the required safety standards at the same time and to comply with the NADCAP standard.

The modernization offer includes:
repairs of whole heat treatment and / or vacuum metallurgy equipment,
updates:

complete control cabinets,
heating, pumping, water, gas, pneumatic or hydraulic systems,
temperature control circuit, carbon potential,
replacement of hydraulic feed feeders to new ones using electrical systems,
AC/DC power systems used in vacuum metallurgy,
automation of casting process control,
and:
modernizations aimed at the implementation of modern, energy-saving, electric and gas heating systems,
modernization that optimizes the performance of the unit and increases its efficiency while reducing energy consumption,
retrofitting of sensors to provide better control and preventive supervision of individual equipment,
transfer of upgraded equipment and systems,
matching equipment for specific standards or safety requirements.
Modernisation and measurements of devices are conducted by means of specialist instruments and equipment, and the range of SECO/WARWICK monitoring instruments is still increasing in order to continuously meet customers' expectations.
EXAMINING
/

THE TECHNICAL CONDITION OF EQUIPMENT:

SECO/WARWICK also offers a comprehensive technical inspection of heat treatment equipment and vacuum metallurgy. In response to customer needs, the range of service offerings has been extended by regular monitoring of equipment performance, performance measurement and tightness, as well as ongoing technical support within service contracts. The modernization and measurement of equipment is made with the help of specialized tools and systems, and the assortment of SECO/WARWICK monitoring tools is constantly expanding to meet the needs of our customers.

The examination of the technical condition of heat treatment equipment and vacuum metallurgy includes among others:
checking the tightness of vacuum furnaces, gas systems and air,
control of the condition of chambers of atmospheric furnaces and control and measuring apparatus,
screening of shielding performance against harmful effects of X-rays,
study of temperature distribution in accordance with applicable standards