The SECO/WARWICK Group, one of the world's metal heat treatment industry leaders, in addition to research, engineering and production, provides service and modernizations of industrial furnaces for many global suppliers of solutions for the automotive, aviation and energy industries. Importantly, the company provides maintenance services not only for its own products, but also for competitor's furnaces.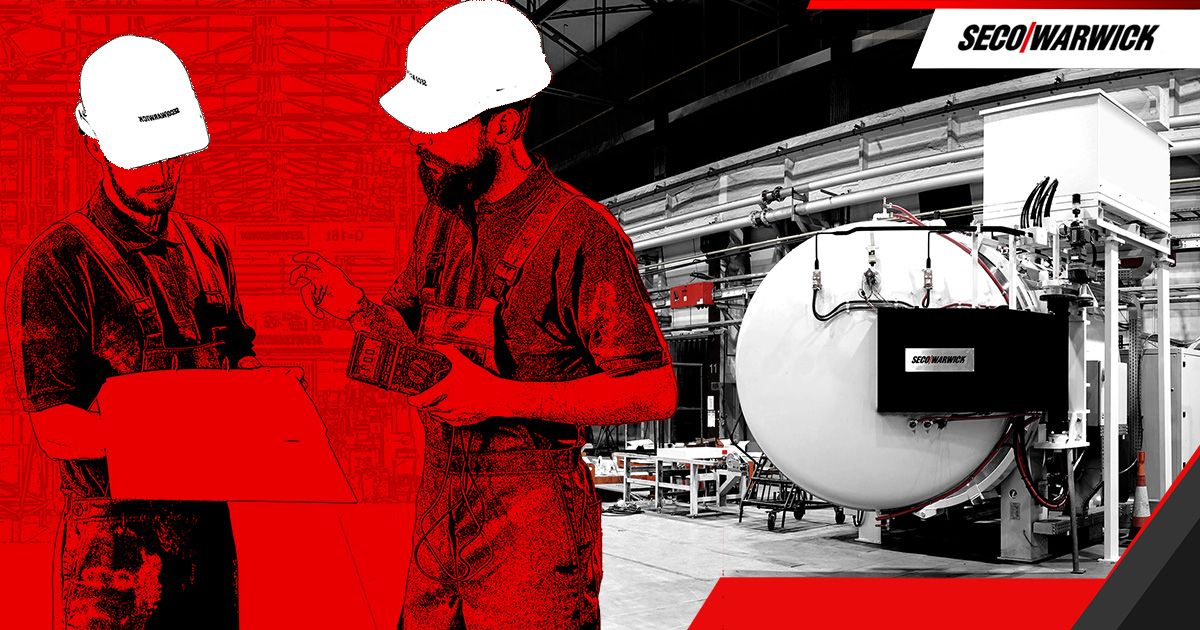 This is not a common phenomenon, just like the nearly 100% customer satisfaction rating for the Group's service performance. After-sales service is an important segment of the Group's operation, which is why it has as many as 8 service centers, a dedicated service company and over 100 service engineers currently serving customers in more than 70 countries.  
Every year, SECO/WARWICK conducts satisfaction surveys among its customers. This year's results leave no doubt – SECO/WARWICK is the first choice among specialist services. Customers particularly appreciate the quality, professionalism, and engineering expertise of the service staff along with the comprehensiveness of the offer, and the partnership with customers to serve their unique needs. 
"Service engineers visit customers from as many as 8 service centers on three continents. This guarantees a fast response, which is critical in the event of equipment failure. However, the concept of equipment service has a broader meaning at SECO/WARWICK. We have known industrial furnaces for decades, we have extensive experience and wide product specialization, which allows us to offer not only a specialized, but also comprehensive offer. That is why we provide design and technological support for repairs, modernizations, and relocations. We carry out preventive inspections and preventive actions resulting from them and offer advanced tools in the measurement and reporting field. Our customer satisfaction surveys have shown that as many as 98 percent of customers would recommend SECO/WARWICK service to others. We are proud of these results," said Sławomir Woźniak, CEO of the SECO/WARWICK Group.  
What do SECO/WARWICK partners value?
Survey research conducted by the SECO/WARWICK Group is the cyclical quality control for the service team. Thanks to this research, the company can constantly verify Partner' satisfaction and, if necessary, introduce changes to improve cooperation. The current satisfaction report shows that the areas which were most appreciated by SECO/WARWICK customers include treating the customer as a partner (score 4/4), listening to the customer's needs (score 4/4) and delivery time (score 4/4). The after-sales team competences were also rated very highly in terms of supporting the sales process, the quality of the equipment and services provided, reporting on work progress and the service team skills – both technical and soft skills, particularly communication skills.  
SECO/WARWICK service – the impossible does not exist
Each year, SECO/WARWICK carries out hundreds of orders related to after-sales service. In addition to standard technical inspections and furnace maintenance, the company also deals with unusual orders, for example: modernization of production lines, replacement of specific elements, relocation, expansion, or adaptation of production for each Partner's specific needs.  
"We create furnaces from scratch, understanding their ecosystem perfectly. We are not only a manufacturer, but also an architect and designer, which is why we can reach our customers with a diverse offer including the most modern, pro-ecological and economically effective solutions in the field of services and modernization. Outside of Europe, we are developing our service in Asia very dynamically. The Chinese company, which has been operating for over 13 years, increases its share in the after-sales services market every year. Whereas the production start in India this year has resulted in an increasing demand for our equipment servicing in this region of the world. Therefore, we run a training program which unifies the after-sales service standards throughout the SECO/WARWICK Group. Our companies in the USA – SECO/WARWICK USA and SECO/VACUUM systematically increase revenues in the after-market segment, proving that customer service does not end with the furnace delivery," adds S. Woźniak. 
Tags:
repairs & modernization
|
replacing of the heating chamber
|
service
|
spare parts