SECO/WARWICK has received another order for the supply of a Vector® vacuum furnace to a South American international manufacturer of weapons and military equipment. The furnace will process various components including barrels, reels, locks, and firearm magazines, which are expected to be reliable, of the highest quality, and perform with outstanding resistance to negative external conditions.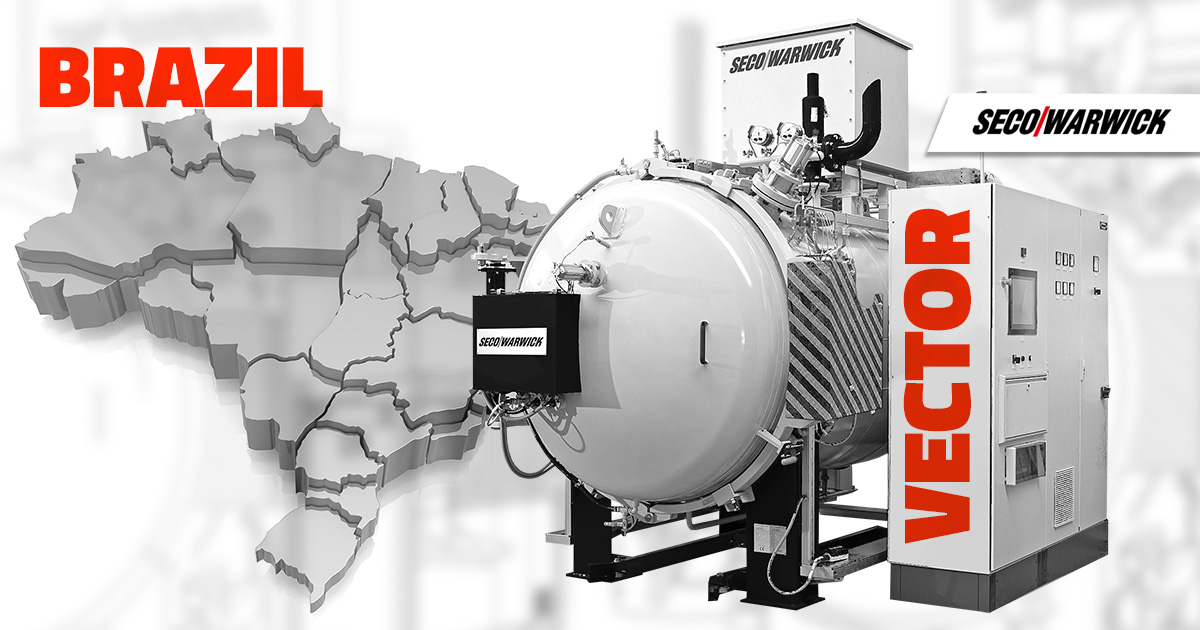 The most versatile vacuum furnace on the market will be the second solution of this type in the South American defense industry leader's internal hardening plant. It is a single-chamber gas-cooled vacuum furnace which can be used for a variety of metal heat treatment processes and applications. This solution has been adapted to the customer's requirements so that it is as effective as possible at delivering the precision heat treatment results required for quality weaponry.  
Thanks to the large working space (900x900x1200 mm), the Vector system is designed to process quite large elements. A characteristic feature of the design is convection heating, which improves heat transfer efficiency when heating at lower temperatures, and directional cooling, which enables differentiated cooling of problematic parts in terms of shapes.  
Brazilian arms manufacturer chooses SECO/WARWICK for the second time
For this American manufacturer, it was a challenge to clean work post-heat treatment with their existing equipment. The old furnace, which will be replaced, caused undesirable load coloring, necessitating the need for post-hardening sandblasting. Vector technology eliminates this problem.   
"This is our second delivery to this partner. The previous furnace was the fastest delivery in SECO/WARWICK history. Due to the fact that we had the required product in stock, we were able to deliver it at an express pace. The Vector system met expectations, and today, this Partner is ordering a second solution from this product family, only this time, larger and differently equipped," says Maciej Korecki, Vice President of the Vacuum Furnace Segment in the SECO/WARWICK Group.  
"Working with the new furnace, the Brazilian manufacturer will be able to harden larger packages of components and carry out very clean hardening processes. The Vector is a furnace which eliminates the unfavorable load coloring effect, eliminating the necessity to sandblast parts after hardening in the production process. This significantly improves both work quality and reduces production costs," summed up M. Korecki.  
SECO/WARWICK as a partner for the defense sector
This Partner is a world-leading manufacturer of small arms for the defense and private sectors. They are also a member of the Industrial Defense Base (IDB). The units produced are often used in very harsh conditions. They are required to be absolutely reliable, of the highest quality, and resistant to negative external conditions. Vector – a vacuum furnace which is consistently the sales leader in the SECO/WARWICK portfolio – will fulfill these expectations.  
Last year, SECO/WARWICK delivered Vector furnaces to numerous military companies in the world. This is an industry apart from aviation and automotive, that is most willing to take advantage of the increased capacity offered by this vacuum furnace, whose performance is a real improvement in hardening plant efficiency. 
VACUUM AS AN ECO FURNACE'S ATMOSPHERE
Vacuum furnaces use vacuum (vacuum created by air evacuation) as the protective atmosphere for the heat-treated part surfaces. The vacuum furnace's main advantage is their versatility and the ability to carry out processes traditionally carried out in atmospheric furnaces. Differences in the vacuum furnace construction as well as the method of conducting the processes minimizes both media consumption and emissions to the environment, making the vacuum furnace itself a SECO/ECO solution when compared to traditional atmosphere furnaces. 
Vacuum heat treatment's eco-friendly features include: 
/ perfect part surface quality (without additional operations),
/ no intercrystalline oxidation (no additional mechanical treatment),
/ no need to use protective gases (lower costs and emissions), 
/ minimal consumption of process gases (cost savings), 
/ minimum time for atmosphere preparation and conditioning (saving time and costs), 
/ zero startup and shutdown time, work on demand (saving time, costs), 
/ no open flame, no risk of fire or explosion (safety), 
/ clean process, no part washing required (reduced environmental pollution), 
/ low heat and by-product emissions (limited global warming effect), 
/ environmentally friendly (zero pollution),
/ zero CO2 emissions (carbon footprint reduction). 
Tags:
military equipment
|
SECO/WARWICK
|
single chamber furnace
|
vacuum furnace