Unplanned downtime at work costs the world's industry billions of dollars of lost revenue.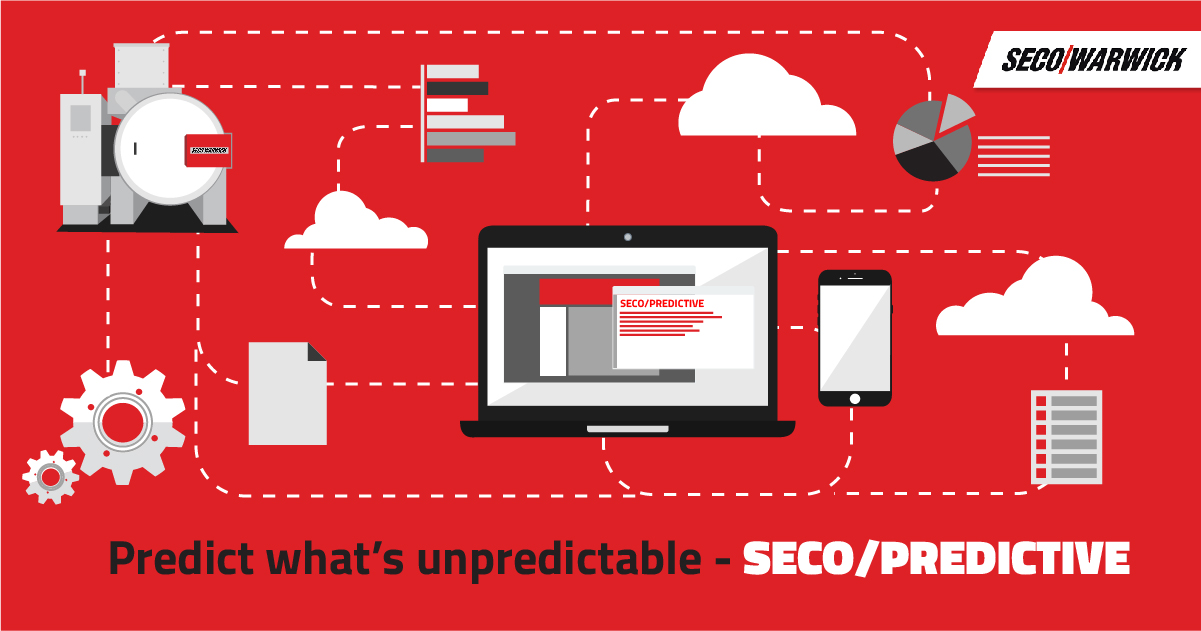 Did you know that one minute of downtime in airlines delays costs 65 USD? And data centers unplanned outages costs 8851 USD? Whereas unexpected stoppages in automotive industry cost even 22000 USD?
While there are many producers struggling to find a solution to reduce operational costs and avoid system failures, there is a method that identifies warning signs of potential problems, leveraging data analysis, forecasting, pattern matching, predictive modelling, and forecasting, to answer the question "What is likely to happen". This is Predictive Analytic, a form of advanced analytics utilized in SECO/WARWICK latest hi-tech product – SECO/PREDICTIVE maintenance 4.0, which offers the potential to predict failures that had been unpredictable up to now.
SECO/WARWICK is an award-winning, forward-thinking manufacturing company that has always been interested in unconventional and innovatory approaches. The company has developed a set of intelligent tools enhancing production processes through the use of AI, IoT and latest Industry 4.0 concepts.
Observing the Industry 4.0 market trend, promoted in the world, SECO/WARWICK launched an R&D project to develop a comprehensive system for advanced machine park management for heat treatment and metal metallurgy with a failure detection system. The result of completing the project, is the SECO/PREDICTIVE system for monitoring heat treatment furnaces.
"It is based on the Microsoft Azure cloud – and is available in mobile version for both systems: Android and iOS. The platform collects data from intelligent sensors, saves them in the SECO/WARWICK cloud. Powered with a large amount of data – also from other devices –  system analyzes the obtained information and on the basis of advanced learning algorithms, it monitors the equipment on an ongoing basis and manages the product's life cycle, ensuring optimal ooperation.The solution is completed with a remote access and notification system, a report and analysis function, as well as an interactive calendar that informs the user of required inspections and maintenance work," explained Sławomir Wachowski, Automation Department Director at SECO/WARWICK.
How much can you gain from predictive maintenance?
Research has shown that organizations that think forward, anticipate and prevent can expect a significant improvement in the efficiency of the production process. How significant? Compared to traditional methods: 10 times faster return on investment (ROI), 20-25% reduction in maintenance costs, 70-75% breakdowns eliminated, 35-45% reduction in downtimes and 20-25% increase in production.
SECO/PREDICTIVE could bring manufacturers significant savings. Producers from various industries, who are looking for alternative and more efficient systems, for example Vortex, can now benefit from  SECO/WARWICK's new system.. The strength of the system is a large database of various pieces of equipment. Advanced data analysis algorithms ensure the greatest effectiveness in detecting potential failures.
To learn more about the state-of-the-art SECO/PREDICTIVE solution and its application in metal heat treatment furnaces for various industries, visit SECO/WARWICK experts at the October's Heat Treatment Congress in Koeln, booth E-060 |4.1. Or join the upcoming SECO/WARWICK Heat Treatment 4.0 Seminar, where automation experts will dive into the topic during the lectures.