SECO/WARWICK has completed the installation of two replacement JET cooling chambers at Worthington Industries in Jefferson, Ohio.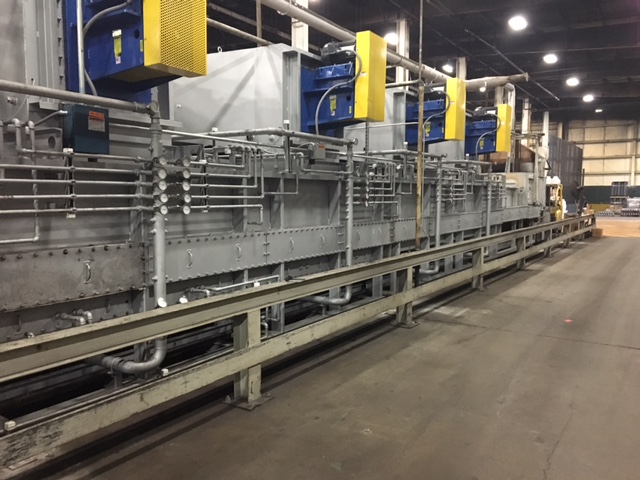 To provide Worthington with the most cost-efficient system upgrade, the cooling chambers were supplied so that the existing components such as, rolls, bearings, gaskets, sprockets, chain, etc. were used from the old chambers. The contract included removal of the faulty cooling chambers, installation and start up of the updated system.
According to Jim Williams, Group Leader at Worthington Industries, ʺWe accomplished this project by partnering with the SECO/WARWICK team.  It was a coordinated effort to established lead-times for all of the necessary components as well as offsite fabrication of the two (2) jet cooling sections. We then identified a two week window for the demolition of the 'old' cooling zones, and installation of the 'new' jet cooling zones. The project was completed with minimal issues; as we continued to operate our usual production schedule."
The goal of this new design was to lower the product temperature while reducing the volume of water to achieve this result. Worthington now runs a continuous 10,000 pounds per hour of production through the system lowering the temperature utilizing a state of the art jet cooling system.
ʺSECO/WARWICK has the technical expertise to perform modernizations that are not only cost-effective, but provide the newest technology available for the application," according to Jonathan Markley, Managing Director of SECO/WARWICK, USA ʺOur goal is to enable customers to extend the useful service life of their equipment and meet performance specifications at the lowest possible capital cost. We call this process of partnering with our customers to achieve the best result, SECONOMY" he added.
The SECONOMY service package is geared toward companies that are searching for savings and want their facility to be environmentally-friendly. It is a program of heat treatment equipment modernization through upgrades designed to meet the needs of customers and comply with strict environmental regulations. These packages are designed specifically for heat treatment equipment that has been in operation for over 10 years, requiring updates to reduce production costs and emissions while increasing process efficiency.
Learn more about Worthington Industries at worthingtonindustries.com