Analyze processes in terms of electricity consumption
Senergy is a module for analyzing electricity consumption for a selected process, in relation to the average or median consumption of other processes with the same or different recipe.
Senergy allows you to view historical processes performed. It is designed to work on individual furnaces as well as on entire production lines or factories. In the process table, in addition to measuring the total amount of energy, you can also see the amount of energy for individual recipe segments and stages of these segments, e.g. heating and soaking.
It is possible to observe changes in energy consumption and track any anomalies. Thanks to the recipe revisions' and deviation indicators' introduction, the selected process can be compared with others (difference between energy consumption during the process and average consumption, difference between process duration and average time). In this way, the user verifies in detail the changes in the recipe and its subsequent revisions impact on electricity consumption, and thus can save energy. In addition, if an alarm occurred during the process, you can check its description and the occurrences quantity.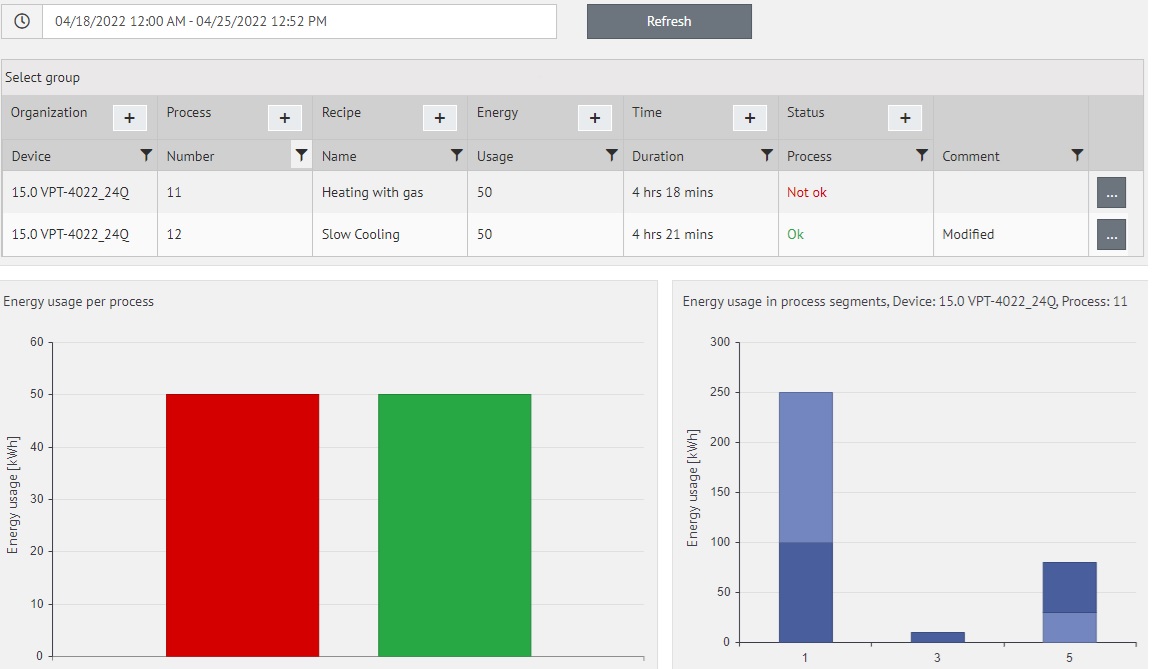 a report which allows to analyze detailed data in the selected process, such as:
/ energy consumption cost,
/ energy consumption in individual segments;
/ statistic data.
By default, the graph of active power [kW] is shown, but it is also possible to change the pens and see the below graphs as well:
/ phase and phase-to-phase voltage;
/ electricity;
/ power factors;
/ apparent power;
/ reactive power;
/ reactive energy;
/ active energy
The module main functions are:
/ electricity consumption measurement and analysis on a given furnace,
/ comparison of media consumption on twin equipment,
/ tracking the recipe changes impact on the processes energy consumption, as well as observing anomalies,
/ simultaneous process analysis in terms of technology, energy and economy.