SECO/WARWICK Allied Pvt. Ltd., India commissioned the installation of Hydrogen Bell Type Annealing Furnace (H2HiC™) comprising of 2 annealing bases for cold rolled strip coils at Ahmedabad Strips Pvt. Ltd, Ahmedabad, India.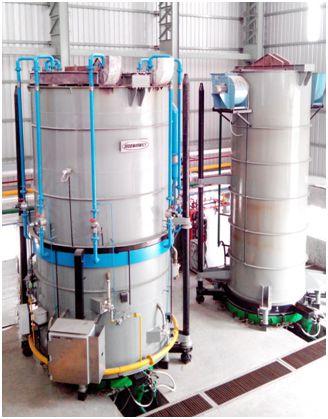 ASPL is a repeat customer, operating a Bell furnace previously supplied by SECO/WARWICK Allied (India).  With this new installation, the company expanded their production capacity entering into the elite league of cold rolled steel strip producers with a Hydrogen Bell Annealing facility in India.
This furnace installation supplied is rated for a batch capacity of approx. 80 MT, equipped with pulse firing type control of combustion system for better fuel efficiency and close temperature control and advanced instrumentation platform. Natural gas is being used as fuel.
Click here to learn more about industrial furnaces for steel 
About Ahmedabad Strips Pvt. Ltd.
Ahmedabad Strips Pvt. Ltd. (ASPL) is an ISO 9001:2000 company manufacturing hot rolled & cold rolled carbon steel products as well as providing various processing services like pickling, cold reduction, annealing, skin passing, slitting & shearing  to many companies. ASPL is supplying to TS 16949 & ISO 9001 companies in India as well as abroad.
Tags:
cold rolled steel strip producer
|
Hydrogen Bell Annealing Furnace
|
SECO/WARWICK Allied