SECO/WARWICK USA, an American SECO/WARWICK Group subsidiary, has recently been awarded a contract to supply Skana Aluminum Company in Manitowoc, Wisconsin with an Exogas™ Exothermic Atmosphere Generator.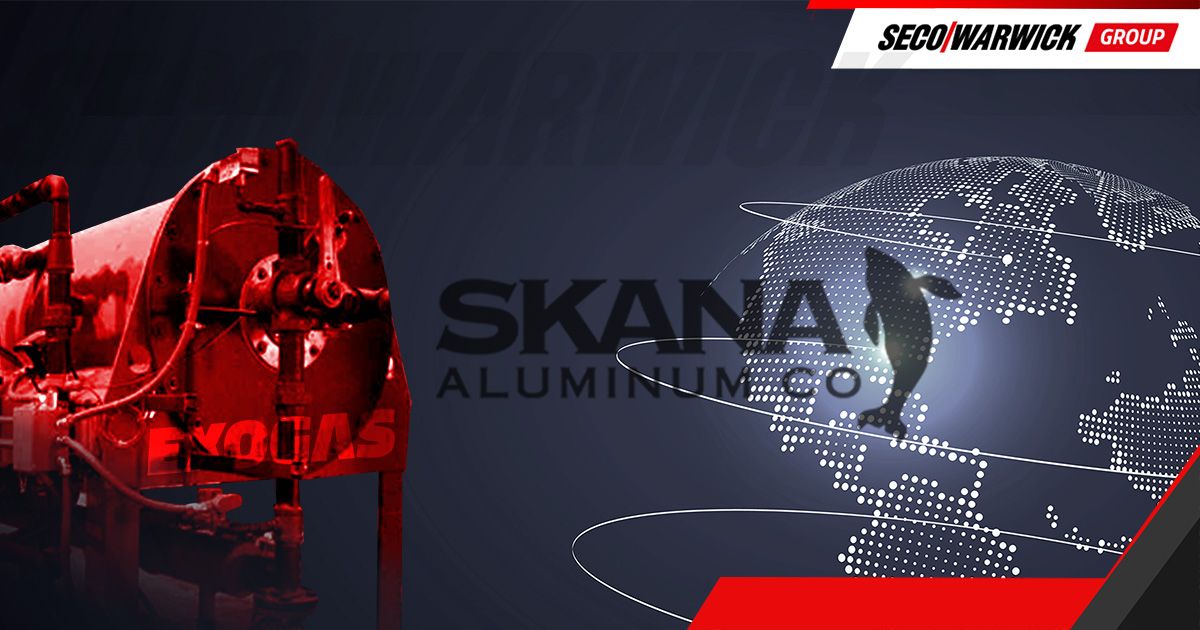 The atmosphere generator provides an indirect-chilled exothermic atmosphere for annealing, brazing, normalizing, drawing, and tempering.  
"At 30,000 CFH, it is one of the largest atmosphere generator units we've made to date. It should be plenty large enough to meet the exothermic atmosphere needs of the multiple processes within the Skana plant." –  Marcus Lord, SECO/WARWICK USA Managing Director.
Operating Principle
Unlike pure-atmosphere gas generators used for medical or laboratory applications, shielding gas composition requires less purity for some metallurgical applications. Rather than separating the oxygen, Exogas™ Exothermic Atmosphere Generators react to the atmospheric oxygen by burning a fuel gas with it, binding all the available oxygen up in compounds with lower energy states than it would achieve by oxidizing the product. The atmosphere generated is not truly inert, but it is at a low enough energy state for effective gas shielding while being far more cost-effective to generate.  
"It will be nice having a gas generator large enough to handle whatever we throw at it." – Tom Testwuide – Skana Aluminum Co. Chairman and CEO.
Exogas for the aluminum industry
The Skana Exogas™ unit is equipped with an optional atmospheric gas drier to remove water vapor from the generated flow of gasses. It is also equipped with the standard options that come with all SECO/WARWICK Exogas™ units, including: 
Automatic Ratio Control to ensure the fuel-air ratio maintains set levels.

 

Flexible Fuel Capability allows EXOGAS™ generators to operate off of a variety of industrial fuel gasses, including propane, butane, natural gas, or coke-oven gas.

 

Rich Atmosphere / Lean Atmosphere Settings allow optimization for different processes. 

 

Safety Features integrated throughout to protect personnel, equipment, and environment.

 
Skana has also placed an order with SECO/WARWICK for a smaller atmospheric gas drier for use elsewhere in the plant.  
Depending on the metallurgical process, exothermic atmospheres may have incompatible chemical composition. For those applications Endogas™ Endothermic Atmosphere Generators  may prove useful. 
Tags:
Atmosphere Generator
|
Endothermic Atmosphere Generators
|
Exothermic Atmosphere Generators
|
SECO/WARWICK
|
Skana