General Atomics completes heat treating of 7th and final module of the world's largest superconducting magnet ever made using a highly customized furnace from SECO/VACUUM, a SECO/WARWICK Group company.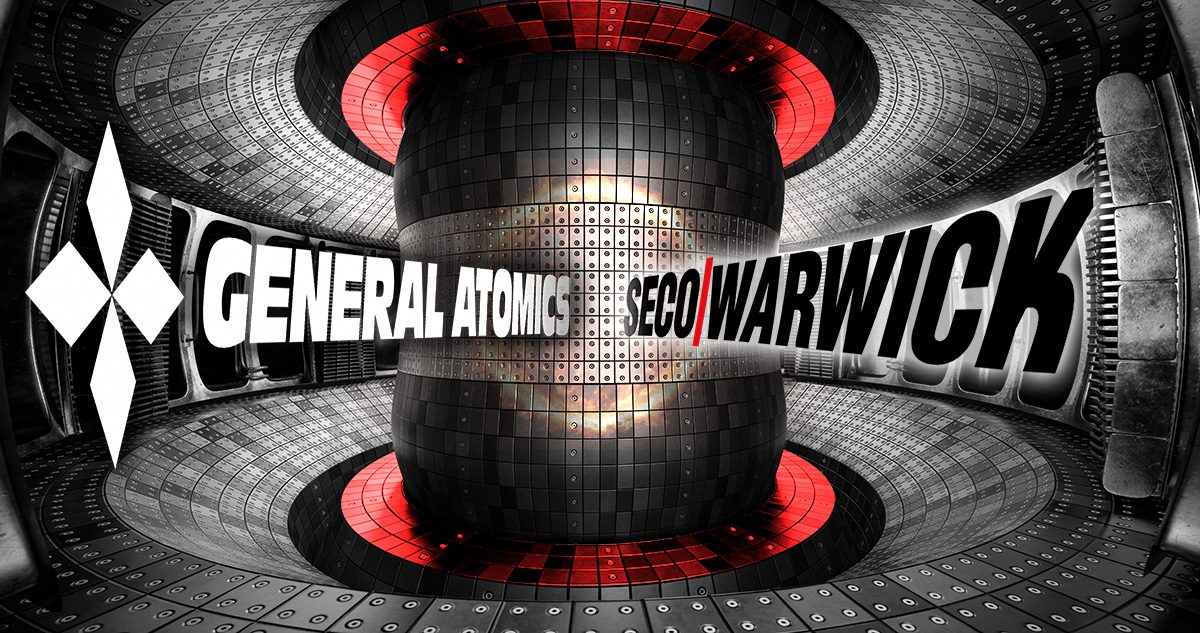 General Atomics has finished the five-week heat treating sequence on the last of the seven modules, six to be stacked together to form the most powerful magnet ever built, and one on standby for repairs.  The superconducting magnet will serve as the heart of ITER (Latin for "the way"), one of the most technologically complex science experiments ever conducted.
SECO/VACUUM to build the largest heat treat furnace
In order to convert the 6 km long stainless-steel-jacketed coil of Niobium-Tin conductors into superconductors, each of these 4-meter by 2-meter 110-ton solenoid sections was heat treated for 5 weeks, exceeding 650°C at its peak.  The heat treatment served to alloy the Niobium and Tin strands together into Nb3Sn, which becomes a superconductor when chilled with liquid helium to 4 Kelvin.  No such heat-treating furnaces existed, so General Atomics turned to SECO/VACUUM to build a custom heat-treating furnace large enough to fit these solenoids and packed with all the technology needed to meet the strict quality control standards of this monumental experiment.
"SECO/WARWICK Group did a great job designing in backup systems and robust design. Any time we had questions or needed maintenance they were there to help. The crew that our Partner sent out was very professional, very hardworking, very knowledgeable, and had great positive attitudes. They were definitely one of the favorites of the staff here"- said Nikolai Norausky, Program Manager at General Atomics Magnet Technology Center.
Vacuum furnace chamber had to perform multiple tasks:
Quality control vacuum and pressure tests of the coil and the furnace itself
Purge with argon
Slow but uniform temperature ramp-up with tolerances within +/-10*C throughout the furnace.
Bake off any last residual impurities left from coil fabrication
Anneal internal stresses introduced at different stages of fabricating the 50x50mm 316L stainless steel jacket
Reaction Heat Treatment of a mixture of niobium and tin strands into the superconducting alloy Nb3Sn
Slow and uniform temperature ramp-down to avoid additional stresses
Quality control vacuum and pressure tests of the coil
"General Atomics put so much time and money into these coils we really didn't have any room for error, so nearly every component had to be doubly redundant. The 150 thermocouples, the mass-spectrometer helium detectors, the argon circulation fans, the band heaters, redundancy throughout meant if any component failed, it would not be a disaster"- added Peter Zawistowski, Managing Director of SECO/VACUUM.
Not all heat-treating furnaces are as large or as complicated as General Atomics' ITER Central Solenoid Furnace, but with SECO/VISORY they do all get the same level of care and expertise. The SECO/VISORY Heat Treat Advisory Council is a team of SECO/VACUUM heat-treat experts and consultants with diverse thermal experience and process knowledge who are available to help companies solve their specific heat-treat equipment challenges.
Tags:
electormagnes
|
General Atomics
|
heat treatment
|
SECO/WARWICK
|
vacuum furnace