SECO/WARWICK will present world class technologies that meet requirements of the most technically demanding aerospace industry at the AIRTEC show, a major global B2B and technology event, on October 25-27, 2016, Munich, Germany.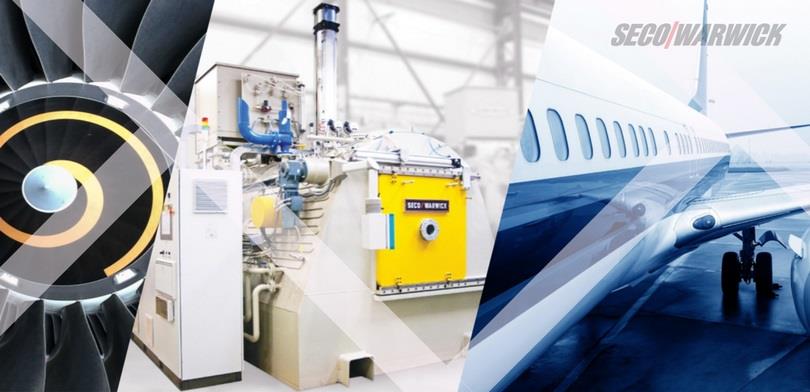 Many functional components in aerospace require heat treated parts, e.g.: jet engine parts, landing gears, coolers, gas turbine parts and more. SECO/WARWICK specializes in E2E heat treatment solutions for the aerospace industry, as up to 70% of their equipment portfolio is dedicated to meeting aerospace specifications.
SECO/WARWICK holds the most diversified equipment portfolio in the industry for both ferrous and non-ferrous metallurgy and will feature world class technologies for the aerospace industry:
Vacuum heat treatment furnaces including COMPACT™ & VECTOR™ standard gas quench, high pressure quench and high vacuum systems, CaseMaster Evolution™ vacuum furnaces equipped with both gas & oil quench, and custom engineered systems.
Vacuum metallurgy equipment for melting, refining and casting reactive and refractory metals (like titanium & titanium alloys), super alloys and rare earth metals including vacuum induction, plasma hearth, vacuum arc and electron beam melting,
Traditional atmosphere equipment with a wide variety of configurations such as rotary hearth, roller hearth, walking beam, cast link conveyors, sealed quench, pit furnaces, and process atmosphere generation equipment,
All SECO/WARWICK heat treatment equipment may be delivered with the necessary auxiliary technologies to create a complete E2E solution, which were designed to ensure clients' operations are optimized now and for the future. If you are a manufacturer of blades, gas turbines, jet engines, landing gears or any other aircraft equipment SECO/WARWICK can be of service to provide information and specifications on our technologies.
Meet SECO/WARWICK experts to talk about equipment and technologies for aircraft industry which include selected technologies for brazing, degassing, carburizing, nitriding, forging, hardening, tempering, annealing, homogenizing, melting, holding, CVD coatings, etc.
Offering over 25 years of engineering experience, SECO/WARWICK will be exhibiting at the AIRTEC 2016, the 11th International Aerospace Supply Fair in Hall: A1, Booth: E51 in Munich, Germany, 25 – 27 October 2016.