Thermex Metal Treating is expanding capacity at its Edmonton, Canada facility with the purchase of a Gas Nitrider with Vertical Pit-style loading and SECO/WARWICK's proprietary ZeroFlow™ control technology, and ferritic nitrocarburizing capability.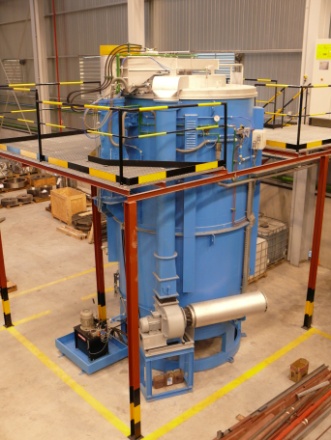 Thermex offers a wide range of ferrous metal heat treating processes and services in Western Canada, from its base in Edmonton, Alberta. The purchase of this state-of-the-art equipment is in keeping with Thermex's ongoing commitment to continuous improvement, integration of new technology, and high-quality customer service. Thermex' president, Norm Hanson, states "combined with SECO/WARWICK's R&D testing capabilities and its experience in gas nitriding, we felt this was our best option to offer exacting nitriding solutions for our customers and our large load requirements."
Jonathan Markley, SECO/WARWICK Corp. Managing Director commented, "We are pleased to partner with Thermex to provide this new technology alternative to traditional nitriding methods, designed specifically to reduce process costs while improving process efficiency."
SECO/WARWICK is a technology leader with the proprietary ZeroFlow method of economical gas flow and precision nitrided layer control. The furnace is being designed and manufactured in SECO/WARWICK's Meadville, PA USA facility.
About ZeroFlow™ Technology
ZeroFlow control is based upon performing the nitriding process with the use of only a single-component atmosphere – raw ammonia (NH3). The adjustment of nitriding atmosphere chemical composition, and therefore the control of nitriding potential, is performed only by analyzing and metering ammonia into the furnace. The ZeroFlow method is characterized by much lower consumption and emission of gases, requires a simpler control system and allows for forming the hardened layer phase structure with the same precision as in processes with more complex two-component atmospheres.
Learn more at:
https://www.secowarwick.com/wp-content/uploads/assets/Documents/Brochures/ATM-Zero-Flow6.pdf
https://www.secowarwick.com/en/news-events-and-information/downloads/   ( page 8)
Tags:
Thermex
|
ZeroFlow