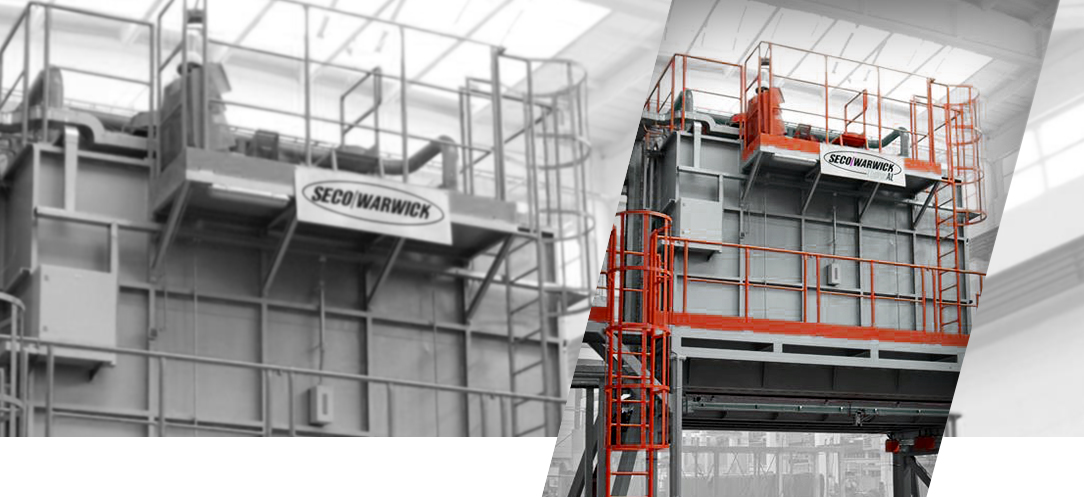 VertiQuench® Drop Bottom Furnaces for Aluminum Solution Heat Treatment and Aging Heat Treating
SECO/WARWICK is a full-service integrator of aluminum processing technologies serving the worldwide aluminum industry with efficient lines that perform with exceptional temperature uniformity and custom designed charging techniques to fit the most demanding applications. The company's furnaces provide the world's best implementation of heat treatment processes, top quality of processed products and support for heat treatment equipment and processes.  Significant technical improvements have been implemented resulting in numerous drop bottom furnaces installation.  As a result, this equipment has become a top product for SECO/WARWICK so, new brand name has been developed, VertiQuench®.
VertiQuench® Drop Bottom Furnaces provide an affordable solution for demanding automotive and aerospace applications in aluminum solution heat treatment and aging.  This innovative NADCAP compliant technology enables very fast and full load immersion,  as short as 5 seconds.
As the VertiQuench® name implies, the process provides vertical quenching. The heat-treated material is dropped into water or polymer quenching tanks located directly under the furnace.
VertiQuench® provides solution heat treatment followed by quenching and artificial aging for precipitation hardening of products. The furnaces can be supplied in one complete system conforming to AMS standarts, NADCAP certification, and meeting those tight requirements in terms of temperature uniformity, restrictions for processing time in each step, and all other parameters.
VertiQuench® provides an optimal heat treatment technology for aluminum alloy extruded and drawn porthole or seamless tubes of 2xxx, 6xxx, and 7xxx series alloys in hard tempers, since it provides the shortest quenching time and produces the highest mechanical properties of treated extrusions.
/ Equipment adopted to material norms AMS2770, 2771, 277
/ Extremely tight temperature uniformity resulting by proven airflow innovations
/ Rapid load immersion time as short as 5 seconds
/ AMS2770 compliant quench transfer times
/ Low utilities consumption
/ SCADA with functionality enabling NADCAP certification
/ Specialized auxiliary equipment such as ammonium fluoride feeders, sulfur feeders, CO2 or N2 atmosphere systems, Argon fire extinguishing system, etc.
/ Possibility of use water-polymer cooling tanks with refractometers, Ph sensor and conductivity indicator
/ Software supporting TUS and SAT
/ Custom designed internal arrangement slots depending of the load configuration
/ Perfect solution for Aluminum and Magnesium alloys heat treatment
/
Solution Heat Treatment
/
Aging
/
Annealing
/
Stress relieving
/
Controlled cooling
/
Controlled heating
/
Reverse airflow direction (Top to Bottom or Bottom to Top)
/
Applicable for sheet, castings, tubes and extrusions
/
Custom designed fan assemblies
/
Movable or stationary water quench tanks
/
Different designs of water agitation units
/
Heating and cooling of the bath
/
Certified thermocouple modules for AMS requirements as well as recorder connected to SCADA (InTouch or WinCC) for thermocouples data collection
/
External recorder upon Customer's request
/
Furnace designed according to newest AMS 2750F standard, innovative construction dedicated for furnaces class 1