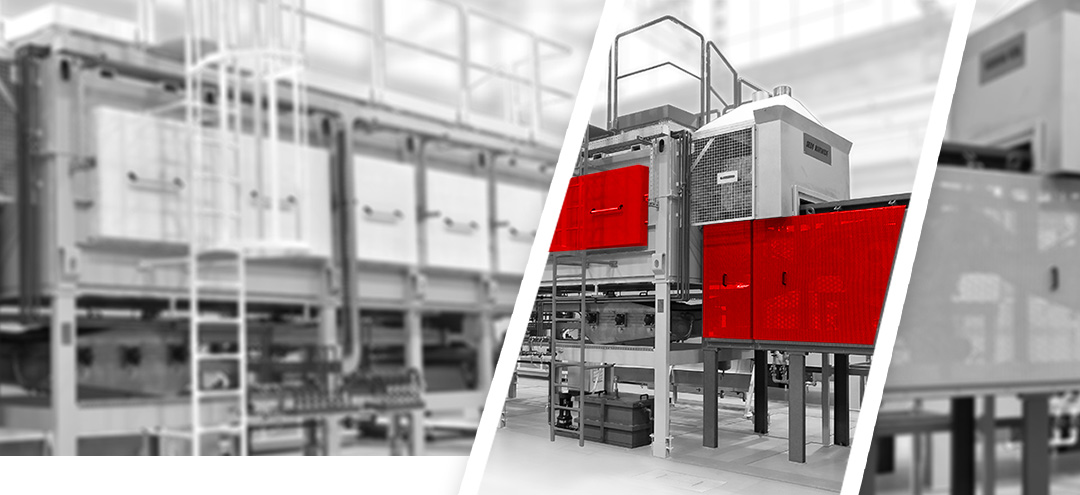 Mesh Belt type furnaces
Mesh Belt furnaces for heat treatment in controlled atmosphere
Mesh Belt furnaces are designed for heat treatment and thermo-chemical treatment of small elements.
Why?
Because they ensure homogeneous, repeatable technological results.
Mesh Belt furnaces can be offered with both heating installations – electric or gas. The main PTE (electric) or PTG (gas) furnace is adapted to work with an endothermic atmosphere, produced by an external generator, powered by natural gas or propane. As an alternative option, it is also possible to install an internal or external methanol dissociator, from which, with the participation of nitrogen, it is possible to obtain an alternative version of endothermic atmosphere. The utilized protective atmosphere keeps the product clean and supports surface treatment, making belt furnaces an efficient tool in the production process. Mesh belt furnaces of this type are used to process a wide variety of small parts, incl. screws, nuts, bolts and other elements from the Fasteners group. Furnaces of this type are particularly well suited for controlled atmosphere hardening, carbonitriding and carburizing in the temperature range from 840°C to 955°C.
/ Mesh belt furnaces lines are pre-designed in standard dimensions for rated capacities ranging from 200 kg to 500 kg per hour. This enables their optimal production, delivery and installation. At the customer's special request, it is possible to produce a line with higher production capacity
/ Electrical specification – the structure with electric heating is equipped with heating elements which can be easily replaced from the outside of the furnace
/ Gas specification – the structure with gas heating is equipped with alloy radiating tubes and with gas combustion system
/ The furnace muffle – is supported along the entire length of the furnace with the help of special ceramic supports. The muffle service life is confirmed by many numerical calculations, which translates into real-time operation
/ Atmosphere mixers – a unique design that gives very good results for both temperature and atmosphere distribution
/ Belt drive – full synchronization of the belt speed, can be adjusted in a wide range, which ensures full flexibility of the treatment cycles time
/ Automation – the technological line operation is fully automated and monitored, and only loading of the processed parts into the loader's container and following collection of containers with load is performed by the service personnel. All other activities related to the load transport through individual line units is executed automatically under the control system supervision.
/ Synchronization of the belt transport system
/ Muffle's long service life due to the optimal design and years of experience, supported by many numerical calculations
/ Limited contamination of the furnace with oil vapors
/ Highly efficient atmosphere distribution in the furnace
/ Highly efficient quenching oil circulation
/ Minimizing the risk of hardened objects' deformation
/ Low energy consumption
/ Possibility of adjusting and configuring the furnace to the existing conditions at the customer's plant
/ Program for the weekend cycle (stand-by)
/ Adaptation to AMS-2750 and CQI-9
/ Carburizing
/ Carbonitriding
/ Hardening
/ Tempering
/ Bearing
/ Automotive
/ Fasteners
/ Agricultural
/ Commercial heat treatment
/ Heat recovery system,
/ During the design process, the furnace thermal accumulation aspect reducing heat losses is analyzed,
/ The main furnace muffle long service life,
/ Possibility of using methanol crackers instead of endothermic generators in HT processes, eliminating the use of endothermic generators, reducing gas emissions to the atmosphere,
/ Utilization of ionization spark plugs instead of flame curtain at the furnace inlet,
/ Reducing gas consumption and atmosphere emissions,
/ Electric heating system instead of gas,
/ Cast agitators with extended service life,
/ Possibility of cooling installed atmosphere mixers with air exchangers.