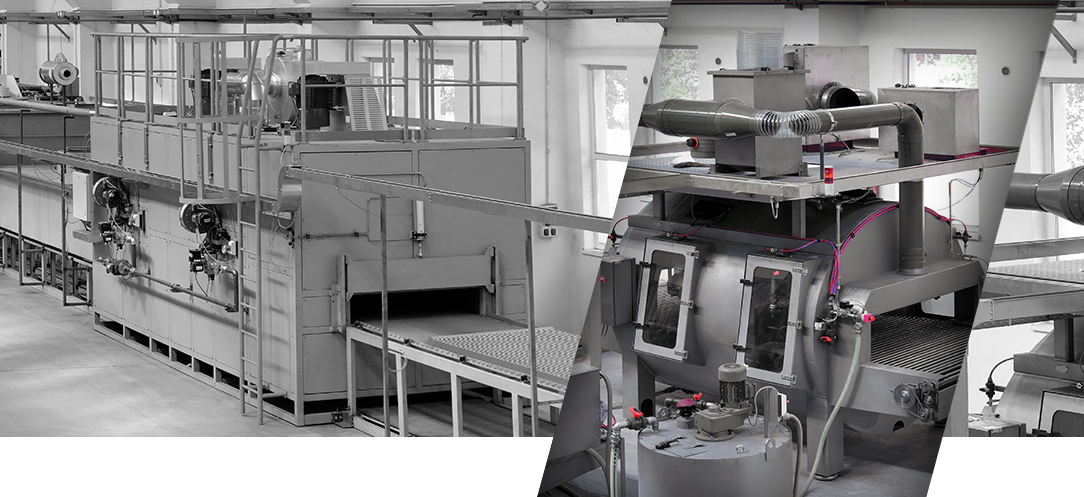 Semi – Continuous Brazing Furnaces for Aluminum
The semi-continuous furnace system is designed to operate on a part-time basis. The furnace can be brought up to brazing temperature from ambient and conditioned with a proper atmosphere in a very short time. This semi-continuous system allows for variable heating and cooling rates, depending on indexing times. This furnace can braze the widest variety of heat exchangers when lower total production requirements are needed.
CAB Furnace Designs
The following furnace designs are available to produce a variety of parts in medium or smaller volume production runs:
Active Only® Convection CAB Furnace
Our Active Only® Convection CAB furnaces are based on a multi-step indexing cycle. The indexing positions include the load table position, the dry off oven, the entrance purge chamber, the patented convection preheating and brazing chambers, the air jacketed cooling/exit purge chamber and the airblast chamber. The product runs in a horizontal position with an infinitely adjustable dwell time based on the hearth load and load configuration. A thermocouple work zone monitors recovery time when the load is run intermittently. This system includes innovative features to improve brazing efficiency. The load thermocouples are predicting the actual temperature of the product. It allows for automatic control of the required heating time for different types of the heat exchangers. The furnace ensures a uniform preheat of product through a patented convection muffle configuration. The indexing mode of work ensures the good temperature uniformity even for big size products (HVAC, battery coolers), thanks of fast transport between cold and hot zones.
Vertical Brazing CAB Furnace
The Vertical Brazing CAB furnace is a uniquely designed version of an Active Only® indexing furnace where the brazed elements are positioned horizontally. For some types of heat exchangers such orientation provides benefits as the cladding melts. Vertical positioning of the heat exchanger allows the joints to be evenly filled on a horizontal plane, preventing the brazing alloy from accumulating on one side of the heat exchanger.
Additionally, the furnaces in semi-continuous configuration also are using a vacuum purging.  This solution limits the nitrogen consumption and improves furnace-atmosphere cleanliness. Due to vacuum flushing in the furnace vestibule, air is removed not only in the chamber but also from the internal openings of the heat exchanger. Furnaces of this type may be used in the production of some types of heat exchangers (such as PLATE & BAR), which previously required a more expensive technology of brazing in vacuum furnaces.