SECO/PREVENTIVE – Your preventive device maintenance
Plan and arrange the device's and its individual components' inspection as part of your furnace preventive maintenance
SECO/PREVENTIVE is a calendar-based module that provides planning and arrangement of the device's and its individual components' inspections as part of preventive maintenance of a given device.
This is where you can view and confirm all currently scheduled inspections for each of your furnaces in the system. From the calendar view, you can check the inspections scheduled for a specified time (e.g. month). In another window view, you can check the history of inspections, and precisely, who and when exactly confirmed the given inspection, as well as the time between the planned inspection date and its confirmation.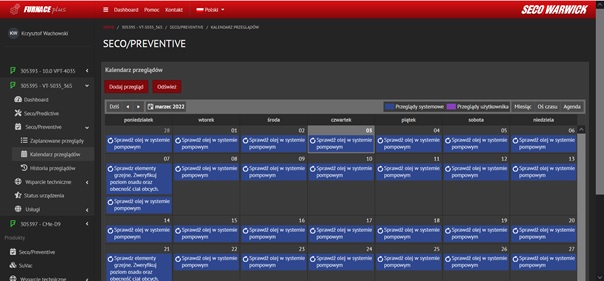 is a perfect tool for arranging maintenance related activities and inspections of your devices. All types of maintenance operations that should be performed during the device lifetime are managed from one place. The user also receives reminders about calendar-planned activities.
The main program functions are:
/ planning cyclical and one-time inspections,
/ managing inspections of various devices in one tool available online,
/ maintenance crew work optimization,
/ confirmation of performed inspections and their history,
/ reminders on scheduled works.
SECO/PREVENTIVE operates in the cloud, which allows you to use the service both via a computer and also directly from your phone or tablet. Access to the tool is possible worldwide via the Internet.