Heat Treatment Equipment
Heat treatment equipments of wind turbines components
Equipment for HT wind turbines components
Wind power is growing at such a rapid rate, that according to expert forecasts, wind energy will reach to cover a substantual percent age of global demand of electricity in the next ten years. Such an important contribution to ensure the stability and security of the energy market forces us to use devices ofthe highest quality, with better than the average durability and realiability.
From the perspective of the furnace market for heat treatment (HT) of metals, it means an increase of the demand for state-of the-art equipment specialized to meet its specific requirements. Based on our years of experience SECO/WARWICK have developsed and implemented a series of  industrial units specially dedicated for processing large size power transmission components using pit retort for carburizing type PEGat.
Similar processes can be found using chamber furnaces, furnaces with integral quenching tank (sealed quench) type CaseMaster®, and a range of equipment for continuous operation, including in particular the roller and rotary hearth furnaces.
SECO/WARWICK specifies and chooses the equipment acording to customer requirements, the magnitude of the project, etc,.
Basic criterion around which racional compromise is searched for is an economic account. Taking into consideration required performance, product range of production, type of product range, etc.; the optimal solution is chosen.
Sealed Quench, CaseMaster®
Drive to hardening or perlitization with protective atmosphere
With full automatic control process
Regulation ofthe carbon potential with accuracy <±0,05°C
Hot oil quenching tank
Oil cooling system type oil/air
Applying of solutions which can allow the elimination ofthe muffle in the heating chamber
Mix atmosphere at high performance
Low atmosphere demand
Applying of radiant heat resistance tubes made of heat resistance, sintering technology for long life
An electric version, applying of bayonet heating elements covered by guarantee
Uniformity of temperature field in the working range of the furnace better than ±5°C according to the AMS2750D standard
Smooth and rapid load transportation from the heating chamber to full immersion in a bath
Modern mechanism of clamping loading door increasing tightness and limiting wear down of sealing elements
The systems recommended for heat treatment of large power transmission components are adapting to manipulate these large masses.
The design of furnaces is the effect of long-term cooperation with our customers, resulting in design advantages compared to similar products of our competitors.
These include:
Increased efficiency of fan circulationBetter thermal characteristic allows optimalized load warm up time
The use of effective insulation to reduce the heating chamber losses at high temperature
Applying the latest insulation bricks with increased resistance against abrasive wear
Variable programming of oil circulation profiles, optimalized for specific loads
Minimum deformation criterion
The possibility of total elimination of cooling water recovering waste heat

Pit Furnace, PEGat
Pit furnaces are ideal for large and heavy parts. They are both durable and reliable at obtaining uniform results. Machining material allowances are required due to the size ofthe parts. These allowances compensate for any negative effects that occurduring the transportation in air to the quench. In addition, that technological line of equipments will be even more efficient with the use of auxiliary devices, including the periodical work of quenching tanks, which will be directly transfered to the production costs.
Characteristics:
The possibility of various furnace configurations and technological lines
Economical (relatively low demand of media necessary for furnaces operation)
Work flexibility (speed of heating and cooling of the load)
Optimal placement of devices
Well formed geometrically and built into the furnace heating system (appropriate amount and proportion of heating zones)
An efficient system of air circulation to ensure adequate homogeneity across the workspace
Very good uniformity of temperature throughout the furnace working range, better than ±5°C according to the standard AMS275OD
Carbon potential control accuracy <± 0.05° C
The application of solutions for periodic calibration devices, based on test performed e.g. foilt test, as well as allowing to verify, during the process, its quality in sample probes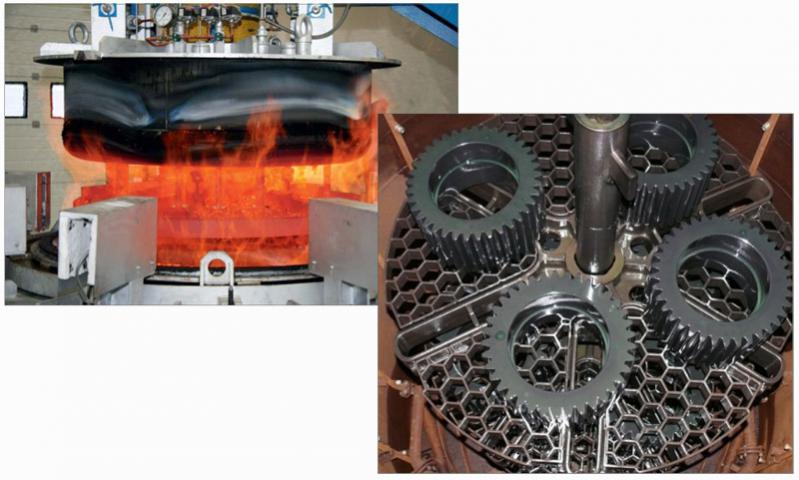 Other characteristics associated with performing processes using carburizing technology based on pit furnaces PEGat include:
The use of specially designed fixtures, made of high quality heat-resistant materials to ensure proper distribution, a stable support, and minimize strain due to creeping
The possibility of a protective cap to allow:
– protection of the load from an excessive temperature drop when it is moved to the quenching tank, and reduce surface oxidation and decarburation,
– to route the emissions procluced in the quenching tank through a partial neutralization before discharge tothe environment,
– significantly increase operating safety.
Working together With state-of-the-art quenching tanks:
– high performance, working With a variable programmable system of medium profiles, optimized for specific loads according to minimum deformations criteria,
– equipped with systems to reduce emissions to the environment, . designed for specific tasks to optimize the performance,
– optimized ta king into account the waste force and minimum idle for maintenance
– adapted for hardening with polymers, hot oil and salt,
The possible use of waste heat from the post-processes gas
Reliability and durability (high useful life ofthe equipment)
Safety
Carburizing LPC FineCarb®, heat treatment technology for wind turbines components
New technological possibility integrade LPC FineCarb® Seco/Warwick underpressure high temperature carburizing
technology with hardening in a Seal Quench (SQ) eg. CaseMaster® XXL.
The typical installation consists of:
– three single-chamber furnaces VP 1500×1400×1800mm with a gross load weight of 7500kg,
– furnace SQ CaseMast er ® XXL 1400×1300×1800mm with a gross load weight of 7500kg.
Alternative carburizing systems for wind gears SECO/WARWICK Group
| | | | | |
| --- | --- | --- | --- | --- |
| | Pit | Chamber | SQ or RH (rotary hearth) | Carb® + SQ |
| Typical process temp. | 950°C | 950°C | 950°C | 1050°C |
| Quality | + | + | ++ | +++ |
| Process time | + | ++ | ++ | +++ |
| Automatization | + | ++ | ++ | ++ |
| Safety | + | ++ | +++ | +++ |
| Oxidation | + | + | + | ++ |
| Decarburization | + | + | ++ | ++ |
| Uniformity after quenchíng | + | ++ | ++ | ++ |
| Process costs | ++ | ++ | +/++ | +++ |
| + sufficient, ++ suitable, +++ the best | | | | |
High temperature carburizing LPC in range of 1050°C (shortening the process about 40% compared with the SQ at the temp. of 950°C) with a gas cooling of the load after carburizing (perlitization) will be performed in a single-chamber vacuum furnace with gas cooling system in the range of 1.5 bar (pictured below) Heating for hardening and tempering in an oil bath quench will be performed in furnace type SQ CaseMaster® XXL mentioned above.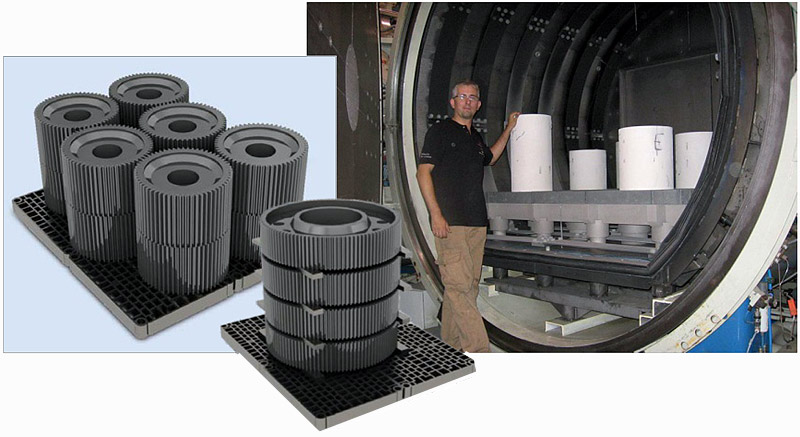 Carburizing module LPC + SQ will be equipped with adequate equipment for loading and unloading, washing machine and tempering fumaces.