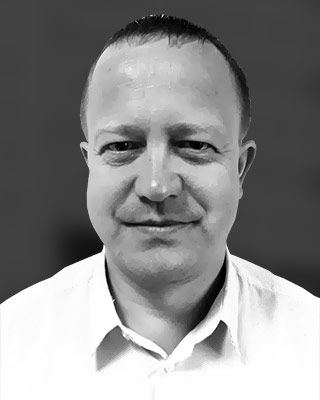 GRZEGORZ KUBCZYK
PRATT & WHITNEY, EXPERT IN DEVELOPMENT OF SPECIAL PROCESSES
Associated with Pratt & Whitney in Kalisz for 20 years. Since the very beginning he is working on heat treatment and special processes. Previously (in 2003), a coordinator of the hart plant project (old no. 1 workplace) and a launch director of the metallographic lab. In 2007 a coordinator of UE Project 'Modern technology of gear production in aviation industry'. In 2012 won the Pratt & Whitney Canada 'Pioneers of the Future' Award with the 'Hardening – do it better' project. A creator of Patent no. 225151 'The use of protective atmosphere in heat treatment of steel products.'. A coordinator of the hart plant project and automatic line to vacuum carburizing at the new no. 4 workplace (2015) – world's first fully automated carburizing line in Pratt Whitney. During my professional career I was responsible for different innovative projects, i. a.. KBN Project concerning variety of quenching materials, structural changes during blind holes carburizing, 'green change' – implementation and optimization of metallurgical processes.
Happy husband and a father of Ola and Adam. Fast cars and long journeys are my passions – whenever I have some free time. In the meantime I enjoy watching action movies!