2017 has truly been the year of aerospace technology for the global SECO/WARWICK Companies with continuous improvement in manufacturing, engineering and customer service.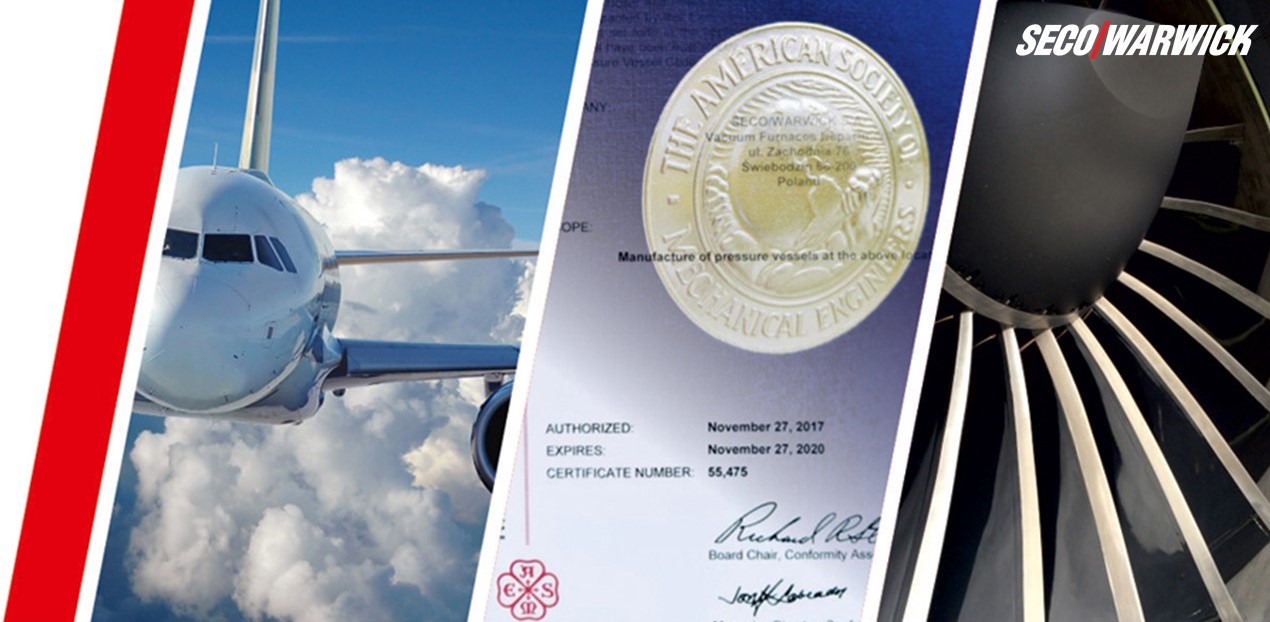 Furnaces for vacuum case hardening
Aerospace and aircraft components require precision heat treatment not only to meet vendor specifications, but to assure the longevity and safety of the components in the final assembly.  SECO/WARWICK has successfully exceeded those requirements by improving control over the heating and cooling of work throughout the entire cycle in multi-chamber furnaces.
Not too low, not to high. SECO/WARWICK develops new way of temperature control.
The patented solution, designed to meet the highest AMS standard, addresses the inclusion of thermocouples during the heat treatment cycle, which move between chambers attached to the tray. Temperature control is achieved based on a special construction that allows the operator to monitor the temperature in both chambers.
"This method provides full temperature control of the processed parts in a multi-chamber vacuum furnace during the entire process. The solution has already been successfully implemented in a two-chamber vacuum furnace CaseMaster Evolution®. CaseMaster Evolution are furnaces for vacuum case hardening for aerospace components. This system can achieve remarkable results for components for automotive, wind energy, transmission and commercial heat treat facilities", said Paweł Wyrzykowski, CEO SECO/WARWICK Group.
SECO/WARWICK with the International Mark of Safety & Quality.
Continuous improvement is the ethos that enables SECO/WARWICK to invest in the development of new technologies and in quality manufacturing.  While most vacuum heat treatment furnace manufacturers purchase pressure vessels from outside vendors, SECO/WARWICK is pleased to announce that it has earned ASME certification.
"ASME Certification enables SECO/WARWICK to reduce delivery times and assure the finest quality of vacuum vessels as well as providing customers with the proper documentation to protect their equipment investment" according to P. Wyrzykowski, "we believe that taking this step not only reduces costs and delivery time, it assures the safety of plant employees."
70% of the equipment is designed for the above-the-cloud applications
SECO/WARWICK specializes in end-to-end heat treatment solutions for the aerospace industry, with up to 70% of the Group's equipment portfolio dedicated to aerospace applications.  SECO/WARWICK furnaces are installed worldwide providing heat treatment for a wide range of airplane components including jet engine parts, turbine blades, aluminum coatings, landing gears and brakes.
There is one more thing.
Included with each SECO/WARWICK system purchase is a professional service package. SECO/WARWICK understands how the equipment works and their service technicians increase uptime with the help of automated process maintenance that supports equipment architecture and technology solutions including renovation, modernization and relocation services.  SECO/WARWICK carries out preventive inspections and the subsequent preventive measures using advanced tools in the field of metering and reporting.