In two recent awards from industry media, RETECH was acknowledged as "The Most Innovative Metallurgical Equipment Specialist" and its managing director as one of the "Top 20 Most Dynamic Business Leaders of 2022. ″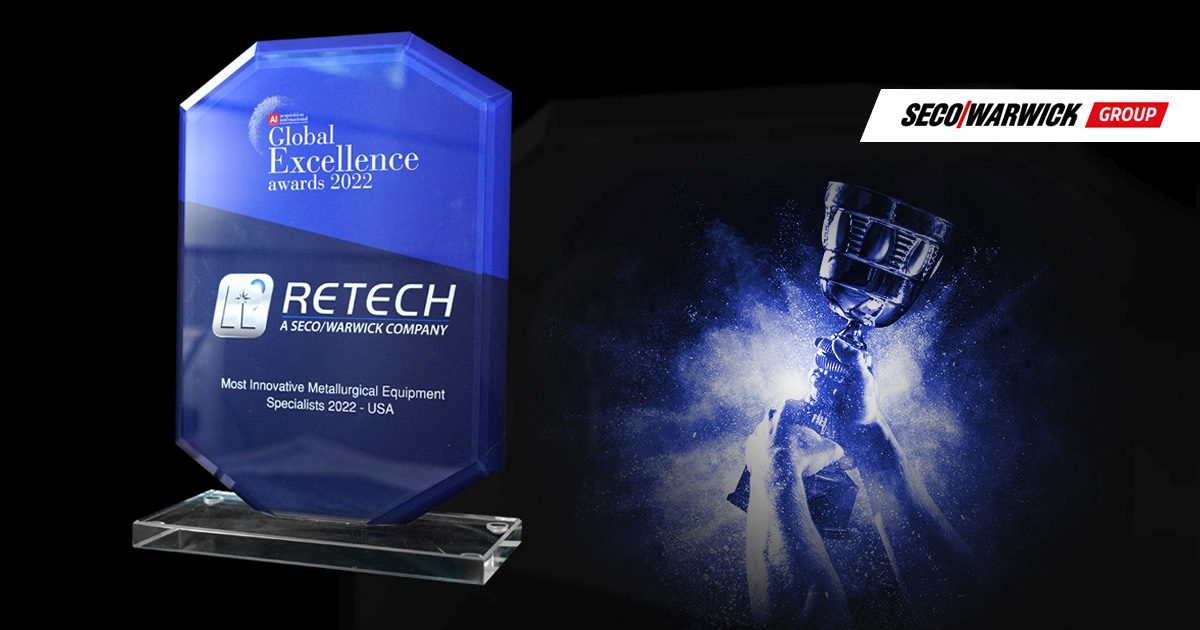 Retech, a SECO/WARWICK Group company, was acknowledged by Acquisition International Magazine as "The Most Innovative Metallurgical Equipment Specialist in 2022 for the USA." In the June 2022 issue of AI, the article "The Best Innovations for the Best Metalwork" cites RETECH as a global leader in metallurgical processing equipment supplier that has been focused on the creation of innovative products that provide customers with the safest, most dependable, and most environmentally responsible metallurgical solutions on the market.
At its core, SECO/WARWICK creates and develops technologies that advance heat treatment and vacuum metallurgy. However, the company's innovations are not limited to producing modern furnaces or technologically advanced assembly lines. Innovation (from Latin innovatio, i.e., renewal) is a sequence of activities leading to the creation of new or enhanced products, technological processes, and organizational systems. Innovation is everywhere. Innovation should be visible in our thinking and taking actions anywhere in the world and in every position.
According to Katarzyna Sawka, SECO/WARWICK Group's VP of Marketing, "Innovation without implementation is only a slogan. The greatest advantage of sharing ideas is giving them a chance to surface and reach people who can support their implementation. Nobody reads minds! Critically, we recognize that advancing technology is a mission with goalposts that are ever-shifting due to the exponential growth of innovations. We are excited about always looking to improve, develop, and grow both as a company and as well. As a dedicated team who are passionate about metalwork."
While we are proud of our Innovation award, we recognize it doesn't come without leadership. In a recent issue of The Corporate Magazine, a unique digital platform featuring industry experts who have created ripples across various areas of expertise has acknowledged Earl Good, Managing Director of RETECH, a SECO/WARWICK Company, as one of the "Top 20 Most Dynamic Business Leaders of 2022″ who is transforming the industry with his leadership.
Good is quoted in the article regarding his leadership approach, "I am always looking at things such as: how we can execute better; how we can improve our furnace products; what new products make sense for our portfolio; what new technology can we develop; do we have the right mix of people; and what can we do to better support our customers' needs."
We appreciate the recognition provided by this award, and we are ready for the exciting journey ahead because INNOVATIONS happen here.
Sławomir Wozniak, SECO/WARWICK Group's CEO, asserts these positions on innovation and leadership, "From the very beginning, SECO/WARWICK's Group philosophy has been based on product and technology development to meet the high expectations of our customers, i.e., top-tier organizations from the automotive, aerospace, and energy industries. It's because INNOVATION is demonstrated through our thinking and our solutions worldwide. We are looking for development paths, one of which is a continuous need to do something better. Additionally, we realize that empowered leaders in our business units are enablers of innovation within their teams. We seek to develop these aspects to ensure the company delivers on its mission to its customers."
The following examples support the acknowledgment of Retech's position as an innovator in the metals industry:
Retech's Plasma Arc Melting (PAM) furnaces support our customer's needs for producing advanced materials for high-tech applications in challenging environments such as space, aerospace, medical, and other markets. If one thinks of innovation as expressed in terms of technology, RETECH's PAM system is a perfect example. This unique capability enables the production of refractory and reactive metal alloys in both ingot and powder forms.
Metal Powder Production (MPP) systems produce novel powders to support the development of additive manufacturing solutions, which are poised to revolutionize digital manufacturing shortly. Retech's technologies and solutions, empowered by innovation, provide cutting-edge products for the global AM sector.
Retech R&D: For us, every project means challenges. Every challenge awakens curiosity and an inner need to solve the problem. The Research & Development department is at the heart of our INNOVATIVE system. Still, we foster a culture of innovation in every aspect of our business, including process, product, and service.
Tags:
heat treatment
|
innovation
|
Retech
|
SECO/WARWICK
|
vacuum metallurgy