SECO/WARWICK will present the pioneering Super IQ® and UCM® 4D Quench® furnaces at two events – first in Detroit, US, second in Cologne, Germany, both in October. These furnaces are the symbol of a new era for the industry, as they eliminate everyday heat treatment problems, becoming a modern and attractive alternative to traditional methods.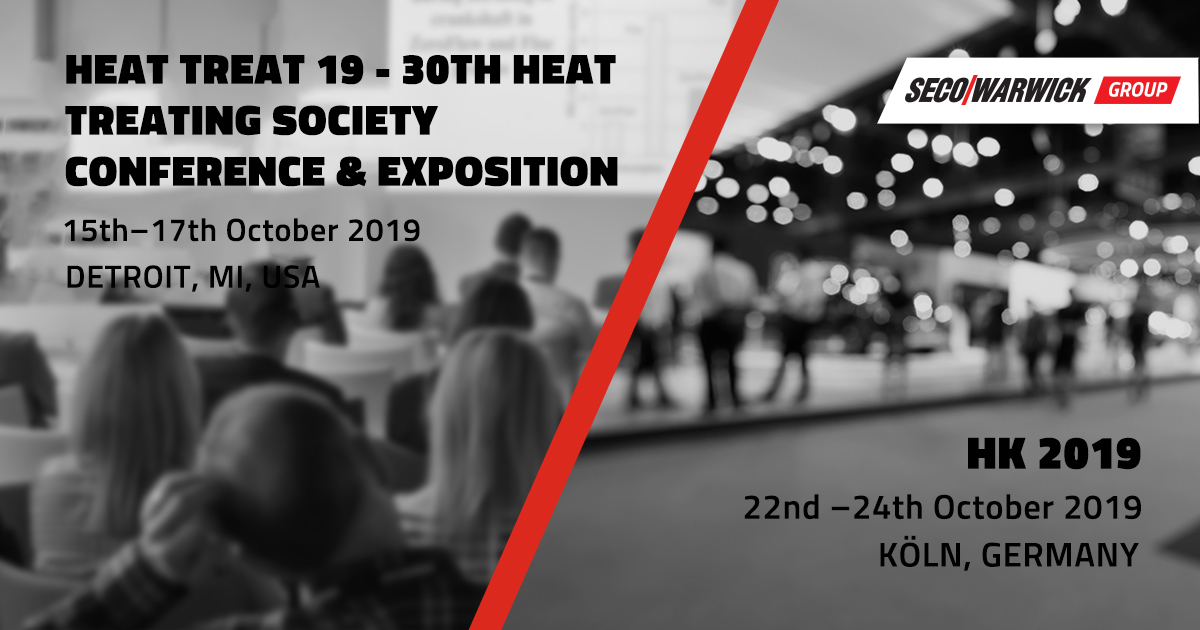 A can't-miss premiere for heat treating professionals in North America and an exciting mix of new technologies in Germany
In Detroit (the ASM Heat Treat Show, booth 1209/1207), it will be the premiere of Super IQ® and UCM® 4D Quench® in the North American market.
The Cologne event (Heat Treatment Congress 2019, HK) will serve as a great opportunity to familiarize yourself with a new SECO/WARWICK offering, especially for those, who missed the European premiere at Thermprocess. The company will be present at E-060 booth.
At the first event, the ASM Heat Treat Show 2019, SECO/WARWICK experts will not only feature their technology advancements in their booth, but they will also technical papers, taking a deep dive into:
Triple Chamber Vacuum Furnace Systems – The Low Pressure Carburizing Workhorse, on Thursday, October 17, 2019 at 10:20 am in Room 251C (COBO Center)
Everyday heat treatment problems are not the case right now
UCM® 4D Quench® a modern alternative to press quenching.
UCM® 4D Quench® is a vacuum heat treatment system solution for individual hardening with distortion control and reduction, characterized by: 4D – free nitrogen quenching, vacuum quality and cleanliness, integration & automation, safety and environmental friendliness.
Super IQ® – carburizing cost reduction and innovative sealed quench furnace
The Super IQ furnace is a hybrid system combining the attributes of a conventional and vacuum furnace in one, primarily designed for carburizing processes at elevated temperatures and hardening.
The characteristics that make Super IQ® an attractive alternative to traditional method:
• Much lower total production cost if compared to Sealed Quench carburizing,
• Fits to any make Sealed Quench lines and their pits,
• No ENDO generator needed, no flame,
• Combines clean processing with exceptional performance of oil quenching,
• Turn it on, turn it off – no idling nor conditioning.
"Both the ASM Heat Treat Show and HK are important trade events during which you will not want to miss these equally large and exciting product announcements. SECO/WARWICK booth visitors will not be disappointed. In addition to all of the current flagship products, the company is going to show these exciting new products which offer a unique type of heat treatment," said Katarzyna Sawka, Global Marketing Director, SECO/WARWICK Group.
Tags:
4D Quench
|
ASM show
|
Super IQ
|
UCM