Aluminium heat treatment and aluminium brazing under controlled atmosphere (CAB) are two areas of expertise that SECO/WARWICK Group excels in. These are also the processes most often selected by the automotive industry in 2019.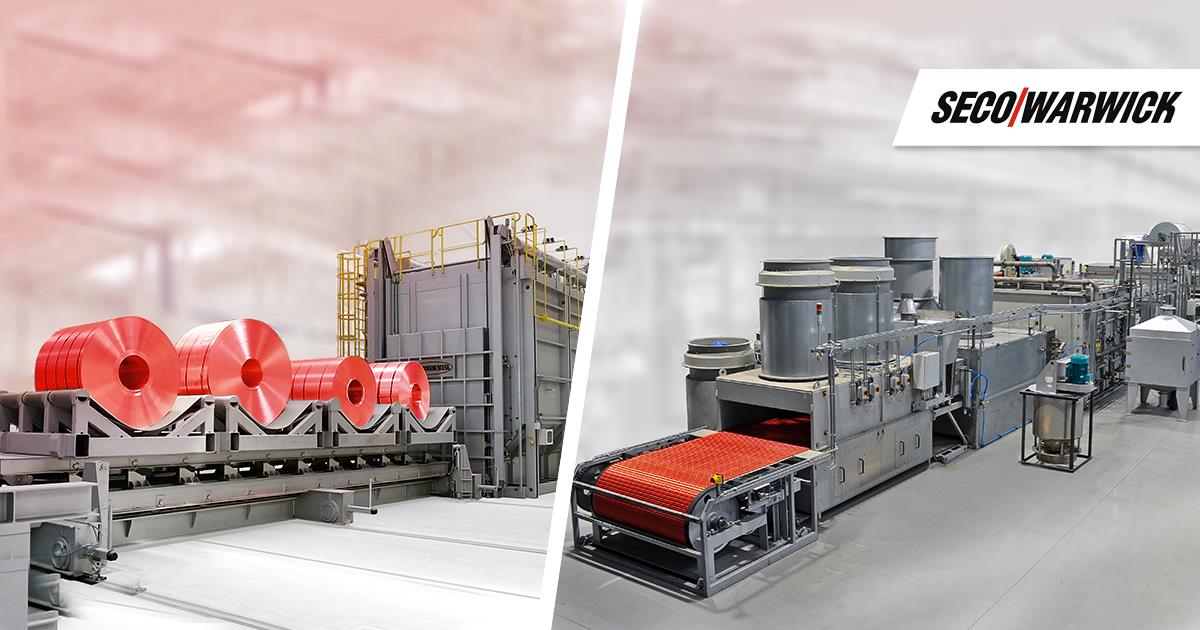 These two SECO/WARWICK solutions, our revolutionary Vortex® furnace for annealing aluminium coil and CAB technology for brazing battery coolers for electric cars, were selected by global manufacturers working in one of the most demanding industries: transportation.
America opts for in-house solutions
In their attempts to reduce costs, more and more companies ceased subcontracting many of their production processes in favor of in-house manufacturing. The equipment delivered by SECO/WARWICK enables in-house brazing of heat-exchangers for their customers and allows them to exercise more predictable scheduling management and quality assurance. The American market most often selected the Active Only® CAB furnace which enables the brazing of various heat exchangers (radiators, heaters, condensers, oil coolers, intercoolers) without introducing changes to their line control.
Products for automotive future
Experience in such technologies as controlled atmosphere brazing, which contribute to the manufacturing of innovative products such as coolers for car batteries, is the result of many years of technology investments and refinements by SECO/WARWICK. The dynamic development of the electric and hybrid-electric vehicles (EV and HEV) segment confirms that such batteries are a product of the future. According to Piotr Skarbiński, Vice-President, Business Segment Aluminium Process and CAB, SECO/WARWICK, "In 2019 we started a business cooperation with one of the key manufacturers of electric vehicles. A series of brazing tests conducted in the SECO/WARWICK research centre and elsewhere proved that the proposed technology for brazing car battery coolers fully satisfies the customers' needs. The first device ordered was delivered to the Asian market but we also have prospective cooperation in several other projects around the world."
Flagship products for flagship industries
In many ways, 2019 was dominated by the aviation industry. This segment of global economy purchased annealing and aging furnaces intended for hard-alloy sections. On this segment, P. Skarbiński commented, "Our long-term customer and partner in this industry acquired six furnaces for aging and annealing of aluminium sections. All of them were manufactured by SECO/WARWICK."
Another flagship product from the group designed for this segment is the Vortex® annealing furnace equipped with a cooling chamber, intended for annealing aluminium coils. This patented technology was purchased by manufacturers looking for alternative systems that perform more economically than competing lines. Depending on the requirements, SECO/WARWICK offers single-coil furnaces and multi-zone furnaces with precise temperature control over zones.
Experience is our key to success
For decades SECO/WARWICK has been playing a key role in the development and introduction of innovations to its CAB systems and because of that commitment, the company can be credited with significant contributions for advancing the automotive and aluminium industries. SECO/WARWICK is acknowledged for developing the CAB brazing technology and remains one of its most experienced suppliers worldwide.
In addition, the company is a recognised world leader of aluminium thermal processing equipment, with hundreds of highly productive and efficient systems installed worldwide to support downstream operations of aluminium production.
"Cooperation and an individualised approach to each customer allow us to quickly identify potential process improvements. That is why we deliver tailor-made solutions that add value to particular production processes." concluded P. Skarbiński.
Tags:
Active Only
|
Aluminum Heat Treatment
|
CAB systems
|
Vortex