/

e-Seminar 4.0 Heat Treatment & Metallurgy




/

Daily Heat Treat Challenges
/

My Tempering Furnace Failed Its Temperature SP
My tempering furnace failed its temperature sp
My tempering furnace failed its temperature sp
Host:
Robert Szadkowski
Vice President, Aftermarket Segment SECO/WARWICK SERVICES
Prelegents:
Zbigniew Giernacki – SECO/WARWICK
Piotr Bronisz – SECO/WARWICK
SECO/WARWICK's experts (Zbigniew Giernacki & Piotr Bronisz) will show problem that occurs on almost every heat treatment furnace. Despite the set parameters, the furnace does not reach the Set Point temperature.
How to approach this issue?
What is possible to diagnose remotely?
How to equip a service group?
What and how to check on the furnace?
Answers to above questions will be covered by this service case study.
Choose the thematic block you are interested and see what shared materials got it participants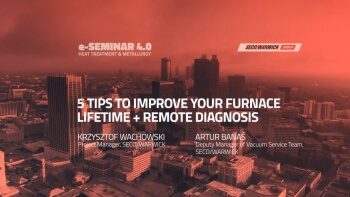 You are convinced that you already know everything about industrial furnaces ...