/

e-Seminar 4.0 Heat Treatment & Metallurgy




/

Daily Heat Treat Challenges
/

Symptoms of a Burner Issue
Symptoms of a Burner Issue
Symptoms of a Burner Issue
Host:
Robert Szadkowski
Vice President, Aftermarket Segment SECO/WARWICK
Prelegents:
Andrzej Bielewicz – SECO/WARWICK
Łukasz Banaś – SECO/WARWICK
An extremely interesting case, hosted by two experienced specialists (Andrzej Bielewicz  & Łukasz Banaś) will present overlapping problems in a gas-heating system, which together form a difficult to diagnose combination.
What is worth knowing about burner systems?
What kind of tools should be use by service staff?
Which symptoms can deceive inexperienced service technicians?
Join to extremely practical guide for any organization where gas-heated furnaces work.
Choose the thematic block you are interested and see what shared materials got it participants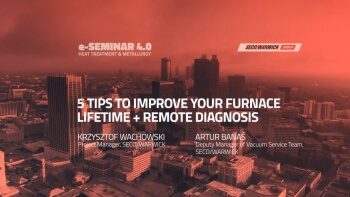 You are convinced that you already know everything about industrial furnaces ...