/

e-Seminar 4.0 Heat Treatment & Metallurgy




/

Daily Heat Treat Challenges
/

Tips To Improve Four Furnace Lifetime
Tips To Improve Four Furnace Lifetime
Tips To Improve Four Furnace Lifetime
Host:
Robert Szadkowski
Vice President, Aftermarket Segment SECO/WARWICK
Prelegents:
Krzysztof Wachowski – Project Manager, SECO/WARWICK
Artur Banaś – Deputy Manager of Vacuum Service Team, SECO/WARWICK
You are convinced that you already know everything about industrial furnaces?
Join the lecture and verify your knowledge. Two practitioners will talk about healthy work principles that generate specific benefits for your company.
How to increase confidence in the operation of the device through daily care?
What can be done remotely and why it's so important?
In this 20-minute presentation you will find a summary of many years of experience of people in the industry. Don't miss out!
Choose the thematic block you are interested and see what shared materials got it participants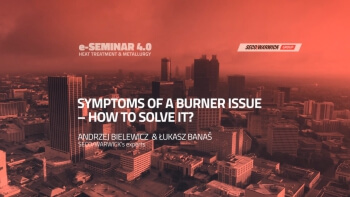 We have "The Heat Treat Doctor" Mr. Daniel Herring, sharing his wealth of heat ...