/

e-Seminar 4.0 Heat Treatment & Metallurgy




/

Daily Heat Treat Challenges
/

Maintenance in the age of industry 4.0
Maintenance in the age of industry 4.0
Maintenance in the age of industry 4.0
Host:
Robert Szadkowski –
Vice President of the Aftermarket Segment
Prelegents:
Robert Opletal – Strategic Accounts representative, Rockwell
Herbert Vitzthum – Senior Consultant Digitalization Siemens
Paweł Morkisz – Assistant professor, AGH University of Science and Technology
Krzysztof Wachowski – Project Manager, SECO/WARWICK
Specialists from the furnace industry, automation and technical universities on an extremely interesting journey through the world of new opportunities.
Industry 4.0 in hardening plants, intelligent sensors, advanced algorithms, the future of the segment in the perspective of new trends in the field of automation. All this based on the history of predictive tools.
For all those who are looking for ways to increase the efficiency, safety and reliability of their devices. The only such lecture for the furnace industry. Something absolutely unique.
Choose the thematic block you are interested and see what shared materials got it participants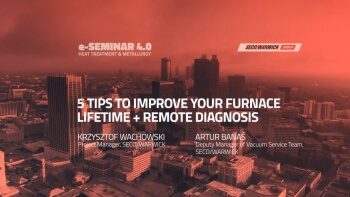 You are convinced that you already know everything about industrial furnaces ...