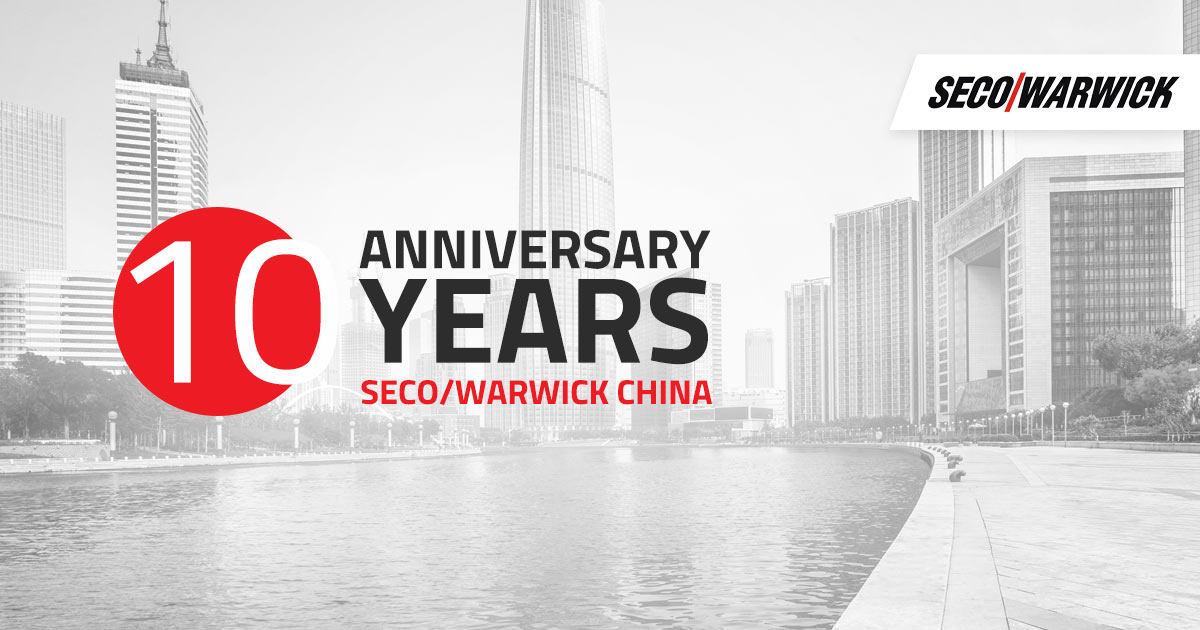 SECO/WARWICK China's 10th birthday
 "We started in 2010 in the Chinese Year of the Tiger. The Tiger, considered to be brave, cruel, forceful and terrifying, is the symbol of power. Founded in tiger year, we were forging ahead, and we were brave enough to challenge and strive for larger market share," says Sławomir Woźniak CEO of SECO/WARWICK Group and former Managing Director of SECO/WARWICK China.
"We went through different years representing various animals learning their skills, their ways of thinking and acting. Today SECO/WARWICK is in a different place since the start, and we're proud of the whole team and their achievements, and looking to the future with the belief that we are on a good track to our SECO/REVOLUTION", adds Liu Yedong, current Managing Director of SECO/WARWICK China.
With nearly 100 years of company history and 10 years of locally established operations in China by just a few people, today marks 20 times the sales revenue and more than 60 employees — 10% of whom are still here from the beginning. With hundreds of solutions deployed, a 5,000 ㎡ head office and manufacturing plant, patents achieved at the rate of at least on per year, National High-Tech Enterprise Certification as well as National Science and technology SMEs, clients across demanding industries such as aerospace, automotive, energy, tools and dies etc. are processing a wide range of materials such as steels, aluminum and its alloys, titanium and its alloys, tantalum, tungsten, niobium, zirconium, silicon, copper, precious metals, nickel, cobalt alloys and others. While we are very good at sprints, we are excellent in long-distance endurance races.
Beginnings need tigers
Every story of success begins with the first contract, first sale, first proof to client, market, and the whole world that we are experts and we deliver what we promise.
Our story begins not 10 years ago in China or 30 years ago in Poland but 96 in the US. Since then our engineering knowledge, skills and increasingly broader operations led us to China, home of a vast number of inventions with Four Great known worldwide: papermaking, the compass, gunpowder, and printing. SECO/WARWICK was reaching the Chinese market from the US, Poland and other locations but it was crucial to establish a strong local presence with the goal of becoming a company of first choice as far as heat processing is concerned.
Sławomir Woźniak, current CEO of SECO/WARWICK Group, engaged in the process of founding the Chinese branch by relocating with his wife and 5-year-old twins, who attended local schools. He devoted his energy to establishing production, sales and service based on local engineering and technical resources. In the beginning, there were just a few people there but the results came quickly and they were encouraging.
Our Chinese story begins with two breakthroughs during the first year of operations on the Chinese market. They were connected with two major technologies:
CAB in which SECO/WARWICK has become an unquestionable leader,
VAC with wide range of Hi-Tech applications for aerospace, automotive and energy industries.
The first CAB line produced at the Tianjin plant was installed and put into operation in Sept 2010. The system contained a dry-off oven and brazing system. The same year, SECO/WARWICK also started building the first vacuum furnace which was completed in May 2011. Two years later the first CAB system produced in China was exported to India, and is still in operation today.
The first Aluminum Process project for a solution heat treatment and aging furnace for the aviation industry was completed in 2014.
In Vacuum Metallurgy in 2013 SECO/WARWICK Retech delivered a Plasma Welder for a reputable titanium manufacturer which was a breakthrough project for the Vacuum Metallurgy product line. Last year our advanced Jet Caster® technology for more a efficient casting process became a hero in aviation and aerospace industries.
Chinese Managing Drive
SECO/WARWICK China gained new momentum in 2015 when Liu Yedong became its General Manager and implemented a number of actions to strengthen our presence on the local market. His reputations and industry experience in the Beijing Machine Tool Research Institute and the International Cooperation Department at The Ministry of Machine-building Industry, Voss GmbH, were crucial in achieving SECO/WARWICK's objectives.
SECO/WARWICK technologies are being developed by the common efforts of all the engineering and technical staff working with clients on various markets across different industries, to understand common and new problems that lead to developing solutions. The Chinese team has provided many great insights and solutions which resulted in 12 unique patents in heat treatment processing. We are very proud of this team.
With todays' total of over 60 employees, SECO/WARWICK China boasts over 70% staff with higher education and 25% with professional title certifications. The company has a complete talent training plan and promotion system, it pays attention to the improvement and development of each employee's abilities, it organizes leadership, skill improvement and other trainings, and it is committed to shaping a good corporate culture for employees.
Using technology, finding efficiency
Our mission in past decades has been creating lasting solutions which are safe, ecofriendly and practical to handle for our clients. The main objective in developing technologies and designing furnace architecture with its auxiliary equipment has been to achieve the highest possible reliability as well as provide advantages in economy, energy efficiency and minimum maintenance. Our equipment is built to last tens of years. We have several furnaces that have been in continuous operations for the last 30 or 40 years,  which is possible only with great teams of engineers, technicians and all sorts of specialists dedicated to design, production, training others as well as aftermarket services. It's a closed cycle we have repeated for many years.
Almost 100 years of the company legacy obligates us to pay attention to people, to sustain a stable environment for development, and to ensure our success for another 100 years.
Tags:
anniversary
|
SECO/WARWICK China