SECO/WARWICK delivered its first in Germany Universal Batch CAB furnace that allows for brazing the variety of the aluminium heat exchangers, in horizontal as well as vertical position. Aurora has acquired the new technology exceeding competitors, ensuring modern technology of aluminum brazing with better process parameters, lower consumption and shorter process time.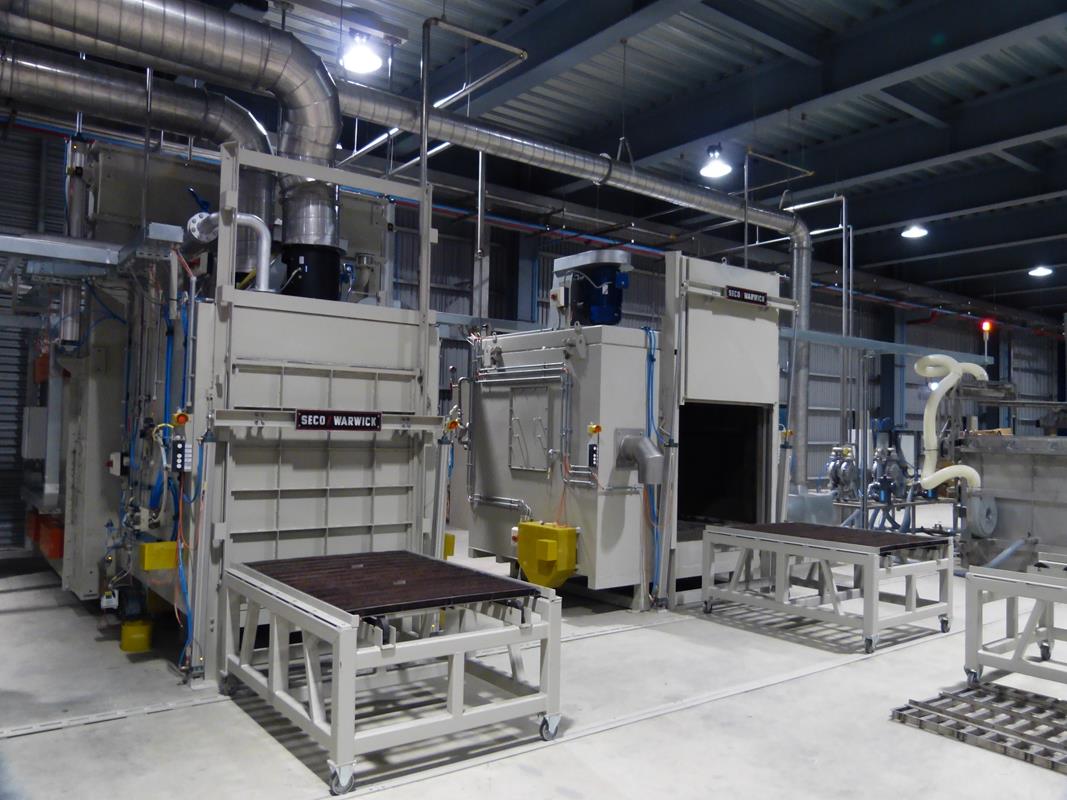 New SECO/WARWICK Universal Batch CAB furnace ensures the highest flexibility of the production plan. The possibility of placing the products in the vertical, as well as horizontal position, removes any limitation caused by the heat exchanger design brazing position. The nitrogen convection used during the heating and brazing process reduces the cycle time keeping standard temperature uniformity at the brazed part. The same advantages of convection are used also during the cooling phase in the purging/cooling vestibule. The design of Universal Batch CAB furnace allows for the future upgrading of the furnace for the higher capacity which is unique.
This type of SECO/WARWICK Controlled Atmosphere Brazing (CAB) equipment was delivered also outside Europe to Russia, Thailand and the USA. The universality of a low volume CAB equipment allows for brazing all kinds of aluminum heat exchangers. It is dedicated for the production of short series for aftermarket and special demands. SECO/WARWICK produces the CAB equipment not only for OEM  but also for small and medium-sized manufacturers.
"We are proud to deliver this state-of-the-art solution to Aurora. European automotive market is very demanding as far as quality, safety, environmental protection and efficiency are concerned. Our technology suits customers' requirements very well at all these aspects and therefore we are very optimistic about its future on this market," says Piotr Skarbiński, VP Aluminum and CAB Technology.
This time Universal Batch CAB furnace is going to be used in Aurora, Germany that dates its beginning from 1928 with installing first water heater in Ford model A for private user.
"SECO/WARWICK solution corresponds well with our needs for professional process quality but with a smaller volume than typically industrial. We appreciate the flexibility of this solution allowing for future upgrades which come very handy in planning future investments and process changes," adds Gerlach Kopfer, Project Manager Aluminium Heat Exchangers from Aurora.
AURORA is a medium-sized business in the Southern German region of Neckar-Odenwald. Continuous growth in the development, construction and production of HVAC-systems for On-and Off-Highway vehicles demands on the company continuous creation of new products and expansion strategies, as well as customer contacts and trade fairs. Aurora's long term experience in the heating and air-conditioning of commercial vehicles is the key to the complete fulfillment of its customer's need in automotive and energy industries – bus, trucks, heavy-duty and off-road.
"The signing of the contract comes along with a new development of aftermarket services. We have started a process of planting service offices around Europe to ensure quick response time and continuous maintenance for our customers and products" explains Katarzyna Sawka, Global Marketing Director of SECO/WARWICK Group.
More info on the technology here:
https://www.secowarwick.com/wp-content/uploads/assets/Documents/Brochures/Universal-CAB-Batch-Furnace2.pdf
Tags:
Aurora
|
CAB
|
CAB line
|
Controlled Atmosphere Brazing
|
SECO/WARWICK
|
Universal batch furnace