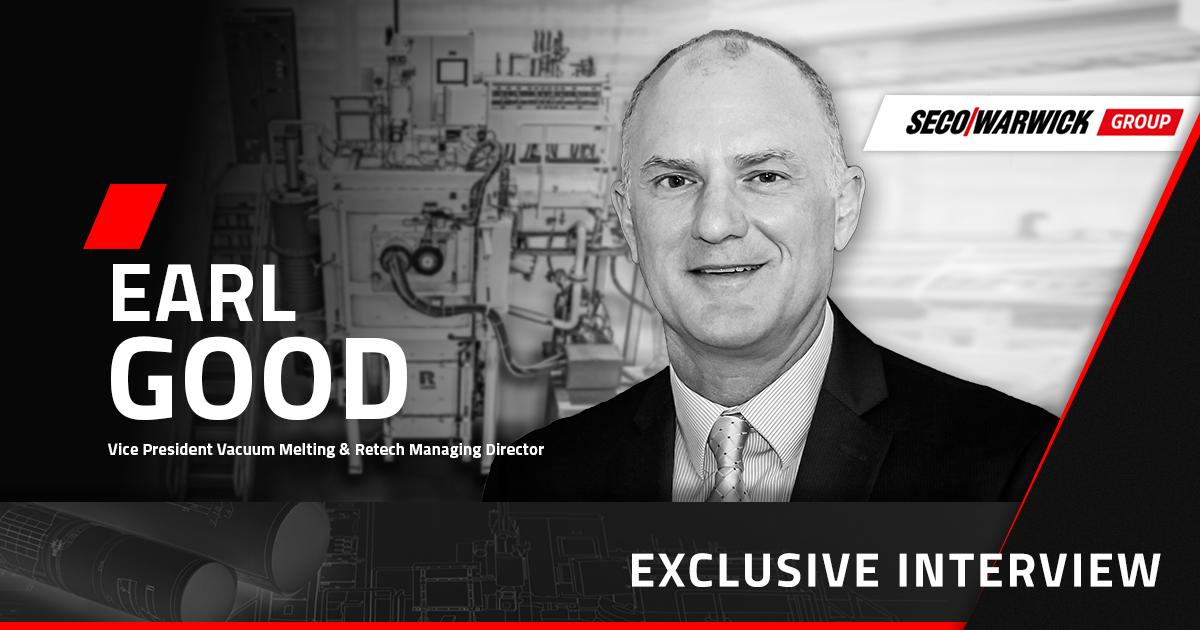 1. The American company RETECH, of which you are president, is one of the leaders in vacuum metallurgy. Could you say, in one sentence, what is it that makes your company that leader?
It is the tremendous experience and knowledge the Retech team of employees has gained from Retech's large furnace installation database.
2. What kind of leader are you?
I have always tried to surround myself with quality people, who are good communicators and are willing to work together. It is also important to provide the team with the necessary tools to be able to perform their work.  Therefore, we have been investing in more modern tools in both the IT area and our shop. I feel we are developing a strong team and I have a lot of trust in their ability to execute the work we win.  I am not a micromanager, who is constantly looking over everyone's shoulder, but I do get involved as needed to help address any issues. Furthermore, I believe in setting the expectation level high for both the individual and the team. As I was advised by a previous mentor, if you set the bar high and miss, you will usually come out ahead at the end versus just trying to meet basic expectations.
3. You manage an international team that has been part of the global SECO/WARWICK Group for nearly fifteen years. How do you work in such a setup?
I have managed larger, more diverse global teams in my previous positions, so much of what I am trying to implement is a carryover from my past experience. First, communication is critical with a diverse international team that has employees located in various parts of the globe. There are a lot of different considerations with an international team such as cultural differences, experiences, government rules and regulations, and time differences. Therefore, I try to encourage regular communication between employees as much as possible. Communication is more than just talking, and also includes listening. It is important to listen to the team, and then make decisions based on the input received. There always has to be some give and take with a global team, and it is important to realize that not everyone will be happy with all decisions.  I believe we have made a lot of progress in this area over the last four years, and our results verify the growth that has taken place with the VME team.  One additional consideration is understanding each person's strengths and weaknesses and trying to use those in a complimentary way to deliver the best performance possible for our customers.
4. How has RETECH evolved over the years?
Wow, there have been numerous changes at Retech over the past four years, as it was not a secret in the market that there were issues.  Probably the biggest change was the relocation of Retech's headquarters to Buffalo, New York.  This change provided a number of benefits, which include the following:
1) We are now located in a facility that has been completely refurbished and will be our home for many years;
2)  The new facility provides ample space for the manufacturing and assembly of our furnaces and space for our R&D furnaces;
3) Retech is now closer to many of its customers;
4) There are a number of good engineering schools in the vicinity to recruit from;
5) Many of our existing vendors are much closer and there is better opportunity to develop new suppliers in the surrounding areas; and
6) Buffalo is a much larger area with more resources to take advantage of..  I also want to mention that we still have an office in Ukiah, California that is home to a number of key employees, who remain valuable contributors. These two offices have allowed us to strengthen both the Retech management team and the technical staff.  Another important personnel change was to upgrade our project management team.  Retech's typical work is very much project-oriented, so it is important to have the right people to manage the projects both externally and internally.  Additionally, we have also been updating the tools used internally such as our document storage system, our ERP system, some of the machinery / tools in manufacturing and assembly, and components on our R&D furnaces to mention a few. The good news is that Retech is continuing to evolve as we are focused on providing improvements to our existing technology, we are looking to develop new technology, and potentially add technology with key partnerships.  The net result over the last four years has been a huge improvement in our quality, our delivery schedules, project performance, and our overall customer satisfaction.
5. What moment do you think was a turning point for the company?
A critical turning point for the company was the opening of the new facility in Buffalo, New York.  We were having a difficult time attracting the talent we needed to Ukiah, California. The new office has allowed us to recruit talented new employees to supplement the outstanding existing talent we already had.  We are now a much stronger team than we were four years ago.  Again, the customer feedback and results indicate the overall improvement that has been made.
6. Which moment was a turning point for you, during your career in the Group?
This is a tough question to answer because I think there are turning points every single year for a successful company.  However, I would highlight the entire 2020 year as a turning point, because we faced so many challenges. It seemed like there was always something new to address.  Some of the challenges we faced included starting the year with the on-going impact from the Boeing 737 MAX, then Covid and its associated issues, the introduction of a new organizational structure, and the relocation of the headquarters and equipment from Ukiah, California to Buffalo, New York to mention a few.  We were able to work our way through all of these challenges and still deliver great results for our customers.
7. You joined the industry a few years ago, how did you see it then versus now?
The industry is changing just like most do, so Retech has to continue to change as well.  Four years ago much of our business was tied to the more traditional aerospace companies Retech typically worked with for many years.  Now, there are a lot of newer customers approaching us about applications that are different from our traditional melting customer's needs.  Many of these new customers don't have the same levels of melting experience and furnace knowledge internally, but they have a material and a potential market.  We are in a great position to help these companies because we have our R&D furnaces and a long history of developing customized solutions.  We can produce trial samples and even toll melt material for these customers, which allows both parties to gain knowledge of the material and how it handles. Retech can use the knowledge gained to develop an optimized, cost-effective solution to meet each customer's needs.  Many of these newer customers are also interested in fast delivery so they can start producing product as soon as possible for their market. We are also well positioned to satisfy the quick delivery as a result of our various manufacturing locations.
8. Where do you see the industry in 15 years and where do you see Retech in 15 years?
First, there is no doubt the industry will continue to change, so Retech will also have to continue to adjust to the ever-changing demands.  As mentioned earlier there are several newer customers who have been working with Retech. These customers represent new ideas / materials in the energy, energy storage, electric battery, powder, high-temp refractory alloys,  the recycling industry, and others.  Of course, the traditional aerospace market segment will likely continue to remain strong as both Boeing and Airbus can be expected to introduce new plane designs. Projections still indicate an increase in the number of airline passengers is expected in the upcoming years, which should fuel demand.  There are also the rocket companies that seem to be growing and are likely to have increased product needs to support their ambitious plans. The automobile industry continues to evolve as well, as more manufacturers are introducing electric models to their line-ups. It is also highly probably there could be other "green" fuels introduced in automobiles such as hydrogen during the next few years. The defense industry also continues to evolve as countries work to develop new weapons.  All of these changes result in new opportunities for Retech. Each of these customers and market segments require different furnace technology to support their product needs. Retech is well positioned to support these customers with our full line of furnace products – VAR, VIM, PAM, EB, and atomization. Additionally, we have tested some concepts for the recycling of various materials that show great potential. Retech's strength has always been providing customized solutions on any of our furnace types to support our customers' wide range of needs.  Additionally, we have experienced personnel who have always been able to make these customized solutions work. The great benefit these customers have in working with Retech is that we offer one-stop solutions. We have R&D furnaces to do product testing and development.  We can provide support in developing the process. We can design the customized furnace required for their material. We have the knowledge to help install and start-up the equipment so the customer can start production quickly. Our customers can have confidence in our ability to do this since we have been providing these customized solutions for over 50 years. Additionally, we have numerous furnaces that have been in operation for over 30 years that are still running. One other change that seems to be occurring is that some customers do not want to operate furnaces, because they want to focus their resources on their core business. They are interested in buying the material they need. We are also able to support this type of customer as well. The bottom line is that we are prepared for the changes that will take place, and positioned to be able to support our customers.
9. There is a lot of talk these days about 3D printing technology revolutionizing various industries. How does Retech technology respond to this trend?
We believe there is huge potential in this market,  so we are working hard to develop various furnace types to produce the powder used in 3D printing and other powder applications.  We have decided on a three-tiered approach for this market, and we are currently focused on developing the products.  We are developing a small-scale atomizer, the more traditional type of atomizer system, and our plasma gas atomizer.  We are excited about the possibilities in the powder market and feel our products will allow us to differentiate ourselves from our competitors in this important business segment.
10. Which industries use vacuum metallurgy solutions the most, besides the aforementioned new branch of 3D printing?
The industries using vacuum metallurgy equipment the most include aerospace, defense, energy, medical, 3D printing and additive manufacturing to mention a few.  Retech is poised to be an integral player in any applications that require vacuum melting equipment, because of our name and reputation. We produce furnaces that work and will provide numerous years of service if maintained. The number of industries using our equipment continues to grow as universities, scientists, and companies explore the development and use of new materials to improve or enhance products.
11. Every year, VIM wins the first place among the most popular Retech solutions, what is it that makes it so unique?
I think it is simply the number of applications for Vacuum Induction Melting (VIM) in the market. This technology for casting parts has been around longer than most and the overall market demand for the VIM furnace is simply greater than the other furnace types.  This technology includes everything from alloy production to Equiax, DS, single crystal casting, and cold wall melting. Therefore, the VIM furnace has been and remains an integral part of our business.  Retech is fortunate to have a series of outstanding VIM furnace options to offer the market as highlighted by our lengthy installation list.  Additionally, we have gained extensive VIM knowledge over the last several decades, which allows us to provide strong technical support for our customers.  This combination of a quality product and the supporting knowledge of the Retech team have allowed many of our customers to recognize 30 or more years of operation from their VIM furnaces.  I believe this speaks volumes about our products, because none of our competitors can make this claim.  I believe these facts should provide a lot of confidence for our customer base, who have come to recognize our furnaces perform as needed and will operate for 30, even 40 years when properly maintained. I will also say that I am really excited about some of the things we are looking at with our VIM technology. I would encourage our customers to contact us for more information.
12. You can't go wrong with PAM technology, which is undoubtedly your top product. What makes this solution so phenomenal? We have the best PAM furnace on the market, and there are two primary reasons for this. First, we have far, far more PAM installations than any of our competitors.  These installations are in a wide range of applications and are typically customized to meet each purchaser's needs. Second, we have an outstanding group of employees working on our PAM furnaces, who have a vast amount of experience. One of the most important aspects to a great product is to be able to size the furnace to meet the customer's requirements. This process includes testing the material, understanding the customer's production and quality needs, and then being able to design the furnace to satisfy the desired output. Sizing includes identifying the number of torches, the torch size, the feed and withdrawl systems, and overall furnace dimensions.  I am also a firm believer that we have the best torch on the market to use for our PAM furnace.  Sizing the furnace incorrectly can result in not producing the volume or quality the customer wants or in the customer over-paying for a system. Additionally, we are the only supplier whose PAM furnace has passed the rigorous testing required for some market applications.
13. How do you go about being a leader in such a difficult and advanced technology as PAM? First, I believe it is always good to be the market leader. Your competitors are then trying to play catch-up to what you have to offer. Meanwhile, you can continue to tweak your product to make it even better with each application. There are things we are currently analyzing with some of our components to improve our PAM and its operating costs. As the market leader, you don't want to be caught standing still or resting on your laurels. It is also important to continue to deliver great results for each new project.
Tags:
Earl Good about Retech
|
Interview
|
PAM furnace
|
Vacuum Induction Melting
|
vacuum metallurgy