A global leader in metal heat treatment technology, SECO/WARWICK, has earned for the second time, the title of the Reliable Employer of the Year [Solidny Pracodawca Roku]. The award goes to the best employers in Poland. For this company from Świebodzin, the key to success lies in a well-formulated and consistently implemented development strategy. It is impossible to achieve above-average results without a great team.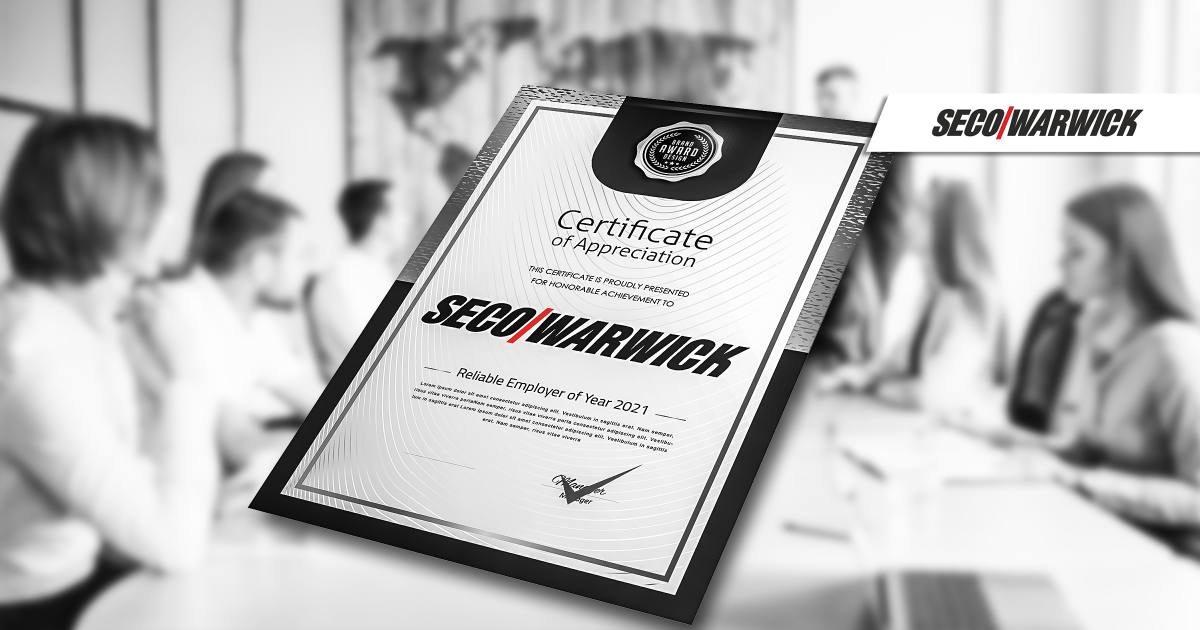 Is it possible to be a reliable employer during a pandemic?
Awarding the prize, the Jury for the Reliable Employer of the Year Competition evaluates such matters like working conditions, career path perspectives, employee training programs and support for professional development. This and a number of other criteria, add up to the title that only the best employers in Poland can boast of.
"The Reliable Employer of the Year title is an important honor for us. Especially since we received it in a year, which was a huge challenge to all employers worldwide. To be reliable in such uncertain times demanded sacrifice, so I dare say that we are what we are thanks to the dedication and commitment of the entire team. "The Reliable Employer of the Year" title is our shared prize and as always, evidence of our attitude and commitment, not some puff piece or distinction," says Sławomir Woźniak, CEO of the SECO/WARWICK Group.
A Reliable employer for difficult times
Under the current circumstances, when many industry sectors show a labor market breakdown, enterprises supporting and appreciating their employees are valued even more.  Reliability counts.
"Reliability means to us integrity, honesty with our employees, clear rules of the game, career path transparency and mutual trust. We are a reliable employer not only because we offer a number of employee benefits. Above all, we ensure growth and support. Our organization strongly values mentoring and tutoring thanks to which younger employees learn and get to know the company faster. Quite recently, we have surveyed our employees on the occasion of the 30th anniversary of the company. We have asked our employees to express with one adjective their opinion about SECO/WARWICK. Reliability was one of the most frequently used words that came up," added S. Woźniak.
The "Reliable Employer of the Year" title is the culmination of our long-standing personnel policy initiatives at SECO/WARWICK. The prize was awarded to the producer of metal heat treatment equipment for the second time, which shows that SECO/WARWICK does not rest on its laurels and constantly cares about integrity, openness and high-quality cooperation.
Reliability is built by people
This year, SECO/WARWICK celebrates its 30th anniversary in Poland. In 1991, a group of engineers established a company that currently develops ultra-modern metal heat treatment furnaces, which have reached 70 countries worldwide on all continents. Listed on the Warsaw Stock Exchange, SECO/WARWICK from Świebodzin is now synonymous with quality, dependability, innovation and reliability.
 "We employ over 700 people worldwide. These are often the people who have been associated with the company for several decades. They are reliable professionals who work hard every day for the success of the entire company. But there are no reliable employers without reliable employees. It goes two ways. This is why we want to thank the entire team for adding a brick to this success," concludes Woźniak.
 "The award is an appreciation of the efforts we make each and every day at all organizational levels, locally and globally, to make our vision of being an attractive employer a reality. We are aware that only thanks to engaged, empowered employees continuously improving their competencies that we can boldly face the future and reach strategic company goals. That is why we strive to listen to and hear the expectations of our employees. Thanks to our cooperation, we were able to implement many projects in the past years. The most important projects include developing career paths that indicate possible growth prospects for each employee in our organization, implementing a new motivational system, conducting several hundred training courses developing expert, technical and leadership competencies, and developing a space for the mutual exchange of knowledge and experience where employees learn from each other," explains Paulina Borsuk, HR Manager
Creating an attractive and engaging work environment is a challenge that many employers face. Human resource management has never been as demanding as it is today. This is the result of continuous progress and dynamic changes, the new profile of each employee generation, and consequently, market expectations. This is the reason why organizations, including SECO/WARWICK, have become more flexible in their approach, listening to the needs of their employees and taking on new initiatives to meet these needs.
Benefits and social initiatives, according to SECO/WARWICK
SECO/WARWICK is a company whose Polish registered office is located in one of the most economically developed regions in the country. In our "Employer Branding" initiatives, we seek to understand the needs of employees and meet their expectations. Satisfied employees are the best ambassadors, and this translates into a good company reputation.
"In addition to numerous training courses, we offer to our employees free-of-charge language courses, family benefit bundles, for example a child's layette funding, or Christmas gift vouchers, and St. Nicolas Day gifts for children. SECO/WARWICK also supports the passions of its employees by sponsoring company sport teams (SECO/BIKE, SECO/RUN, SECO/TEAM). We involve our employees in social initiatives, hence, the group dealing with CSR activities includes employees representing the in-house voice. This is the group which decides about social aid and charity initiatives in which we participate as an organization," comments Katarzyna Sawka, Marketing Vice President of SECO/WARWICK Group.
"Corporate Social Responsibility activities represent an important part of the SECO/WARWICK Group's DNA. We are a company with great potential, energy, and a willingness to help. We have engaged in a number of charity and environmental initiatives, we have funded and built several screw cap containers (SECO/HEART), which has become our flagship social and environmental campaign. This type of initiative has two objectives, on the one hand, we can support the local community and be a good citizen. Second, committed employees feel connected and have a sense of empowerment. This is extremely important for a well-functioning organization," adds K. Sawka.
SECO/WARWICK offers a number of benefits and bonuses which make the company one of the best employers in this region. Opportunities such as working on a home-office basis, supplementary financing for commuting to work, medical care, insurance or an extra day off after a long business trip, are the standard solutions adopted by the company. SECO/WARWICK is also involved in initiatives aimed at families. A good employee draws inspiration not only from training courses or professional experience and relations within the team, but also from private successes and the time spent with loved ones. This is why SECO/WARWICK takes part in the "Dwie godziny dla Rodziny" ["Two Hours for Family"] social campaign, which is about inspiring employees and their families to have good, intergenerational conversation and time-sharing.
Offering comfortable working conditions not only affects the well-being of employees, but it also increases productivity at work, which is the basis for the good functioning of the company as a whole.
Tags:
Metal heat treatment
|
Reliable Employer of the Year
|
SECO/WARWICK