SECO/WARWICK will present its proven and practical solutions at the 2018 International Exhibition on Heat Treatment in Shanghai, which is the most influential and respected shows in China for heat treatment and manufacturing industries.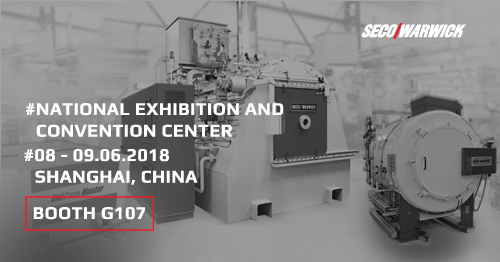 The event will be held on 5th-9th, June, 2018 and will focus on the international heat treatment development, present the most advanced technical process locally and abroad.
SECO/WARWICK Group provides standard or customized state-of-the-art heat processing equipment and technologies to leading companies in the following industries: automotive, aerospace, electronics, tooling, medical, recycling, energy including nuclear, wind, oil, gas, and solar and production of steel, titanium and aluminum. The innovation solutions include:
UniCase Master® (UCM) Gear Industry Precision Case Hardening and 4D Quenching Line
UniCase Master® (UCM) is a new approach to reduce the distortion of gears in continuous production that challenges conventional case hardening methods with a single flow, precision case hardening system for high volume manufacturing. The UniCase Master® system adjusts to the size and shape of the particular gear in order to minimize distortion and ensures ideal repeatability of results gear after gear. It is a compact system, designed for high-volume gear heat treating, ideal for lean manufacturing configurations. This system can easily be integrated into machining centers.
ZeroFlow® Gas Nitriding Technology
ZeroFlow® gas nitriding furnaces are available in a variety of styles and models. Our proprietary ZeroFlow® technology uses only ammonia as a process gas thereby reducing gas usage and minimizes emissions. SECO/WARWICK gas nitriding vacuum furnaces achieve optimum results by using uniform high convection heating, precision nitriding potential and ammonia control, along with advanced load mechanics to process a variety of metals.
CaseMaster Evolution® Vacuum Carburizing Qil Quenching/Gas Quenching Line
CaseMaster Evolution® (CMe) is a vacuum integral quench furnace available in two chamber batch or three chamber continuous workflow configurations used for a variety of heat treatment processes such as:
Hardening
Case hardening (Carbonitriding / Carburizing)
Annealing / Normalizing
Brazing
Special processes (e.g., brazing/carbonitriding, secondary heat treatment of powder metal components)
Visit booth G107 in Hall 2H, where SECO/WARWICK will display the state-of-art and complete approaches for the professional services and product. Meet us to see the future applications and technologies in today's practices.