SECO/WARWICK offers various furnace styles in Batch and Continuous for Gas Nitriding – Gas Nitriding Furnaces.
SECO/WARWICK is a technology leader with the proprietary ZeroFlow® method of economical gas flow control.
Listed below are all the options of SECO/WARWICK furnace styles for gas nitriding.  Equipment can achieve optimum results with gas nitriding using uniform, high convection heating, precision nitriding potential and ammonia control along with extensive experience with load mechanics and processing of various metals.
Experienced SECO/WARWICK process specialists can assist in furnace type selection and in product material handling/loading.  The SECO/WARWICK R&D facilities help customers in determining the correct cycle for their products.  Optional tools such as a simulation and  database programs for many common alloys and case requirements can help pinpoint potential cycles quickly.
 Why SECO/WARWICK?
Experience
Most Advanced Technology
R&D assistance
Value
Global Resources
In addition to Gas Nitriding, Ferritic NitroCarburizing (FNC) is a related nitriding process which is gaining much popularity due to the specific wear and anti-corrosion properties offered, including coupling with post-process high temperature oxidation.
Equipment Styles Best Suited for Nitriding and NitroCarburizing
Pit Retort Furnace
Horizontal Front Loading Retort Furnace
Bell Retort Furnace
Roller Hearth Multi-Chamber
 Accessories
Vacuum Purge
Turbo Atmosphere Cooler
Various Controls Options
Emissions Burning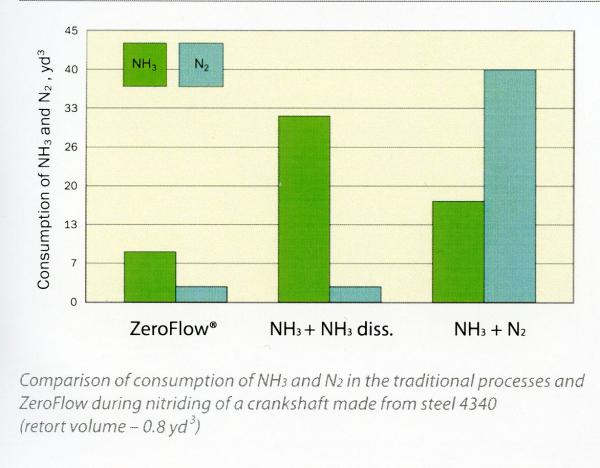 ZeroFlow® Control by SECO/WARWICK
Following decades of gas nitriding experience, a large amount of process gas was still required. We developed a better option that achieves two primary benefits:
1. We were able to properly form and control the nitrided layer, and
2. We were able to significantly reduce the volume of process gas used resulting in a reduced need for storage of ammonia and nitrogen gases.
Does nitriding with the use of ZeroFlow control obtain the same results as other nitriding methods?
Definitely yes. It is nitriding, based on continuous adjustment of the nitriding potential, which assures obtaining the proper structure of nitrided layers and offers the same results as in other nitriding methods. It has been confirmed in many industrial applications.
Does use of ZeroFlow control allow for nitriding without creating the white layer of nitrides?
Definitely yes. That method, through proper adjustment of the nitriding potential, allows for nitriding without creating the white layer. In many cases a white layer might be desired and is still controllable.
Is it possible to adapt your existing  furnaces with the ZeroFlow nitriding method?
Definitely yes. In many nitriding furnaces there is no proper automatic atmosphere adjustment, or the processing costs are high with gases and royalties. Under ZeroFlow the gas system will be simplified, and the ZeroFlow control does not always require using materials with the very highest content of expensive nickel on the internal equipment surfaces.
 What practical benefits are offered by ZeroFlow control in relation to other methods?
The ZeroFlow option reduces operating costs and offers improved quality of the resulting nitrided layers.
Return to Atmosphere Furnaces | Contact Global Team