Solvera Gawel Technology S.A., the supplier of fasteners, chose SECO/WARWICK as their vacuum furnace supplier.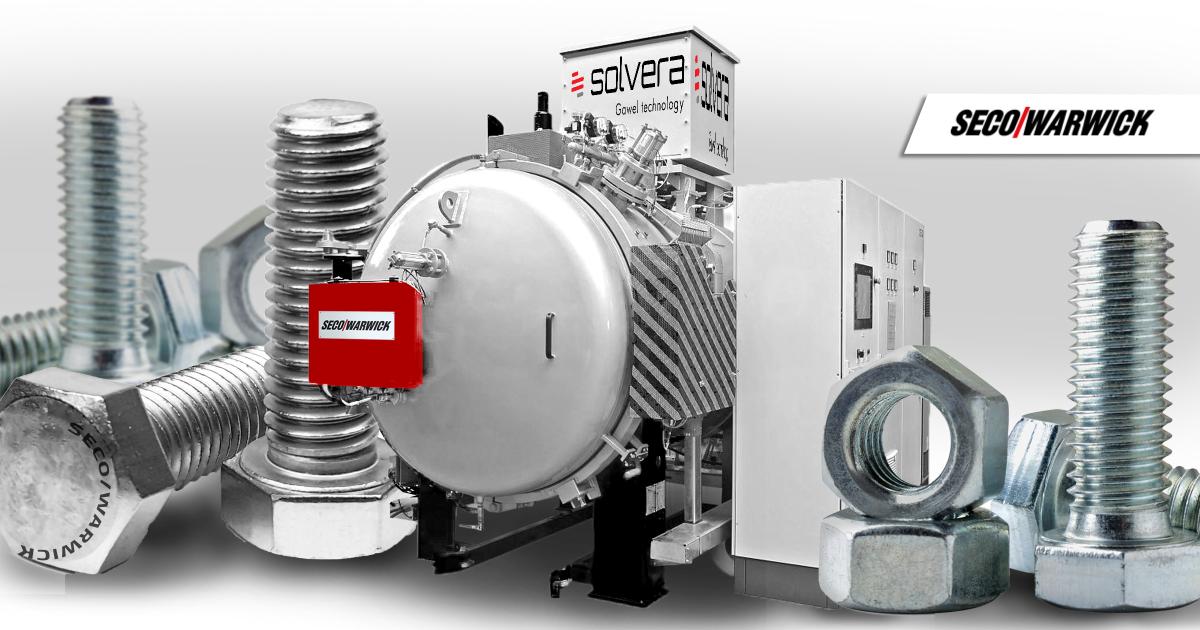 The equipment on order is a Vector® vacuum furnace because the partner's previous experience with SECO/WARWICK's solutions was with atmospheric furnaces. The new furnace will be used for vacuum heat treatment and high-pressure gas hardening of tools for fastener production. As a result, the company will significantly shorten the production process cycle for screws.
The compact Vector will facilitate fastener production
The ordered Vector vacuum furnace has a compact design, which makes it an ideal solution for manufacturing companies that need to create their own small in-house hardening plants. The heating chamber is equipped with a compact hot zone (400x400x600) that is large enough to enable efficient heat treatment of many elements at the same time. Solvera Gawel Technology selected this solution as an addition to their facility due to the Vector's unique features including a round heating chamber with very good temperature distribution, an efficient and ergonomic pumping system, as well as the cooling system based on a gas blower ensuring a maximum hardening pressure of up to 15 bar abs. The very structure of the furnace is reliable and refined in every detail.
"We are glad that SECO/WARWICK's long-term partner has purchased a system from a different product and technology segment. Our proven vacuum device, the design of which ensures long-term and reliable operation in industrial operating conditions, will show the great advantage of this technology. The product advantage is the ability to carry out very efficient hardening processes thanks to the utilization of high-pressure cooling gas" –said Maciej Korecki, Vice President Vacuum Segment, of SECO/WARWICK Group.
"We are very happy when customers choose us again. We are even more happy when we become a technology supplier with a wide portfolio of solutions because it means that the customer looks at us broadly and comprehensively. We view all of our customers as our strategic partners for whom we can introduce a wide variety of approaches to heat treatment solutions – this is how we implement our vision of being the first choice company"- added Sławomir Woźniak, President of the SECO/WARWICK Group.
Independence and continuity of production
Solvera Gawel Technology S.A. is a global manufacturer of fasteners such as screws for wood, metal or plastic.  This is also a very innovative manufacturer with many patents in its portfolio. For further development, they needed a vacuum furnace that would allow the heat treatment of tools for fastener production. Until now, this process has been outsourced. This resulted in numerous limitations related to timeliness and partners' production availability. The pandemic situation further intensified this need, and eventually prompted Solvera Gawel Technology to purchase its own device, which would ensure independence and high quality.
"Our own vacuum furnace means better control over the quality of heat-treated elements and reducing the risk of delays. The lack of tools necessary for production cannot only slow down but even completely block the production of fasteners. The new furnace (Vector®) gives us the comfort of production planning as well as great flexibility and independence. Having your own equipment for heat treatment in the tool shop also means savings in transportation to and from external companies. This is the third time we have cooperated with SECO/WARWICK. We have a similar philosophy contained in three words: quality, innovation, and development. Having a common denominator, you always cooperate better, because you can be sure of dialogue and understanding"-said Tomasz Gaweł, President of Solvera Gawel Technology S.A.
Innovative, in-house tool shop
Solvera Gawel Technology S.A. is a manufacturer with one of the most modern machinery parks in the fastener industry in Eastern Europe. The lack of a universal vacuum device for tool steel hardening and tempering was a problem that the company solved by purchasing the innovative Vector vacuum furnace.
This compact device can be a response to the challenges that arise during production processes related to the availability of external partners, the timeliness of their work, or the quality of services. Independence from external entities is one of the major benefits of such an investment.
Tags:
fasteners
|
in-house hardening
|
SECO/WARWICK
|
vacuum furnace