SECO/WARWICK will supply a Vector® vacuum furnace to Atlas Autos Ltd, (An Atlas Group Company), the largest manufacturer of motorcycle parts in Pakistan. The solution is intended for hardening and tempering processes, and its design will allow for gas cooling elements and dies for parts used in automotive production.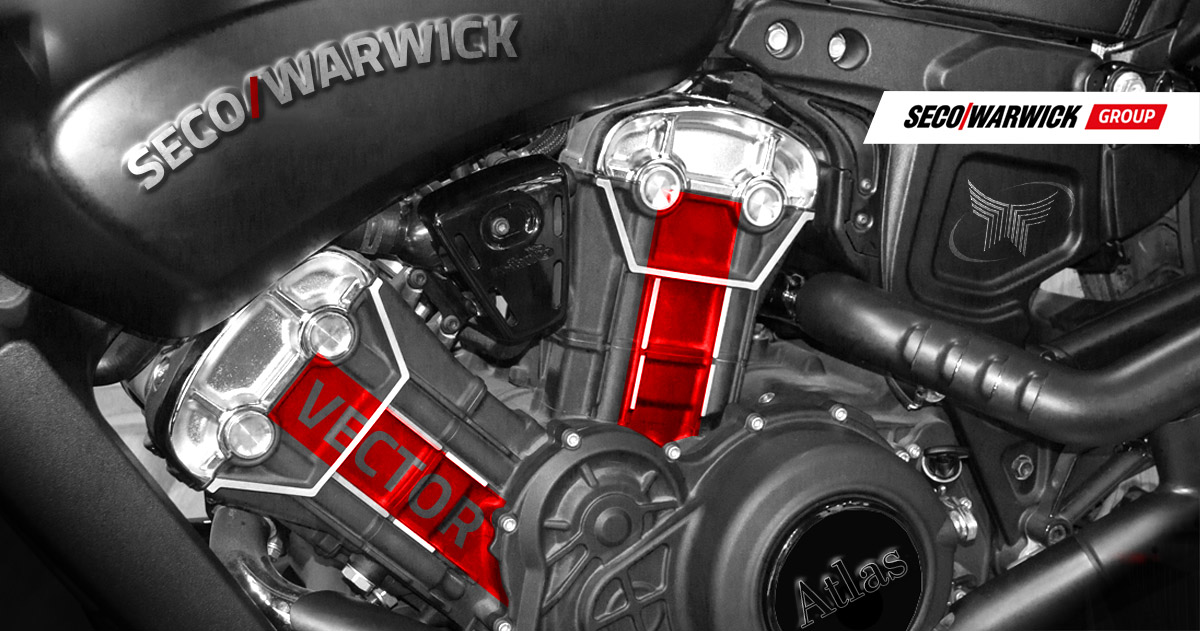 This is the first SECO/WARWICK vacuum furnace for this automotive manufacturer. The vacuum furnace on order is a Vector, the proven design for precision heat treatment with an effective work zone measuring 600x600x900mm – the most popular size for tool and die production. The solution will be used for special large-size die production.
The Universal furnace for countless possibilities
Vacuum furnaces from the Vector® line can be used for most standard hardening, tempering, annealing, solution heat treatment and brazing processes. However, for each application, the furnace can be adapted to the recipient's individual requirements and thus, a specific industry. This time, the furnace, which will be delivered to Atlas Autos in the second half of 2022, is the solution most often chosen by SECO/WARWICK customers. The heat treatment will be applied to dies to produce car and motorcycle parts. The Vector will be utilized for hardening and tempering process implementation.
The characteristic feature of the solution is directional cooling, which allows the system to cool dies of various shapes in a different way. The furnace is equipped with convection heating – a system that improves the efficiency of heat transfer when heating at lower temperatures. The round heating chamber guarantees very good temperature uniformity (+/-5oC). The furnace ordered by Atlas Autos is equipped with an efficient and ergonomic medium vacuum pumping system and a cooling system based on a gas blower, ensuring maximum hardening pressures of up to 15 bar abs.
"This is another partner who wanted an uninterrupted supply chain. It is a priority for many companies today, especially in the automotive industry. Owning this equipment in their machine park gives them complete independence and better control over the quality of thermally processed elements. It also reduces the risk of delays which, due to the lack of tools, slow down or completely blocks production.
Thanks to our vacuum furnace, Atlas Autos will have the comfort of planning, availability, and efficiency of their equipment for production. Having their own heat treatment department also results in savings in transportation costs to and from an external company," says Maciej Korecki, Vice President of Vacuum Furnaces Segment in the SECO/WARWICK Group.
Quality is essential when hardening production dies
SECO/WARWICK has extensive experience in providing a wide range of vacuum furnaces to companies involved in manufacturing for the automotive industry. Production dies are elements from which parts are produced for motorcycles and cars. The dies are therefore a kind of template that must be perfect in terms of quality and durability, which can be achieved thanks to the use of vacuum technology, ensuring maximum production perfection.
"We were convinced to purchase the Vector because of its reputation for innovation and versatility. We needed a solution with a large working space and a compact size at the same time. So far, we have used this system in our external hardening plants. Our customers are leading automotive concerns such as Honda. It is a brand that doesn't need an introduction because it is famous for the highest quality and perfection. When delivering elements for this company, we must be perfect as well, and this is guaranteed by the SECO/WARWICK vacuum furnace," says Noman Khan, Atlas Autos Technical Director.
The vacuum furnace ordered by Atlas Autos will improve and increase the hardening process capacity and will also improve the economics of process production in the Pakistani plants. The furnace is characterized by high energy savings, chamber efficiency as well as cleanliness and process velocity, achieved with the addition of a very strong pumping system. The product is currently in the production stage and will be shipped to Pakistan in the second half of 2022.
The automotive industry in Pakistan is one of the main driving forces in the local economy. The Pakistani automotive industry accounts for about 3% of Pakistan's total GDP, amounting to $297 billion. The car industry generates 4% of the national GDP and employs over 1.8 million people. Currently, there are 3,200 automotive factories in the country, with investments amounting to $870 million. Pakistan produces 1.8 million motorcycles and 200,000 cars a year.
Tags:
Automotive
|
motorcycle parts
|
SECO/WARWICK
|
vacuum furnace