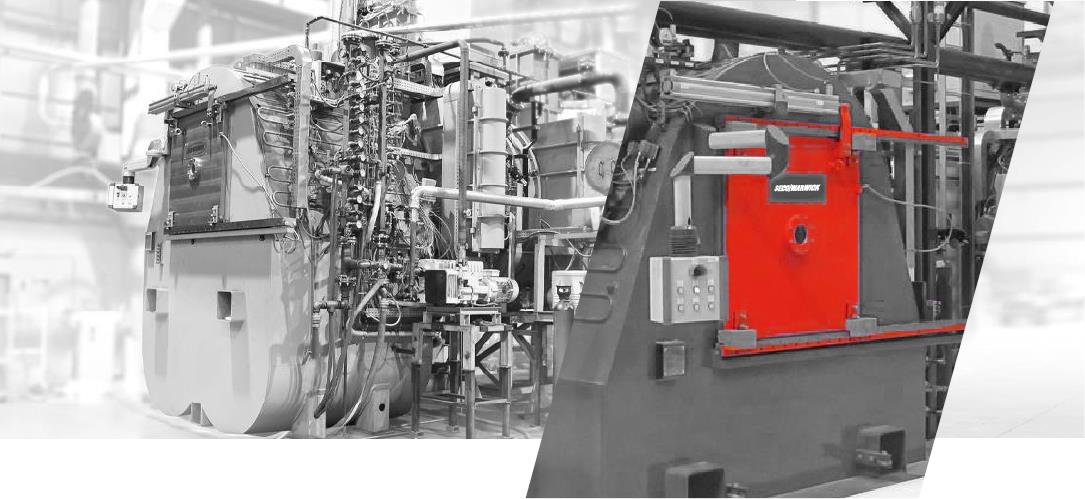 CaseMaster Evolution® –  new generation case hardening furnaces
Double-& Triple – chamber vacuum furnace for low pressure carburizing (LPC) and oil or gas quenching in high volume production
CaseMaster Evolution "CMe" this is the family of vacuum furnaces is dedicated for semi-continuous case hardening by low pressure carburizing and oil or gas quenching as well as for through hardening as a wide alternative for atmospheric sealed quench furnaces, continuous lines and multi-chambers systems.
The CaseMaster Evolution (CMe) is a new generation of sealed quenching solutions, an additional option for a wide range of LPC applications for various industries such as aerospace, automotive, machine-building, bearings and commercial heat treatment.
The CaseMaster Evolution has been designed with the state-of-the-art construction and selections for two and three chambers in order to provide maximum flexibility in heat treatment and continuous batch processing. With dozens of CMe oil quenching vacuum heat treatment furnaces installed, SECO/WARWICK is currently at the forefront of international vacuum heat treatment market. A number of top international manufacturing companies, being in the need of superior mechanical properties, have compared the CMe with conventional case hardening methods. Having compared that, those companies have increased their production capacities with CaseMaster Evolution designed by SECO/WARWICK.
… and it's just the beginning
There are two types of CaseMaster Evolution. The two-chamber furnace, called D type, provides a dual chamber with one for processing and a second chamber for oil or gas quenching. The three-chamber furnace, called T type, provides the same chambers as the D type plus a third pre-heating, pre-oxidation chamber that can be used with PreNitLPC® for faster processing. Cooling may be carried out in two ways: under gas quenching or in hardening oil quenching. Durable graphite insulation and heating elements provide long, reliable service in this heavy-duty furnace designed for industrial applications.
The high-efficiency oil quenching has an agitation system that ensures excellent oil penetration through the workload which results in uniform and fast workload cooling. The gas system, pump system, power supply and cooling systems are generously sized to enable a wide range of industrial heat treatment implementations.
/ Fully automated processing
/ Vacuum, horizontal, double-, and triple-chamber
/ Graphite heating chamber
/ Low heat losses by increased thermal insulation
/ Low pressure carburizing (LPC)
/ Oil or high pressure gas quenching, nitrogen (N2) or helium (He)
/ Vacuum and pressure tight inner doors ensure high purity of process and parts
/ Short workload-transport time within the furnace
/ Shorter evacuation times by independent pumping systems for each chamber
/ Uniform quenching and distortion reducing by stepless control of oil circulation system
/ Compact, modular design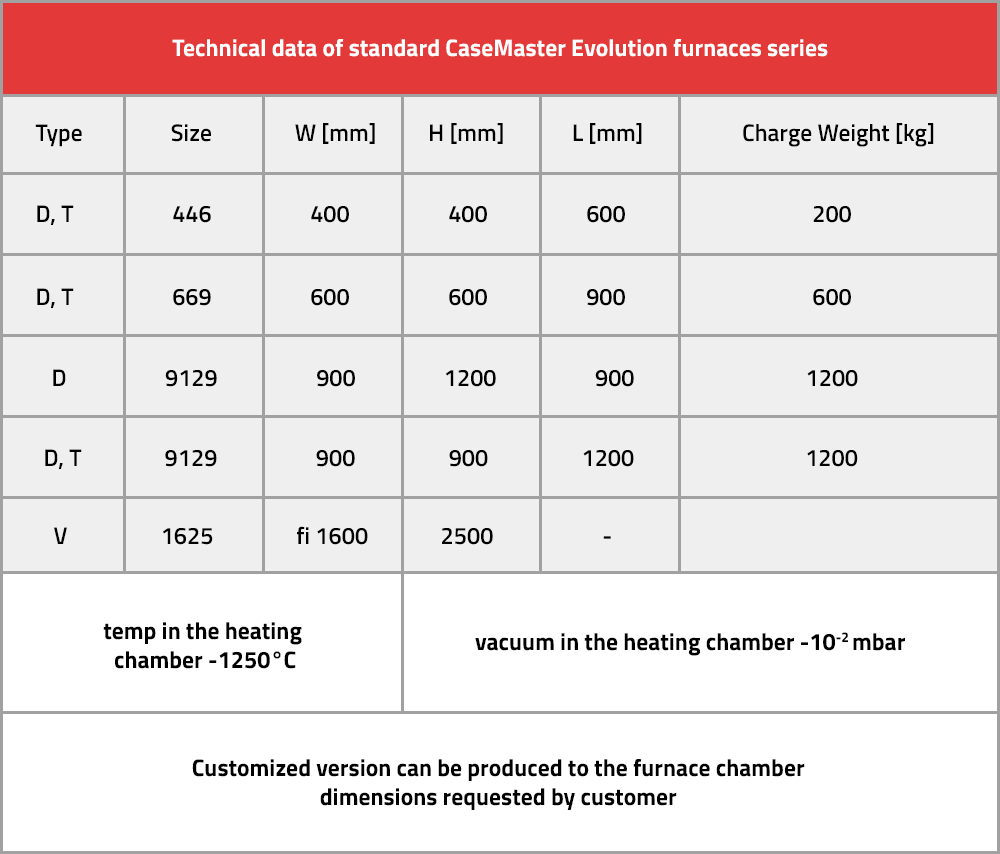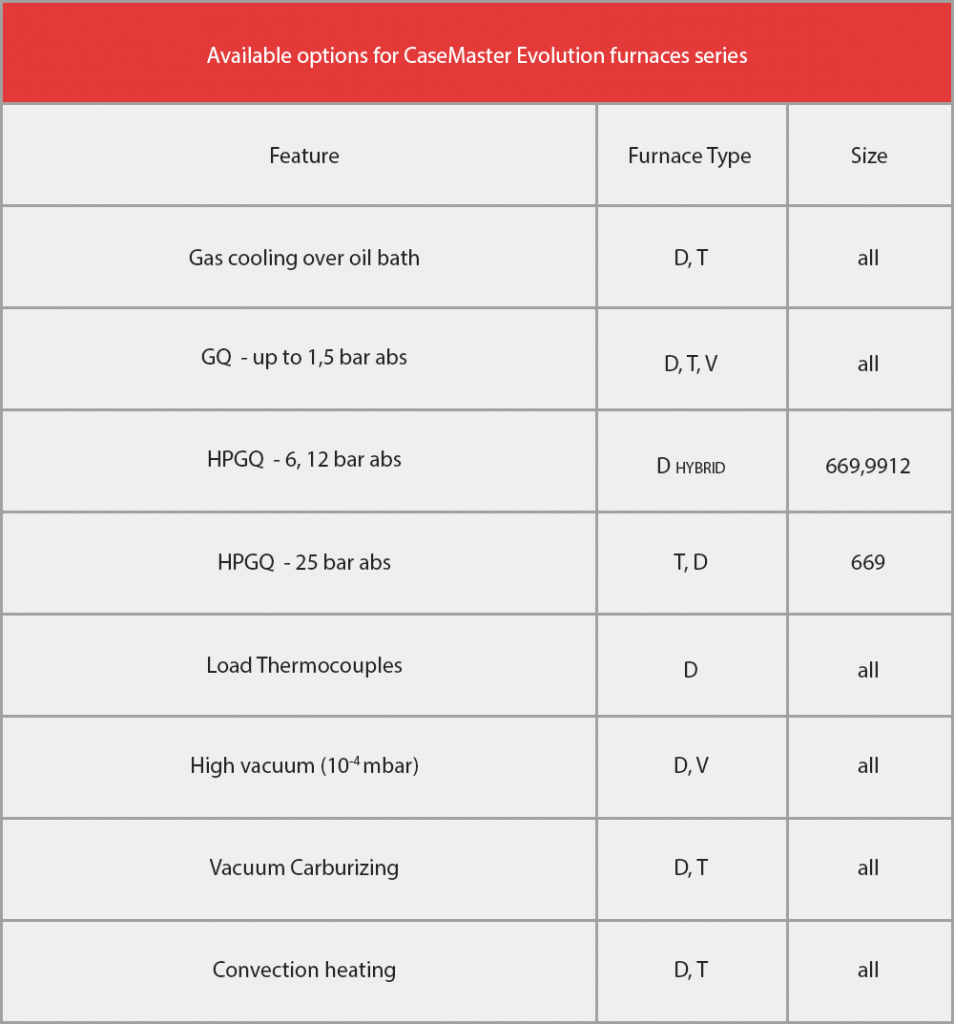 LPC, PreNIT, HV:
/ Multi-zone temperature control
/ Remote control and monitoring, Carbonitriding
AUXILARY EQUIPMENT:
/ CLWS, Buffer tank, Loader,
/ Tray casted or CFC
/ Helium recycling system
/ Supervisory system
Additional options:
/ Dew point measuring system
/ External recorder
/ Load termocouple
/ High vacuum
/ Mulit zone regulation
/ Noise protection of the pumping system
/ Extremely economical and efficient
3 times shorter carburizing (LPC)
3 times faster production (T)
1/3 process cost
/ Safe
Elimination of flammable and explosive atmosphere
Elimination of open flame
Elimination of an atmosphere generator
Elimination of fire and explosion risk
/ Excellent carburizing uniformity (LPC)
Uniform carburizing of densely packed load and difficult geometrically parts
/ Highly accurate and precise LPC process simulator (SimVaC)
/ No intergranular oxidation (IGO) and decarburization
/ Reduce distortion by 25 bar abs N2 or He quenching
/ Full operational flexibility, on demand operation, immediate start/stop
/ Elimination of time waste for atmosphere conditioning
/ No CO/CO2 emission
/ Clean, environmentally friendly process


/

Automotive including: bearings, gears, and transmissions
/

Commercial Heat Treatment
/

Aerospace
/

Fabricted metal products
/
Machine-building
/

Fasteners
/

Mint
/

Hardening with oil quench or gas quench

/

Low pressure carburizing using
FineCarb
® with oil or gas quench

/

High-temperature carburizing up to 1050°C using
PreNitLPC
® for common case hardening steels

/
Carbonitriding
/
Bright thorough hardening
/

Oxidation in the pre-heating chamber

/
Annealing (with gas cooling)
/
Tempering
/
Quenching
/
Brazing
/

Carburizing steels
/

Structural streel
/

Bearing steel
/

Tool steels
/

HSLA
/

Alloyed steels
/

Stainless steels
/

Alloys and super alloys
/

Titanium alloys