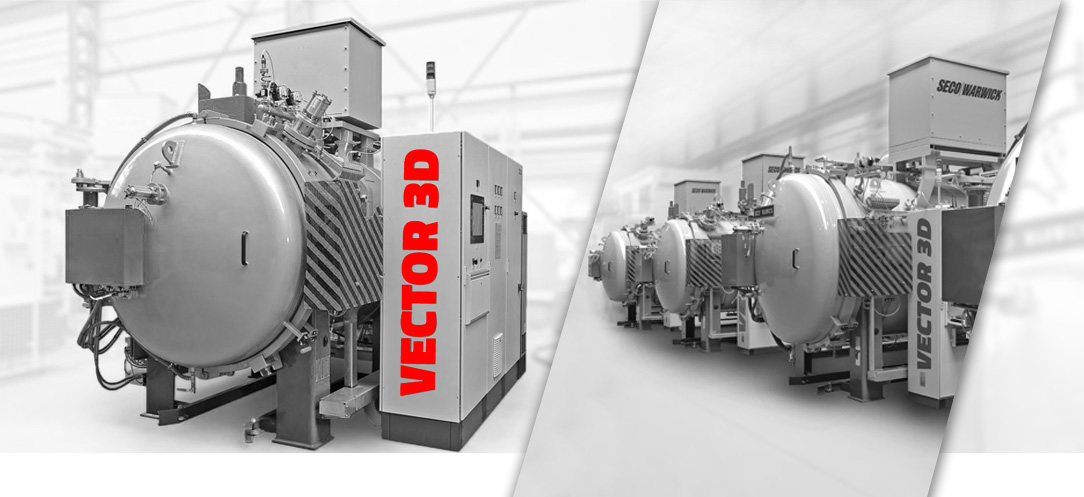 Vacuum furnace for metals heat treatment after additive manufacturing – Vector 3D
Vector 3D: vacuum furnace for metals heat treatment after additive manufacturing
Range of heat treatment furnaces specially designed for the 3D printing technology. Vector 3D is a dedicated line of furnaces for every type of metal additive manufacturing process: debinding, sintering, and other heat treating processes. Designed for heat treatment of many different products of additive manufacturing.
Depend on the printing technology, business area, selected material or production volume, the equipment needs to be adjusted accordingly to boost production efficiency and printed detail parameters.
Binder Jetting technology is putting a lot of attention to debinding systems as well as to perfecting process parameters in particular in terms of temperature uniformity. Both aspects have key influence on final piece quality and performance.
Laser sintering technology enables printing items made of materials such as alloy steels, aluminium and titanium. Heat treatment of such details requires oxygen-free environment. Thus, parameters such as leak rate and vacuum level are a key for SECO/WARWICK additive manufacturing furnaces.
These are the key parameters that help to achieve the required molecular structure and pureness level of parts.
Heat treatment process performed in controlled furnace conditions helps to achieve required parameters of printed pieces. Highly demanding sectors like aerospace, medical or automotive have specific needs in this area and furnace needs to satisfy them.
.
Industrial furnace available in many different sizes to match customer's needs.
Key features of the product:
/ Ability to perform debinding, sintering, annealing and other processes in a single furnace/ Regular steels for case and through hardening
/ Usable volume from 250x250x400 to 900x900x1200 mm
/ Temperature of 1500°C enabling various materials to be processed
/ Perfect and uniform temperature distribution +/-5°C (+/-3°C with a cage)
/ Vacuum of 5×10-2 mbar
/ Very good leak rate of 1×10-3mbar*l/s ensuring optimum oxygen-free environment which is so important for many types of processes
/ Multi-stage debinding and furnace protection system
/ Multitude of options:
Increase of vacuum up to 5×10-5 mbar
Fast cooling up to 15 bar
Possibility of using partial pressure of various gases: nitrogen, argon, hydrogen, ammonia, acetylene
Selection of graphite and metal chambers and cages
/ 
Compact design making it possible to install the furnace in small rooms
/
Comprehensive design enabling commissioning of the furnace once the media are connected
/
Minimum process gas consumption
/
Fast, clean and economical process
/
No open flame and no flammable gases
/
Complete tracing of the process with the PLC/IPC system
/ 
Quick cooling that accelerates the process time
/
High vacuum level
/
Efficient debinding system = cleaner process and longer furnace lifetime
/ 
Design making the cleaning process faster and extending maintenance intervals
/ Aviation
/ Automotive
/ Medical
/ Prototyping
/ it can be used anywhere where metal parts are produced.
/ Debinding
/ Sintering
/ Stress relieving
/ Aging
/ Annealing
/ vacuum as a protective and technological atmosphere eliminates the need to use harmful process gases and their emission to the environment,
/ no CO₂ emissions, no use of fossil fuels,
/ gas utilization for cooling (nitrogen, argon), captured and returned to the air, neutral for the environment,
/ reinforced thermal insulation saves electricity (approx. 20%),
/ high energy efficiency of used electrical components (IE3 class motors, inverter control, etc.),
/ application of systems and algorithms limiting energy and technological factor consumption (pumping, heating and cooling systems),
/ no harmful substance emissions,
/ reduction of hardening deformations and downstream machining costs,
/ elimination of part washing after heat treatment.